Join our Team!
Support Our Mission By Buying Stuff from Amazon!
The San Diego Participant Observer
San Diego's Finest Online Resource for Multicultural and International
Events, Places and People
The City of San Diego is home to one of the most vital and culturally diverse populations to be found anywhere in America. The Participant Observer is a web magazine dedicated to discovering and showcasing the wide variety of culturally interesting events, people, places and organizations our city has to offer. Our frequently updated Events Calendar provides comprehensive information about current and forthcoming events in San Diego. In addition to covering local events, The Participant Observer publishes features and articles about cultural events and phenomena happening around the world. We urge you to explore the many other resources our site provides. We encourage article and event submissions from our readers.

---
Also on this Site...
Your Window to the World
All Articles © Guardian News & Media Ltd 2013-14
Cultural Tidings Archive

(Read: 211 times)
---

Step under the archway entrance to the "village" and you will be greeted by a meandering plaza paved with pastel painted flagstones surrounded by stuccoed cottages with red tile roofs. In the center of the plaza sits a gazebo and a varied collection of charming trees and plants add to the air of quaint serenity. One of the more spectacular studios hosts the paintings of an artist named Lucy Wang, who for the past twenty years has been creating stunningly beautiful paintings that combine tradition-rich techniques of Chinese brush painting with her own path-breaking and innovative techniques.

By Jackie Hwang

Spanish Village Photos by Nuelma Patio
Additional Images: Lucy Wang




(Read: 18058 times)
---
| | |
| --- | --- |
| | The Center for World Music is a unique nonprofit organization whose mission is to foster awareness and understanding of the world's diverse performing arts and cultures through public performances and teaching. Its primary purpose is to draw public attention to the diversity of the world's performing arts traditions: Asian, African, European, Latin American, and American. |
(Read: 7496 times)
---
| | |
| --- | --- |
| | Room to Read started with book donations to a rural community in Nepal. Founded by ex-Microsoft executive John Wood, they are now a global organization dedicated to promoting and enabling education through programs focused on literacy and gender equality in education. They achieve this goal by establishing school libraries, building schools, publishing local language children's books, training teachers on literacy education and supporting girls to complete secondary school with the life skills neccessary to succeed in school and beyond. |
(Read: 1737 times)
---
Home to 48 million people, South Korea takes great pride in its traditions and history. A great example is its delightful food culture that, despite having influenced by other cultures over time, has remained unique among the world's cuisines.

By Julie Park



(Read: 1433 times)
---
| | |
| --- | --- |
| | Internationally popular, Taiko drumming is a relatively new performance tradition that employs traditional Japanese instruments in new and dramatic ways. Jazz drummer Daihachi Oguchi is credited with creating Kumi-daiko style of Taiko in 1951. The sound is exuberantly loud with complex rhythms and dramatic choreographed moves by performers which meld music with angular and precision movement (amplified in effect by black headbands), evoking a martial arts esthetic. |
(Read: 3477 times)
---
| | |
| --- | --- |
| | We asked several San Diego nonprofits to write about their cross-cultural projects and efforts. Ken Barratt, the National Outreach Director for QBL (who is based here in San Diego), submitted the following report for our continuing Spotlight Series. In addition to describing the vital clean-water development work accomplished by the Quaker Bolivia Link, Barratt offers astute observations on why some development efforts succeed and why others fail. |
(Read: 5110 times)
---
The music of Brazil is fundamental to its culture. Any traveler to Brazil can easily find music on the streets and beaches, outside restaurants, and in bars and houses. In Rio de Janeiro, Brazilians grow up playing drums, dancing and/or singing. Brazilian music was born five centuries ago out of the melding of different cultures: Portuguese, African, and the indigenous Amerindian. The two most successful musical genres to come out of Brazil are Samba and Bossa Nova.

By Hazel Villasin and Julie Park



(Read: 2793 times)
---
If you've never visited San Diego's Chicano Park, you might imagine that it is just another typical park: grass and trees, playgrounds and picnic tables, weekend gatherings of families and friends. However, unlike other parks, Chicano Park is steeped in a profound sociopolitical history of Chicano life in our city.

By Jordan Tresham and Tom Johnston-O'Neill
Photos by Shimona Carvalho




(Read: 26195 times)
---
Hinduism and Hindu traditions and rituals are diverse and vary from region to region in India. This article describes wedding customs and rituals celebrated by Tamil Brahmin families in southern India. The article was penned by Laksmi Appachar, a former volunteer and present board member of The Worldview Project. The pictures shown are from her own wedding. Lakshmi says that writing this article enabled her to "relive a very important and pleasurable event of my life and it also gave me an opportunity to gain a fuller understanding of the significance of many of the rituals performed during my wedding ceremony."

By Lakshmi Appachar




(Read: 35718 times)
---
You Search & Shop - Goodsearch Donates!
Support The Worldview Project - Shop Amazon
Today's Date
* Ongoing and Upcoming Events *
IN PRINT SINCE JULY 2006
Parobs is Published by:
Participant Observer Staff
Section Editors & Writers: Adrian Kniel, Yu Tung Chung, Rupsha Dasgupta, Dipthi Battapadi,
Copy editor: Laura Davis
Spanish Translations: Carlos Cabanillas
Photography: Heidi Adams, Shari Johnston-O'Neill
Sr. Editor: Tom Johnston-O'Neill
Music CD of the Month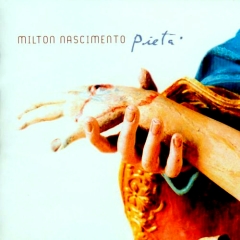 Pieta
Milton Nascimento