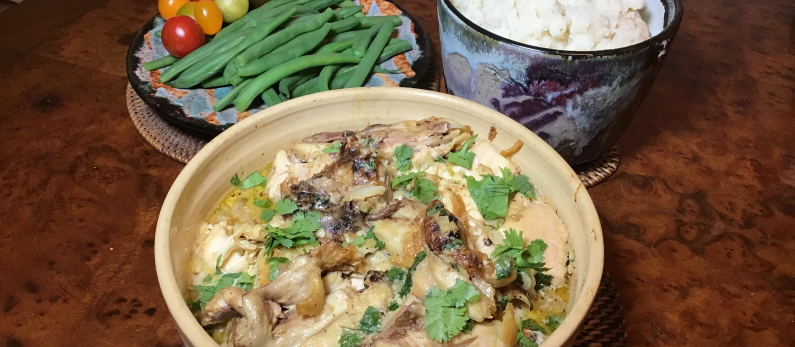 With only a handful of major ingredients, preparing
Georgian Shkmerul
could not be easier to pull off. It's been a very long time since we have been so delightfully surprised by a dish—it's delicious!
>Originating from the Racha region in the Republic of Georgia, Shkmeruli is a popular dish that has only a few ingredients (most, if not all, you might even have on hand). The dish is named after the mountain village of Shkmeruli, but it is popular throughout the country. Racha is known for its strong cultural traditions (several marked with holidays), beautiful architecture (including colorfully decorated homes), cuisine, long wine-making traditions and natural beauty including waterfalls, alpine lake, lush meadows and glaciers.
As a cultural aside, in the last year or so Shkmeruli has become a craze in Japan! First introduced by the major Japanese restaurant chain Matsuya, "Shkmeruli Nabe-don" has become a Japanese phenomena with Yahoo News Japan recently declaring "This winter the most popular dish in Japan is Shkmeruli." The dish was introduced in honor of the now postponed 2020 Olympics, but it caught on like wildfire. It's not quite the cultural stretch it might at first seem. In Japan the terms
nabe
or
nabe-mono
refer to dishes we might call "hot-pots"; the most famous here is
Shabu-shabu
which is a form of Chinese hot-pot introduced to Japan in the 1960's. But there are several other nabemono dishes that are popular in Japan. When it was introduced by the Matsuya, they advertised it with a sign-board that read "Matsuya Sekai (World) Journey Georgia".
The most basic Shkmeruli consists of a cut-up roasted whole chicken, milk and garlic. In Georgia it is often served in a clay baking bowl called a
ketsi
. Typically Shkmeruli is served with a variety of side-dishes which almost always includes tomatoes and fresh cilantro. Some cooks also suggest spooning it over cheesy or regular mashed potatoes (which is what we did—it was awesome). A crusty bread is also a fine complement. When cooking the chicken, whichever method you choose, it is important to brown it as this brings out the flavors that with the garlic will permeate the sauce. Milk is well-recognized as a useful ingredient for marinades for its ability to both soften the meat and lock in flavor. Matsuya's version also has cheese (not sure what kind) melted on the top of the dish. This recipe works best with whole milk.
e>Cook's note: The part of this recipe that might be unusual is that it usually calls for spatchcocking (sometimes known as butterflying) the chicken before frying. Cooking a chicken this way retains its juices and you might be surprised by how tender the white meat is. It is claimed that if you roast a chicken this way it will cook in about half the time. Here is a tutorial for that process:
How to Spatchcock a Chicken
from The Spruce Eats. It is not difficult at all. If you cook a chicken in this method, it's a good idea to put something heavy on the topside of the chicken so that it browns evenly. A pot filled with very hot water might do the trick (as you don't want to cool the chicken down). However, it is not absolutely necessary to cook the chicken spatchcocked. You can instead use a cut-up whole chicken or cut the chicken up yourself. If you are unsure of how to cut up a chicken, Martha Stewart has a slideshow:
How to Cut Up a Whole Chicken
. Also, for this recipe, you must first brown the chicken in a skillet and then roast it. Whichever method you choose, after it is fried it needs to be cut into even smaller pieces before simmering in the milk.
Ingredients:
1 whole chicken
1 cup whole milk
8 to 10 garlic cloves (a little less than an ounce)
2 tablespoons of butter
Neutral-tasting vegetable oil (don't use extra-virgin olive oil)
Salt and pepper to taste
Chopped fresh cilantro
Preparation:
Preheat an oven to 400°F.
Spatchcock or cut up the chicken.
In a skillet on medium to medium-high heat, brown the chicken or chicken pieces on both sides. Note: You are just browning the chicken, not fully cooking it at this stage.
Do not clean the skillet yet—you will need the leftover oil and bits of chicken left in the pan.
Using whatever oven-proof pan you have, roast the chicken uncovered for another 30 minutes.
Remove the chicken from the oven and let it rest. Do not turn off the oven—you will use it again in a few minutes.
Peel and crush the garlic into a paste (don't slice or dice it). You can use a mortar & pestle or simply smash the garlic repeatedly with the side of a big knife or smash it with a kitchen mallet.
Warm the skillet up to medium high, add the butter and sauté the garlic in the residual juices/oil remaining in the pan. Note: it is almost always better to add ingredients to a hot, rather than cold skillet.
Add the milk to the skillet and scrape the sides and bottom of the pan. These bits are known as the fond in French cooking and they are rich in flavor.
Stir, scrape and boil for about 2 minutes.
Cut the now cooler chicken into medium sized pieces (see photo above).
Move the chicken to an oven-proof dish/bowl bake, add the milk/garlic sauce and heat in a 400°F oven for 5 minutes.
Garnish the Shkmeruli with chopped cilantro.
Gemrielad Miirtvit! (Bon Appetit)
Recipe by T. Johnston-O'Neill
Photos by T. & S. Johnston-O'Neill
Keep informed about San Diego Events!
Sign-up for our weekly Eblast by clicking here:
Sign Me Up!