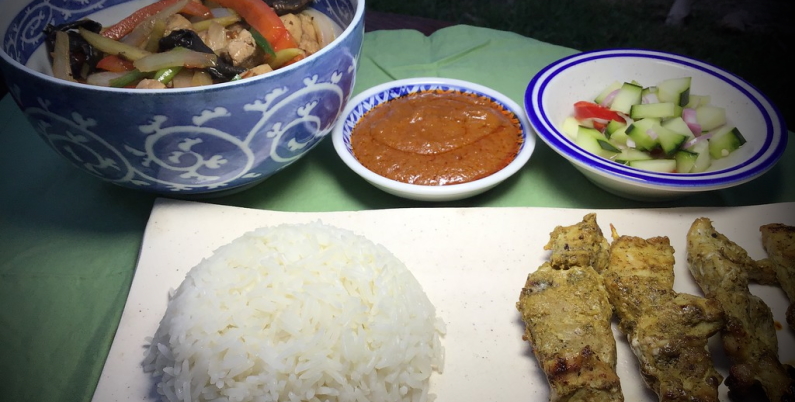 We have a double billing for the Participant Observer Recipe of the month: Gai Pad Khing (Thai Ginger Chicken) and Moo (pork) Satay (with Ajaar pickle salad). The satay makes a great appetizer (and oddly enough it's the more complicated recipe while the Thai Ginger is a delightful spicy dish that gets it's heat from copious quantities of ginger! >As we have noted in so many previous recipes, so much of the world's cuisine and every country's signatures dishes are the result of cross-cultural flows of ideas, ingredients and historical contact. Plantains originally come from India, chilies enjoyed around the world originated in Meso America, Japanese tempura may have been learned from Portuguese missionaries, Vietnamese Pho was influenced by French cuisine, and even Fish and Chips owe much to Sephardic Jews who emigrated to England. Thailand has not been immune to such historical-cultural processes, but because it was never missionized to any great degree, because it was never colonized by nations afar, and because it has relatively less immigration, its cuisine has been more culturally unique than the food found in other nations and most of the cross-cultural influences are a bit closer (Laos, Burma/Myanmar, Cambodia, and originally China). Of course, some Thai ingredients do have origins from afar (notably chilies brought by the Portuguese in the 1600's), but again it's a difference of degree not of kind. Oddly enough (as mentioned below), eating utensils do owe their prevalence to European influences. Chickens originated in Southeast Asia and pigs have been raised for meat for a very long time in Asia, as they were first domesticated in Mesopotamia as early as 13,000 BC!

The satay recipe uses pork, the overwhelming choice in Thailand. But elsewhere in Southeast Asia, beef, water buffalo and chicken are used for satay. You can use any of those meats in this recipe if you have a preference other than pork. If you have never had Thai Ginger Chicken, you might be misled by the recipe to think that it goes overboard with ginger. Indeed this amount of ginger leads to a spicy-hot experience that doesn't rely on any chilies. But cooking the ginger brings down the "temperature" quite a bit (the longer you cook it, the milder) but the "bite" makes this dish rather uniquely delicious. Some recipes call for the addition of red chilies, but this is somewhat unnecessary as unless you overcook the ginger substantially, it will have more than enough "heat" to enjoy. You can easily adjust the spiciness of the dish by using more or less fresh ginger. We prefer dark meat chicken for this dish (it remains juicier and has more depth of taste), but feel free to substitute breast meat if you so desire. Perhaps the ingredient that is most unusual is the Tao Jiew, fermented soy bean paste, but we give you several reasonable alternatives. Dried wood-ear mushrooms also might not be a readily available, but fresh can be substituted and other mushrooms can be used as well. The scallions are added last, mostly to add a splash of green color. Like many Southeast Asian foods, these dishes combine salty, sweet, sour and spicy, a combination that creates a lovely riot of tastes in your mouth. It's interesting that in America when we meet someone we typically say "How are you?", where my wife and I lived in Indonesia, the favored greeting is "Where are you going? (Mau kemana?)", in Thailand when people meet they often say "Gin khao yung?" or "Have you eaten yet?" Unlike most places in Asia, chopsticks aren't very popular in Thailand; since the reign of King Rama IV in the 19th century, spoons and folks have been the standard. Large spoons held in the right hand, perhaps aided by a fork (to push food onto the spoon) in the left are preferred for eating rice-based dishes. Chopsticks are mostly used for standalone noodle dishes.
Gai Pad Khing (Thai Ginger Chicken)
Ingredients
1 pound of boneless chicken (dark preferred) cut into bite-sized pieces
1 ounce dried wood-ear mushrooms, re-hydrated (also called "cloud-ear mushroom" or "black fungus")
1 ounce finely julienned ginger (about 1/4 cup, peel first)
2 teaspoons of minced garlic (about 4 medium sized cloves)
1 tablespoon Tao Jiew Thai fermented soy bean paste (can substitute with Indonesian/Malay Taucho, Japanese aka (red) miso or Korean doenjang)
1 tablespoon oyster sauce
1 tablespoon fish sauce
1 teaspoon of sugar
1 red bell pepper, sliced
1 medium onion, sliced
2 scallions (green onion), sliced
Dash of white pepper
Preparation:
Soak dried mushrooms in hot water for 20 minutes.
Cut chicken into bite-sized chunks.
Slice red pepper and onions lengthwise and set aside.
Peel and julienne the ginger and set aside.
Slice the scallions along the bias to make 2" pieces.
Drain and squeeze the water out of the mushrooms and set aside (discard the water).
Mix together the soybean paste, oyster sauce, and sugar.
In a wok or fry pan on medium high, sauté chicken pieces, stirring constantly, until 60 percent cooked.
Add to the partially cooked chicken the garlic, bell pepper, mushrooms, onions and ginger.
Continue frying until the chicken is completely cooked.
Add the sauce and white pepper and stir constantly for 30 more seconds.
Moo (Pork) Satay
Ingredients
small 6-inch bamboo skewers (soak in water for 1 or more hours before starting)
1 pound of pork loin chops
Marinade
1 1/2 teaspoon whole coriander seeds
1/2 teaspoon whole cumin seeds
1/2 teaspoon white pepper
1 teaspoon turmeric powder (can use fresh ground too!)
1/8 teaspoon ground cinnamon
1/8 teaspoon ground cloves
2 teaspoons brown or white sugar or palm sugar
1/2 teaspoon salt
1 tablespoon finely chopped lemongrass (may substitute dried lemongrass or lime zest)
1 teaspoon galangal root finely chopped (optional) may substitute 1/2 teaspoon dried powder
1/teaspoon white vinegar
1/3 cup coconut milk (shake container vigorously before opening because the fat separates)
1/4 cup water
Preparation
In a toaster oven at 350° or in a medium hot fry pan, toast coriander and cumin seeds until they are light brown and fragrant (be careful not to burn the cumin seeds).
Grind the cumin and coriander seeds to a fine powder in a mortar and pestle or a spice mill.
Combine all the remaining ingredients in a bowl and mix well.
Cut each loin chop in half parallel with the fat cap, then slice perpendicularly in 1 inch pieces.
Place the pork in a bowl and cover with the marinade.
Using your hands (you may use gloves as the turmeric will stain your hands) thoroughly mix the pork with the marinade so that all sides are completely covered.*
Cover the bowl and let marinate in your refrigerator for 4 or more hours (preferably overnight).
Impale the pork pieces on the pre-soaked bamboo skewers leaving enough space and the blunt end to grip and covering the tip of the skewer.
Pre-heat your barbecue to medium high heat.
If the marinade is not fully covering the satay, brush with coconut milk before grilling
Grill the satay on both sides, so that it has a slight char but not overcooked. (note if you fold some aluminum foil and place it under the exposed bamboo to keep it from burning).
* Note: the only thing I have found that removes turmeric stains is direct sunlight. It works like magic!
Thai Peanut Sauce
Ingredients
1/2 cup roasted peanuts, or 1 package of "bumbu sate" (available at 99 Ranch market in the Indonesian section). Note: If using the bumbu sate, omit the palm sugar below.
1 tablespoon red curry paste
1 cup coconut milk (shake container vigorously before opening)
2 teaspoons Thai or Vietnamese fish sauce
2 tablespoons shaved, chopped or chopped palm sugar
2-3 tablespoons tamarind juice (may substitute 1 1/2 tablespoon fresh lime juice)
Preparation
On medium heat boil 1/4 cup of the coconut milk in a saucepan
Continue cooking the coconut milk until it becomes thick to the point that the oil begins to separate.
Mix in the red curry paste and cook an additional minute or so.
Add the additional ingredients and continue cooking until the oil (which will be a lovely red) begins to separate.
After the oil begins to separate the sauce will be very thick. You can thin out and smooth out the sauce by adding a tablespoon of water at a time until it's the desirable constancy.
Serve with jasmine rice, or as is now common with Thai street satay, thick slices of grilled white bread good for dippin' in the sauce.Ajaar Cucumber Pickles
Ingredients
1 large cucumber, seeded and diced or sliced thin
1-4 hot Thai chilies, sliced very thin (okay to substitute with milder peppers)
1/4 of a medium onion, or 4-5 scallions, sliced very thin
1 cup rice or white vinegar
1/2 cup white sugar
2 teaspoon salt
Preparation
Heat vinegar, sugar and salt in a saucepan and stir until sugar and salt are completely dissolved.
Let liquid cool to room temperature or cool in refrigerator.
Mix the sliced cucumbers, peppers and onions/scallions in a medium-sized bowl.
Pour the cooled sweetened vinegar over the vegetables.
Best if "pickled" for a few hours, but can also be consumed immediately.
Special Note: Each of these recipes are substantially based on recipes created by Pailin Chongchitnant for her Hot Thai Kitchen website and Youtube channel. Her videos, culinary knowledge, and preparation guidance are simply the best. Pailin also has a cookbook of the same title which can be found here.

Additional notes: Long long ago (2008?) we published a recipe for Gai Pad Khing, but this recipe is, we believe to be a better version.

Recipe by T. Johnston-O'Neill
Photos by Shari K. Johnston-O'Neill
Keep informed about San Diego Events!
Sign-up for our weekly Eblast by clicking here:
Sign Me Up!