Our recipe of the month is for Korean Gilgeori Toast (길거리 토스트) is a street-food favorite this easy-to-prepare comfort food uses simple and easy-to-find ingredients to create a unique and tasty breakfast or lunch.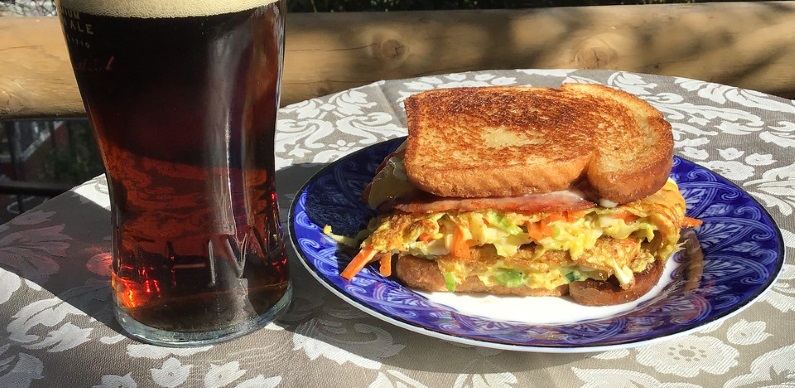 Gilgeori (길거리) means "street" in Korean and toseutue (토스트) is the Korean phonetic rendering of the English word "toast". Street toast is relatively new to South Korea, arriving on the scene just a few decades ago. Although it is called "toast", it is basically an omelet sandwich on fried white bread. Having carrots and cabbage, it adds a bit of vegetable to the mix, but given that the bread is fried in butter (much like a grilled cheese sandwich) and the copious topping of mayonnaise, "Korean Toast" will not make it into the dieter's hall of fame. But it is the perfect pick up for always rushed and harried students, despite the fact that the lines for such street vendors are long. Myeongdong Shopping street is the most famous street for shopping in Seoul, and there you will find a street vendor selling Gilgeori Toast as "Myeongdong Hamburger Toast". Although there is ham not hamburger in their offerings, it doesn't seem too much of a stretch to liken Gilgorio Toast to a (Korean) hamburger, than anything else Americans routinely consume.

The old saying "you can't judge a book by its cover" can be re-purposed to "you can't just a recipe by its ingredients" as Korean Toast has one ingredient that may seem out of place: sugar. But if you want the full culinary and cultural experience, you should toss caution to the wind and try it as sugar does indeed add a bit of unexpected pleasure.

The basic ingredients for Korea Toast are: white bread, butter, cabbage, carrots, sugar, ham, cheese, mayonnaise and ketchup. But like so many recipes we have presented, the options are plentiful as long as the flavors are balanced. Some recipes (such as the NY Times' version) suggest jam as a condiment replacing the mayo and ketchup. Normally sliced American cheese is used, but cheddar, Swiss or some other cheese will do. Mozzarella is now a popular choice among Korean street vendors and their customers. Thinly sliced scallions or onions can be added to the omelet mixture. Some cooks even suggest the addition of Kimchi, although given the Korean love of Kimchi with just about anything, it is perhaps even more surprising that it isn't one of the standard ingredients. The bread used in Korea for Gilgeori is usually "Milk Bread", a soft and pillowy white bread that has little or no crust. This type of bread is also very popular in Japan. The closest equivalent in the West in terms of texture and taste is probably French brioche (as both have lots of butter!), but the shape is all wrong. A reasonable substitute (considering you will fry the bread in butter) is standard white bread, particularly if it is a bit thicker slice.
Ingredients (per individual serving):
1 cup of finely shredded cabbage
1/2 cup of finely julienned carrots
2 scallions finely sliced
2 eggs
1 slice of ham (boiled, Virginia or whatever suits your fancy)
1 teaspoon sugar
1/2 teaspoon salt
1/4 teaspoon pepper
3 tablespoons butter
1 tablespoon mayonnaise
1 tablespoon ketchup
Preparation:
Finely julienne the carrots (cut into slices, stack the slices and cut thin strips).
With a knife or mandolin, finely shred cabbage.
Finely slice scallions.
Put the carrots, cabbage, scallions, salt and pepper in a mixing bowl, and then massage the mixture with your hands for a minute or so.
Crack eggs into the bowl and mix thoroughly.
Melt and distribute two tablespoons of butter to a frying pan.
Fry both sides of 2 slices of bread until browned. If you flip the bread often, you can avoid burning. Add more butter if necessary.
After bread is fried, set aside.
Heat frying pan, melt and distribute 1 tablespoon of butter.
Pour the egg and vegetable mixture into fry pan making a long mound. Push the mound down.
Fold the edges in to form a rectangle which is the same height but twice as long as one of the bread slices.
Cook the "omelet" until golden brown, and then slice it in half. Each half should be the same size as a bread slice.
Stack the two omelets onto one of the slices of bread.
Sprinkle a teaspoon of sugar on top.
Add a slice of ham to the frying pan, fry for a minute, flip the ham and place cheese slice on top.
Continue frying ham until cheese starts to melt.
Add ham and cheese to the top of the omelet.
Squeeze mayo and ketchup on top of the melted cheese.
Finish by adding the other slice of toasted bread.
Notes:
• All the frying can be done at medium to medium-low heat.
• In Korea, mayonnaise and ketchup is applied using squeeze bottles with a row of holes in the cap.
• Korean Toast is a very hearty meal, I had trouble finishing mine given the standard ingredient amounts. If you want to make it lighter, just make the omelet half the size suggested.

Recipe by T. Johnston-O'Neill
Photos by Shari K. Johnston-O'Neill
Keep informed about San Diego Events!
Sign-up for our weekly Eblast by clicking here:
Sign Me Up!