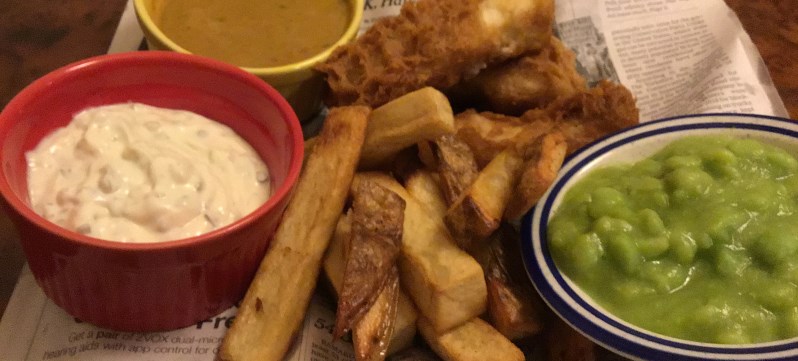 Fish and Chips with Curry Sauce may seem like a recent cross-cultural melange, but Fish and Chips were originally created by Sephardic Jew immigrants in the 19th Century. As we discuss in our article on Eschebeche, the use of vinegar as a condiment for this cherished comfort food has an even earlier origin in the Middle-East. Originally, fried and battered fish were sold by street vendors. Mentioned in Charles Dickens' novel Oliver Twist published in 1839 through the "fried fish house". A few decades later the tradition of selling fried fish with fried potatoes became commonplace in London. Leading to them becoming ubiquitous in Victorian England. Italian immigrants brought Fish and Chips to Scotland, Wales and Ireland. Fish and chips are often served with "tartare sauce", known as tarter sauce here and "sauce tartare" in French. Tarter Sauce is, for all intents and purposes, mayonnaise with chopped capers or chopped gherkin pickles. Although the name of the sauce is derived from the "Tartars" (Mongolians), the sauce probably has its origins in France where eating meats with sauces is a long tradition.

Since the 1970's curry sauce has become a very common addition. As most of our reader's surely know ,"chips" refer to what Americans call steak-cut fried potatoes. What American's call "chips" are known as "crisps" in the United Kingdom and Ireland. I have had Fish and Chips both in Ireland and England and often buy the dish here in San Diego.although, I must confess, it is possible that one has to develop a discriminating palate to know the difference between a good chip and a great one. While visiting Kilkenny Ireland we were told to try a particular "Chippy Shop" because they had the reputation of making the best chips in the county. This establishment only sold chips, nothing else. We entered a doorway and at the end of a long hallway there was a Dutch door where the chips were dispensed. There was a long line (aka queue) waiting to buy them. However, our impression was a bit under whelming (they tasted ok, but a bit undercooked for our tastes) so I suppose over time one might develop a more discerning palate for such things! Until quite recently, take-away fish and chips were often wrapped in newspapers. Although not specifically banned, since 1990 using newsprint is no longer time appropriate, as it falls wide of what food containers can be made out of. More recently several municipalities have sought to ban any kind of paper wrapping for fish and chips in order to lessen the amount of litter strewn about.

The most common fish for fish and chips is cod, followed by halibut. Recently, in a La Jolla restaurant I ordered fish and chips that were made with Wahoo (Ono) fish. Perhaps it was the manner of preparation but the fish was very dense and did not resemble the soft light texture with which, in my view, makes fish and chips so enjoyable.

The type of potato is important for making proper chips. Unfortunately, in America, we don't quite have the variety of potatoes found in the British Isles. Choose starchy ones like Russets rather than waxy new, white or gold potatoes.

Mushy Peas are a traditional accompaniment to Fish and Chips. Ideally, they are made from large dried marrowfat peas that are soaked in baking soda and water overnight. In England, they are often artificially colored to be bright green as this original method of preparation would otherwise be a unappetizing gray color. The colorings used are Tartrazin (yellow) and Brilliant Blue. Attempts by the British government to ban the use of the active chemical coloring tartrazine have been unsuccessful and since 2010 the EU has mandated the warning "May have effects on activity and attention in children" on the packaging of any product containing the chemical. Marrowfat peas are not easy to find here, so frozen green peas can be substituted although the taste experience is bound to be different as the traditional peas will have a lower skin to filling ratio than the frozen peas that are most common here in America. If you want, you can buy dried marrowfat peas on Amazon.com, but alas, the color will not be so spectacular. They can also be purchased in a can which is probably closer to the traditional taste and the choice we made for this recipe.

Fun Facts: Apparently, Beatle John Lennon enjoyed Fish and Chips smothered in tomato ketchup. Also, considered so important to the British psyche, Fish and Chips were one of the only foods that were not rationed in Britain during World War II.

Cooks notes:
The potatoes are "twice cooked". We fried them once and then set them aside while we fried the fish. After the fish were fried (and transferred to a toaster over to keep warm and crispy), we fried the potatoes again until they turned golden brown.
Many recipes and cooks suggest draining fried foods on paper towels. We prefer using a wire rack as the food then stays crisp and does not become soggy on the bottom.
Curry powders come in a variety of mixtures. Experiment to find one you like best. Using darker colored Japanese curry would not be a bad idea as it would cut out some of the work entailed.
We used canned mushy peas we found on the link above. They were surprisingly good.
We used a deep fat fryer for this recipe, but you could achieve similar results with a stove top Dutch Oven. We haven't tried, but a regular pot might lose too much heat when the fish or chips are first added.
Battered Fried Fish
Ingredients:
Vegetable Oil (traditionally beef tallow, but we used peanut oil)
1 teaspoon baking soda
12 Ounces of cold beer (Ale)
1 Cup all purpose flour (and a little extra for dredging)
1 Pound of Cod (or substitute other white fish) cut into 1 inch strips
1 Teaspoon of salt
1 Teaspoon of pepper
Preparation:
Heat deep fat fryer oil to 350°F.
Thoroughly mix together beer, baking soda, flour, salt and pepper in a mixing bowl.
With a paper or cloth towel pat dry fish.
Layer a plate with extra flour and thoroughly coat fish with flour.
One piece at a time transfer the fish to the batter in the mixing bowl.
Thoroughly coat fish in batter and then drop into deep fat fryer.
Do not fry all the pieces at once, do them in small batches.
Cook battered fish until golden brown.
Remove cooked fish to a wire rack to drain oil from fish. (Note this is a much better method than draining on paper towels)
Chips (Fries)
Ingredients:
2 large Russet potatoes cut into steak fries
Preparation:
Wash and cut potatoes into large fries (1 inch or more wide).
Deep fat fry(in batches) potatoes until the edges just start to brown.
Remove and drain chips and wait until they are cool.
Re-fry chips until they are golden brown.
Mushy Peas
Ingredients:
2 Cups frozen peas
1/2 cup water
1 Tablespoon butter
1/4 Teaspoon dried mint (or 1 teaspoon fresh mint finely chopped)
1/2 Teaspoon ground black pepper
2 Teaspoons lemon juice
Preparation:
Boil peas for 12 minutes.
Drain peas and transfer to bowl
Mash coarsely with a potato masher (don't overdo it)
Add lemon juice, mint and pepper
Note: If you can obtain dried Mallofat peas you must pre-soak them in water and a teaspoon of baking powder for at least 12 hours before cooking them. Afterwards, they must be boiled for 1/2 hour to become mushy. Enhance the flavor with mint, pepper, lemon juice, salt and pepper (as for green pea directions above). Remember if you use dried Mallofat peas, the color will be more gray than green
Curry Sauce
Ingredients:
2 Ounces butter
1 Large onion, finely sliced
1 Teaspoon chili powder
1 Teaspoon plain flour
2 Tablespoons curry powder
5 Ounces heavy cream
7 Ounces chicken stock
2 Tablespoons finely chopped fresh coriander leaves
1/2 Lemon, juice only
Preparation:
Melt butter in a pan on medium heat, add onion and cook until onions are golden brown (about 10 mins).
Mix in flour, chili and curry powder and continue stirring for 2 minutes.
Add heavy cream and chicken stock.
Simmer for 10 minutes.
Tarter Sauce
Ingredients:
1 Cup mayonnaise
1 Tablespoon sweet pickle relish (or finely chopped gherkins, dill or whatever pickle you like)
1 Teaspoon finely chopped capers
Preparation:
Mix mayonnaise, pickles and capers together.
How to Serve
Serve with:
Curry and tarter sauces in small bowls suitable for dipping the fish and potatoes.
Malted vinegar and lemon slices.
Ale of your choice.
Recipe and photo by T. Johnston-O'Neill
Keep informed about San Diego Events!
Sign-up for our weekly Eblast by clicking here:
Sign Me Up!