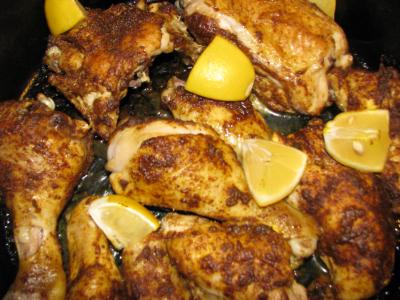 This is a delicious recipe that we've adapted from a Martha Stewart recipe. As such we can't vouch for the "cultural authenticity" (although the spices do seem spot-on). But if you like superbly spiced chicken that will tantalize your taste buds, this is it! We used a cast iron skillet to cook the chicken. Don't forget to drizzle the pan juices over the couscous, they will make you swoon! You should be able to find all the ingredients for this meal at most any grocery store.
Spiced Chicken Ingredients:
Ingredients:
1 teaspoon ground cinnamon
1 teaspoon ground coriander
1/2 teaspoon ground turmeric
1/4 teaspoon ground cardamom
1/4 teaspoon ground cumin
Coarse salt and freshly ground pepper
2 tablespoons extra-virgin olive oil
1 whole chicken (4 pounds), quartered, skin on
1 lemon, quartered
Spiced Chicken Preparation:
Place a rimmed baking sheet (or cast iron skillet) on the center rack of oven and preheat oven to 450 degrees.
Mix spices, 2 teaspoons salt, 3/4 teaspoon pepper, and the oil in a small bowl.
Rub spice paste all over chicken.
Carefully arrange chicken in a single layer on hot sheet (or skillet), and arrange lemon wedges around chicken.
Bake until chicken registers 165 degrees on an instant-read thermometer and juices run clear, 30 to 35 minutes.
Remove from oven and let stand for 10 minutes.
Season with salt and pepper, and serve with pan juices and roasted lemon wedges on the side.
Couscous Ingredients:
Couscous is a coarsely ground semolina pasta. For this recipe use the "parboiled" or "pre-steamed" couscous.
Cook Time: 10 minutes
1 1/2 cup couscous
2 3/4 cups chicken stock or water
1/4 teaspoon salt
Couscous Preparation:
In a saucepan, bring water to a boil.
Add salt and stir.
Add couscous and remove from heat
Allow to sit for about 5 minutes.
Couscous should be light and fluffy, not gummy. Be sure to allow the couscous to absorb the water. You can add all sorts of goodies to couscous; sautéed onions, raisins, currants, sliced almonds, "craraisins", cilantro and whatever else suits your palate.
Enjoy!
Photo by Shari K. Johnston-O'Neill
Details

Hits: 1762

This recipe originates with the Moone High Cross in County Kildare, Ireland. The inn is owned by the Clynch family and it's been in operation 1700's. We've adapted the recipe a bit (but just a wee bit). The inn was County Kildare's "Pub of the Year" in 2004. Purportedly a celebrity favorite, they even named their bar "The Clint Eastwood Saloon". If you go, it's on the road from Dublin to Kilkenny.
It all begins with a savory vegetable stock.
Homemade Vegetable Stock Ingredients:
1 1/2 tablespoon unsalted butter
2 onions chopped
1 leek (white part only)
1 carrot peeled and chopped
1 celery stalk chopped
5 large white mushrooms, chopped
1 potato, peeled and cut into 1/2 inch pieces
6 1/2 cups cold water
3 garlic cloves minced
1 teaspoon black peppercorns
1/4 teaspoon dried thyme
1/2 bay leaf
6 sprigs of flat-leaf parsley
1/2 teaspoon of salt
Vegetable Stock Preparation:
In a stockpot melt butter and saute onions for 5 minutes until they start to brown.
Add leeks, carrots, celery, mushrooms, potatoes and 1/3 cup of the water.
Cook covered for 5 minutes.
Add remaining ingredients (water, garlic, peppercorns, thyme, bay leaf, parsley and salt) to pot.
Bring to a boil and then reduce heat to simmer uncovered for 2 hours.
Strain stock through a fine strainer into a suitably sized bowl or container for storage.
Soup Ingredients:
2 tablespoons unsalted butter
3 leeks (white part only) washed and sliced
1 large onion chopped
6 medium potatoes peeled and cut into 1 inch pieces
6 cups of vegetable stock (see how to make your own with the recipe below!)
1 1/4 cups half and half
Salt and pepper to taste
Minced fresh flat leaf parsley for garnish
Soup Preparation:
In a stockpot melt butter and saute onions and leeks at a low heat (covered) for 5 to 7 minutes so that the onions and leeks are soft but not browned.
Add potatoes and stock and cook for 30 minutes until potatoes are soft.
Remove from heat and let cool for at least 10 minutes.
Transfer all to a blender or food processor and puree until smooth. Unless you have a very large food processor you will have to work in batches.
Return soup to stockpot and briskly stir in half and half.
Add salt and pepper and simmer until soup is hot.
Serve in bowls, sprinkle with parsley. Eat with a crusty bread.
Recipe from "The Irish Pub Cookbook" by Margaret M. Johnson
Photos by Shari K. Johnston-O'Neill
Details

Hits: 1950
Here's a delightful recipe for Totillitas, a garbanzo bean flour fritter from the Andalusia (southern) region of Spain. It was recommended by one of our readers, Ryan (Thanks!). Pre-packaged garbanzo (chickpea) flour can be obtained at Sprout's Market or at any Indian grocery where it is called besan or gram flour. It is possible to make this recipe without the white flower if you are allergic to gluten. This is a very simple and easy to make dish that is wonderfully tasty.
Ingredients:
1 cup garbanzo (chickpea) flour
1 cup white flour
1 teaspoon baking powder
Salt (to taste) and freshly ground black pepper
1/2 cup chopped onions, scallions or shallots
About 1 cup coarsely chopped raw shellfish or firm while fish. (The pictured dish uses shrimp)
4 to 5 tablespoons coarsely chopped chives, parsley, thyme or cilantro (your choice, mix and match!)
Olive oil
Preparation:
In a bowl, combine flours and baking powder with salt and ground pepper. Slowly whisk in cold tap water until the batter is the consistency of a thin pancake batter. Stir in the onions, chopped seafood and herbs.
Pour a generous amount of olive oil in a skillet (1/4" deep) and then heat to medium to medium high. If the oil starts to smoke it is too hot. Once the oil is hot, pour one ladle of the batter mixture in the pan.
Brown the fritter on one side and then flip it over to brown the other side (just as you would a pancake). The center of the tortillita should be soft, the outside crisp. Temperature control is the way to accomplish this.
These tortillitas can be eaten as a snack or as part of a full meal.
Buen provecho!
This recipe adapted from Mark Bittman's New York Times recipe.
Photo by Shari K. Johnston-O'Neill
Details

Hits: 2081
This recipe is from West Africa. It can be made with various ingredients; beef, chicken, lamb, shrimp or even vegetables. The version described is made with chicken breasts. It should be noted that the chicken most American's are familiar with are meatier, more tender and less flavorful that chicken found in much of the less-industrial world. These kebabs have a very savory and pleasing taste that is interesting but easy on the palate. Accompanying the Suya Kebabs is a recipe for Jollof rice which is also from West Africa and a simple directions for making non-alcoholic "Ginger Beer." The recipe is adapted from Fran Osseso-Asare's intriguing book, "Food Culture in Sub-Saharan Africa." The recipe is actually a lot easier than it looks!
If you decide to use bamboo skewers for this recipe, soak them in water for one hour before using so that they won't burn. (you can also use aluminum foil to shield the ends). Metal skewers are fine too. Apparently in West Africa skewers are shorter than the ones typically found in American grocery stores.
The Suya kebabs are first marinated and then rolled in "tankora" powder before they are grilled.
Kebab Ingredients:
1-1/2 pounds of chicken breast cut into kebab sized cubes
Marinade: (note place all these ingredients in a small food processor or blender and chop finely. If you want to be "old school" use a mortar and pestle!)
1 inch of peeled fresh ginger root
3 cloves of peeled garlic
1 tablespoon of tomato paste
1 tablespoon peanut oil (or other vegetable oil)
1 chicken bouillon cube (optional, if used tried to find one without MSG)
1/4 - 1/2 teaspoon of salt
Blend all of these ingredients and then in a bowl mix them with the cubed meat and marinate for at least 15 mins.

Tankora Powder Ingredients:
1/2 cup of dry roasted unsalted peanuts
1/4 cup of roasted corn meal (roast in the oven or in a heavy pan till lightly brown, only takes a few minutes. If using a pan, stir frequently)
1/4 teaspoon of ground chili pepper (not adjust according to strength of chilies and/or your guests tolerance)
1/2 tsp of dried ginger powder
1/2 tsp of salt (omit if using salted peanuts)
1/2 tsp of ground white pepper
Kebab Preparation:
Powder the peanuts with a spice mill, a mortal and pestle or buy putting them in between some wax paper or a plastic ziploc bag and smash with a hammer until finely powdered.
Mix all of the Tankora ingredients together.
After the meat has been sufficiently marinaded, skewer the meat and vegetables. Alternate the meat with sweet peppers or onion for a bit more variety.
Coat the skewered meat with the tankora powder. Do this by rolling the skewers if the meat is firm or covering the skewers with the powder and firmly pressing it into the meat.
For best grilling results, lightly coat the prepared skewers with peanut oil using a pastry brush. This will keep the meat tender.
Grill skewers either on a gas or charcoal grill our broil on the top shelf of the oven.
Jollof Rice Ingredients:
A good complement to the Suya Kebabs is Jollof Rice. Due in part to the strong historical connection between West Africa and the Caribbean, this dish is very similar to Jambalaya. This recipe is adapted from globalgourmet.com
1 pound diced chicken (note beef or shrimp may be added or substituted)
Salt and ground white pepper, to taste
Vegetable oil for frying
3 1/2 cups chicken stock
2 large onions, finely chopped
4 cloves garlic, peeled and finely chopped
2-3 chilies (hot peppers), finely chopped
1 large can of diced tomatoes
3 tomato paste
8 oz each of assorted chopped vegetables, e.g. carrots, green beans . . .
mushrooms and capsicums (sweet or bell peppers)
2 cups long-grain rice
Jollof Rice Preparation:
Heat oil in deep fry-pan and fry the meat or chicken pieces until brown.
Remove meat from oil and add onions garlic and chilies and sauté until the onions brown.
In heavy sauce pan add tomatoes, tomato paste, half the combined vegetables and 1/2 cup of stock and simmer for 5-7 minutes.
Stir well, adjust seasoning and simmer on low heat for 5-7 minutes. Add this vegetable sauce to the meat mixture in the saucepan and simmer gently.
Add meat, rice and the remainder of the stock. Cover pot and simmer on a low heat for 10 minutes.
Add the remainder of vegetables to top of rice and cook for another 5 minutes or until rice is tender. Be very sure that the heat is just high enough to bubble as the tomato and tomato paste might burn. If necessary add small amounts of water and cook longer to ensure the rice is sufficiently soft.
Note: If adding shrimp to the dish, do so in the last 5 minutes, but make sure it is fully cooked before consuming it.
Ginger Beer Ingredients:
Ginger beer goes great with Suya and Jollof Rice. This recipe is adapted from "The Congo Cookbook". Ginger beer can have quite a ginger bite to it (not gingerly at all!) so adjust the amount of fresh ginger or water to your preference.
3 or 4 large fresh ginger roots sections (not ground ginger!)
juice of two limes
1 cup sugar
8 whole cloves
1 cinnamon stick
2 quarts of boiling water
Ginger Beer Preparation:
Peel the ginger and either shred it with a grater or in a food processor.
In a large container (stainless steel or oven-proof glass) and ginger, cloves and cinnamon.
Let brew for one or more hours (the more the merrier).
Strain mixture into a pitcher either with cheesecloth (folded) or a very fine stainless steel screen. If using the cheesecloth you can squeeze the cloth at the end to get every precious drop.
Add lime juice and sugar and stir. If the drink is too strong, just add more water.
Serve over ice or at room temperature.
Recipe by T. Johnston-O'Neill
Photo by Shari K. Johnston-O'Neil
Recipe by T. Johnston-O'Neill
Details

Hits: 1541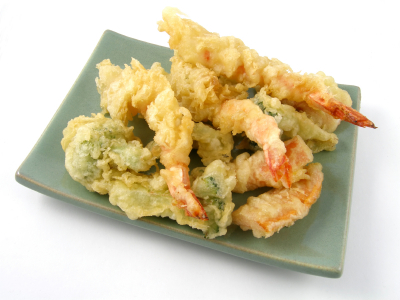 Tempura Batter Ingredients:
1 egg
1 cup of all-purpose white flour
1 cup ice-cold water
pinch of baking soda
Batter Preparation:
Whisk egg in a mixing bowl
Whisk in remaining batter ingredients to mix thoroughly, do not overdo the whisking, the goal is just to mix the ingredients together. Please note that it is essential to use ice water for the batter and the quicker the next steps are performed the better. The batter should be thin.
Now comes the exciting part! It is important to begin frying the tempura as soon as the batter is mixed. Speed is of the essence. It is best to use long cooking "chop sticks" (Jap. hashi or long-handled tongs to place ingredients in the hot oil and an Asian-style mesh frying spoon to remove them. It is best (but be very very careful doing this) to dip the shrimp in the batter while holding the shrimp by the tail with your tongs or chop sticks. After the shrimp are dipped in the batter, let the excess batter drain off for a couple of seconds and then gently drop them in the deep fryer or wok. Be really careful! You should not put more that 6 pieces into the hot oil at one time to avoid pieces sticking together or having the oil cool too much. After each piece turns lightly golden brown, remove from oil and drain on a wire rack. A wire rack is actually superior to paper towels to drain tempura.
After frying the Shrimp, dip the remaining ingredients in the batter (one at a time and don't overload the wok or fryer with too many pieces at the same time!)
As with the shrimp each piece turns lightly golden brown, remove from oil.
As soon as all the Tempura is cooked, serve immediately! One method to ensure that the Tempura is the very best it can be is to use an electric wok at the dinner table and to serve pieces as soon as they come out of the wok.
Serve with the rice and dipping sauce.
Ingredients:
12-16 large prawns/shrimp cleaned but with tails left on
1 can of Lotus Root*
1/2 pound of broccoli
8 spring onions
1 green Bell Pepper
1 sweet potato
1/2 white mushrooms
1/2 lb zucchini squash
1/2 lb carrots
Preparation:
It is essential that you make the Tempura in the order of steps listed below! For best results all ingredients should be cold not room temperature.
Start by making rice. Japanese rice is short-grained and works best if it is thoroughly rinsed before using. Follow package directions.
Prepare shrimp by removing legs and shell, being careful to retain the tail. Slice down the middle without cutting all the way through. Remove sand vein and rinse. Score diagonally in both directions on the outside to prevent curling.
Cut Broccoli into large florets.
Slice Sweet Potato, Zucchini and Carrots into 1/4 inch slices. The Zucchini and Carrots are best sliced on a long bias.
Cut washed and trimmed Mushrooms in half.
Slice Green Pepper in long strips 3/4" wide, remove seeds and section membranes.
Trim the ends of the Spring Onion (Scallion)
Heat at least 3" of peanut oil in a deep fat fryer or a wok to 350 degrees. Use a frying thermometer to ensure accuracy. Be very careful, as oil burns can be very serious!
Dipping Sauce Ingredients:
3 tablespoons of mirin* or dry sherry
3 tablespoons of Japanese soy sauce
1 cup of Dashi*
1/2 teaspoon of sugar
4 tablespoons of finely grated daikon root*
1 spring onion, sliced thin
2 cups Japanese rice*
* (obtainable in Japanese and many Asian grocery stores)
Dipping Sauce Preparation:
Mix Dashi powder with cold water to make one cup (read package directions). If you are sensitive to MSG, look for Dashi Powder that does not have this ingredient (although "Ajinomoto" aka MSG, is an extremely popular ingredient in Japanese cooking).
Add Mirin, Soy Sauce, Sugar (adjust to taste), grated Daikon and sliced Spring Onion (scallion).
Recipe by T. Johnston-O'Neill
Details

Hits: 1711
The Joomla! content management system lets you create webpages of various types using extensions. There are 5 basic types of extensions: components, modules, templates, languages, and plugins. Your website includes the extensions you need to create a basic website in English, but thousands of additional extensions of all types are available. The Joomla! Extensions Directory is the largest directory of Joomla extensions.
Components are larger extensions that produce the major content for your site. Each component has one or more "views" that control how content is displayed. In the Joomla administrator there are additional extensions such as Menus, Redirection, and the extension managers.
Modules are small blocks of content that can be displayed in positions on a web page. The menus on this site are displayed in modules. The core of Joomla! includes 24 separate modules ranging from login to search to random images. Each module has a name that starts mod_ but when it displays it has a title. In the descriptions in this section, the titles are the same as the names.
Content modules display article and other information from the content component.
User modules interact with the user system, allowing users to login, show who is logged-in, and showing the most recently registered users.
These modules display information from components other than content and user. These include weblinks, news feeds and the media manager.
Utility modules provide useful functionality such as search, syndication and statistics.
Navigation modules help your visitors move through your site and find what they need.
Menus provide your site with structure and help your visitors navigate your site. Although they are all based on the same menu module, the variety of ways menus are used in the sample data show how flexible this module is.
A menu can range from extremely simple (for example the top menu or the menu for the Australian Parks sample site) to extremely complex (for example the About Joomla! menu with its many levels). They can also be used for other types of presentation such as the site map linked from the "This Site" menu.
Breadcrumbs provide users with information about where they are in a site.
Templates give your site its look and feel. They determine layout, colours, typefaces, graphics and other aspects of design that make your site unique. Your installation of Joomla comes prepackaged with three front end templates and two backend templates. Help