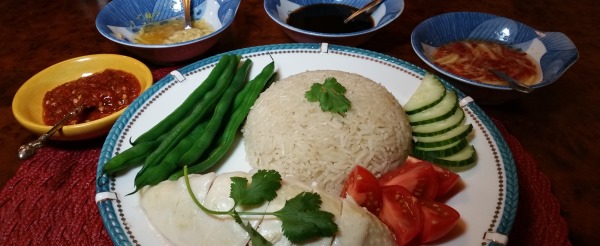 Hainanese Chicken Rice is found throughout much of mainland Southeast Asia, but it is most famous in the island nation of Singapore. It is an interesting blend of tastes, mixing mild tastes of chicken poached with ginger with heavier-tasting savory rice and enjoyed with sweet, sour and spicy sauces.
Hainan is the southernmost Chinese province and features an island tropical environment resplendent with palm trees and white sandy beaches. The interior of the island is mountainous and forested. Due to its proximity to age-old trade routes, it is more culturally diverse than most other parts of China. Hainanese-speaking Han are most evident, but observed religions include Chinese folk religions, Chinese and Theravada Buddhists, Muslims and some who were missionized Christian centuries ago. The island was populated by immigrants from the Chinese mainland, originally the Li, but later people from Fujian and Guangdong regions. Traditionally the Hainanese economy was based on fishing. Similar to all these Southeast Chinese areas, it has experienced a great deal of outward migration, due to famine, war and emerging opportunities in Southeast Asia.
Wherever the South Chinese ended up, they brought their culture with them; but to a surprising degree, they adapted to the cultures of their final destinations. Immigrants from Hainan brought their culinary traditions, which they adapted to Southeast Asian sensibilities and ingredients. The culture and food that developed in Singapore and Malaysia from this cultural transfusion is known as Peranakan, Baba-Nyonya or Nyonya culture. It is a distinct blending of Chinese and Southeast Asian culture and cuisine. Hainanese Chicken Rice is ubiquitous in the region and interestingly, unlike most other Peranakan cuisine, it's name retains it's cultural origins and is very similar to Wenchang Chicken from the island of Hainan. The main difference between the two is not so much the chicken (the preparation is quite similar), but the way the rice is prepared and the sauces served with the dish. Like many other Southeast Asian dishes, Hainanese Chicken Rice is salty, sour, sweet and spicy. Also similar to other dishes of the area, these distinct elements coupled with strong differences in textures and mouth-feel create a culinary experience that is far greater than the constituent parts. If you visit a hawker center in Singapore, you will surely find Hainanese Chicken Rice.
Hainanese Chicken Rice must be prepared in stages, as you need the broth from the cooked chicken to make the rice. Ideally the chicken for this recipe is poached at a sub-boiling temperature for 45 minutes to an hour. This results in a very tender chicken, but you must test for doneness. This recipe is adapted to American chickens, which are considerably larger that chickens in Southeast Asia. Some recipes, no doubt erring on the side of caution, call for boiling the chicken or bringing it to a boil for 20 minutes or so and then turning off the heat and covering the pot for another 15 to twenty minutes until the chicken is cooked through. An unusual final step is to remove the cooked chicken from the broth (which you must reserve to cook the rice) and then gently lowering the cooked chicken into an ice bath to cool it. The New York Times writer Mark Bitman had this to say about the dish: "Hainanese chicken, the best one is the provenance of devotees, who save the stock they don't need for the rice, freeze it, and use it as a starting point for the next time they cook chicken this way. If you do this repeatedly, the stock will become stronger and stronger, as will the flavors of both chicken and rice. If you do this hundreds of times, the way restaurants do, the flavors will be quite intense. But even if you do it once, the dish is a total winner."
Ingredients:
Chicken
1 whole fresh chicken
Sufficient water to just cover chicken
4-5 slices ginger
3 scallions, cleaned and cut into thirds (use white and green parts, but not roots)
1 tablespoon salt
Ice
Rice
3 cups of jasmine rice
Chicken fat from fresh chicken
4 cloves of garlic, minced
4 shallots finely sliced
4-1/2 cups chicken stock
2 teaspoons salt
Ginger-Garlic Sauce
2 tablespoons of shredded ginger
1 teaspoon finely chopped garlic
3 tablespoons sesame oil
pinch of salt
Sweet Dark Soy Sauce
Note: Kecap Manis can be substituted
1/3 cup water
3 tablespoons sugar
1/2 cup dark soy sauce
Chili Sauce:
3 tablespoons chicken broth
1 tablespoon lime juice
2 teaspoons white vinegar
6 fresh, finely sliced red Thai chilies
1 tablespoon shredded fresh ginger
3 cloves of garlic chopped finely
½ teaspoon sesame oil
1 teaspoon salt
1 teaspoon sugar
Preparation:
Cooking the chicken:
Remove any fat from the whole chicken and reserve for preparing the rice.
Place the whole chicken in a large pot that is just large enough to fit the chicken from side to side without crowding.
Add the ginger, cut up scallions, and salt to the pot (around the sides of the chicken).
Add just enough water to the pot to cover the chicken completely.
Heat water to a full boil, then cover the pot tightly and turn off the burner.*
Leave the chicken in the hot water for 45 minutes and test for doneness by pricking a leg with a toothpick or skewer (the juices should be clear).
When the chicken is nearly done, fill a large bowl or pot with ice water.
Very gently transfer the cooked chicken to the ice water bath and keep it there until the chicken is fully cooled.
Gently remove the chicken and pat dry with a paper or cloth towel.
Cut the chicken in serving portions (see photo).
* We used a Dutch oven to make sure the temperature was retained long enough for the chicken to cook all the way through.

Cooking the rice:
Render the reserved chicken fat in a frying pan over medium heat. If necessary, add some peanut or light olive oil so that you have 2-3 tablespoons of oil in the pan.
Saute the shallots in the chicken fat for two minutes.
Add the minced garlic and saute for another minute.
Add the rice to the pan.
Stir rice constantly to mix well with the oil, shallots and garlic (2 - 3 minutes)and everything is glossy.
Transfer rice to a rice cooker or pot.
Add 4-1/2 cups of chicken stock, cover and turn on rice cooker. If using a pot, bring everything to a boil, cover and turn down the heat to low, and wait 15 minutes.
Prepare the sauces. Simply mix the ingredients mentioned and distribute to individual bowls.

Serve chicken and rice on individual plates and garnish with thin cucumber slices (cut in half), fresh cilantro and tomato wedges. Scoring the cucumer lengthwise with a fork before it is sliced makes it visually appealing.
Selamat Makan!
慢慢吃 (Mang-Mang Sik)!
Recipe by T. Johnston-O'Neill
Photo by Shari Johnston-O'Neill
Details

Hits: 1838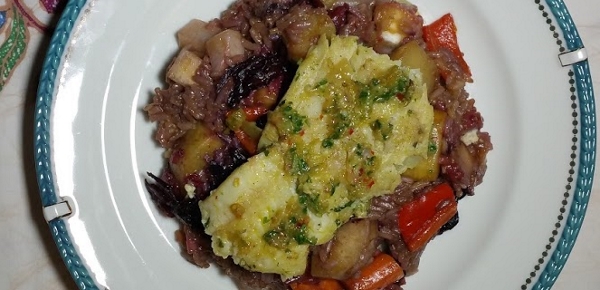 Thiéboudienne (French) or Ceeb ak Jën (Wolof) is a one-pot, tomato-based fish and vegetable dish and the national dish of Senegal. Senegal is a west African country that is home to numerous ethnic groups. It is believed that the dish originated on the Senegalese island of St. Louis. Until 1957, St. Louis was the capital of Senegal and is now a UN World Heritage site. It has been suggested that dishes like Thiéboudienne, enjoyed widely in Senegal, help forge a national identity in the context of a widely diverse country. The five large groups in order of population are Wolof, Fula, Sere, Jola, and Mandinka. Although the most widely spoken language is Wolof, being a former colony, the official language is French. Despite linguistic differences, these groups are culturally similar, and marriage between groups is very common. The capital city of Dakar is famous for its nightlife and many kinds of music, but most popular is the national music known as Mbalax which is a fusion of indigenous drum music with Western music (jazz, soul, Latin, rock).width=100%>Thiéboudienne is a fish, rice, tomato and vegetable dish that is cooked in a single pot. There are lots and lots of variations, and many kinds of fish and vegetables are used, whatever is most available. In her book entitled "High on the Hog: A Culinary Journey from Africa to America," Jessica B. Harris states that there is a direct historical connection between Thiéboudienne and Charleston Red Rice. It is also similar to Jollof Rice found in Ghana, Mali and Nigeria. Fish can be cooked in fillets (skin on or off), chunks, or even whole. Although added to the pot later, the fish is often stuffed with an onion and parsley paste and cooked separately. Vegetables used include onions, lettuce, cabbage, turnips, squash, pumpkin, carrots, eggplants, cabbage, cassava, okra and just about any kind of peppers. Bullion, often Maggi Nokoss contains onion and hibiscus flavors as well as MSG [Check]. Tamarind adds some sourness, but the dish can also be served with lime wedges to achieve a similar result. Hibiscus flowers or powder, called bissup is an important ingredient. Dried hibiscus flowers are also known as Jamaica and are available at Specialty Produce. Hibiscus originated in China, but it has been traded throughout the world for the past 300 years. The other somewhat unusual ingredient is cassava root, otherwise known as yuca root, and it can also be purchased at Specialty Produce. The recipe below uses fish sauce to add umami flavor instead of MSG based bouillon, but depending on your preferences, you can use either. Traditionally Thiéboudienne is eaten by several people from a common platter.
Ingredients:
Stuffing for the fish (roof or roff)
1/2 cup parsley stems removed and chopped fine
1 teaspoon crushed red chile flakes
6 cloves garlic, crushed or minced
2 scallions, chopped fine
1 small yellow onion chopped fine
Salt and pepper to taste
1 pound of fish (variety cook's choice)

For the Thiéboudienne (in order they are used)
1/3 cup of cooking oil (red palm oil is most authentic)
2 medium yellow onions, roughly chopped
2 medium bell peppers (green, red or yellow), chopped roughly (remove stems and seeds first)
4 cups fish, chicken or vegetable stock
1 cup tomato puree
2 tablespoons tamarind paste
2 tablespoons fish sauce
1/3 cup dried white hibiscus flowers (aka Jamaica) soaked in boiling water
3 cups rice (your choice of type)
1 half of an acorn squash (1 inch cubes)
3 carrots cut into large chunks
1 turnip cubed
1 cassava (aka yuca) root, peeled and cut into chunks
Preparation:
Finely chop the de-stemmed parsley, scallions and onion, and then mix together with the chilie flakes, crushed garlic and some salt and pepper.
Cut up, chop or slice the vegetable ingredients mentioned above.
Chop the dried Hibiscus flowers medium fine.
Soak the dried Hibiscus flowers in 1 cup of hot water.
In a large pot or Dutch oven, saute in the oil the chopped onions, bell peppers until soft.
Add the fish (chicken, or vegetable) stock to the pot.
Stir in the fish sauce, hibiscus flowers (with the water they are soaking in),tomato puree and tamarind to the stock.
Add the rice to the pot.
Add the remaining cut up roots and vegetables to the pot.
Bring pot to a boil and then bring down to a very low simmer.
Be sure to frequently check with a spoon or spatula to ensure the dish doesn't burn on the bottom.
Make fairly deep slashes (or punch holes) in the fish.
Stuff the slashes or holes in the fish with with chopped parsley-onion.
In a pan, fry the fish on both sides in some oil.
The rice and vegetables will take about 30 minutes to cook. 10 minutes before the end, gently place the fish on top of the other ingredients in the pot.
When the rice and vegetables are fully cooked, remove from heat and serve.
Cook's notes:
This recipe is heavier on the quantities of cassava, turnip, and squash than would be typical for this dish. For this size preparation, an authentic quantify of these items would be half or even a quarter as much indicated. This was done to avoid having to save halves of these items (although we did that for the squash).
Many recipes call for using tomato paste instead of puree. Doing so will increase the likelihood that the dish will burn on the bottom of the pot, so more care is required.
In Senegal Thiéboudienne is often served on a large communal platter with four to five people seated cross-legged around the platter. Traditionally diners eat with their hands.
Recipe: T. Johnston-O'Neill
Photo: Shari K. Johnston-O'Neill
Details

Hits: 1766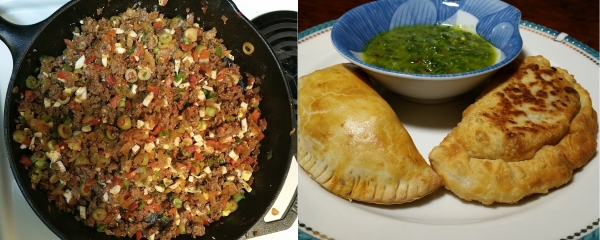 The Participant Observer Recipe of the Month is for Empanadas Mendocinas with Chimichurri. Growing in popularity in the US, empanadas or empanada-like turnovers are found in the cuisine of many cultures. They are relatively easy to prepare, freeze well (before they are cooked), and are a great thing to take to parties. Our recipe is for the Argentinean baked style. Coupled with a concoction of garlic and Italian parsley known as Chimichurri, these savory treats can be eaten as a hearty snack or even a full meal.
There are many types of dishes and foods that seem ubiquitous. Nearly every culture has some sort of stew or soup, and the concept of a tortilla is tremendously widespread, if not universal. The question is whether these styles of food preparation are examples of independent invention or the product of historical cultural diffusion. In the short view of history, empanadas appear to have originated from the place where there name was born, Spain or the Iberian peninsula. However, they appear to have arrived on the culinary scene after considerable contact with the Indian subcontinent, arguing for the possibility that empanadas were derived from Indian samosas. Empanadas are found throughout the Latin world, but in some countries they are better known as panades, pastel and various other similar names. If you travel to Cornwall, England, you are sure to encounter beef, potato and turnip-filled "pasties", which have achieved the status of Protected Geographical Indication in Europe, and are very nearly identical to empanadas. Generically in the US they are known as "turnovers" and not only include savory fillings but are often filled with fruit, like the apple turnover. If you are pressed for time, or in some way averse to rolling pins and dough-making, you can get empanada disks (discos) at Andre's Latin American Market on Morena Blvd.
Most empanadas are deep-fat fried. However, Argentinean empanadas are typically baked instead. If you are trying to cut down on fat, surely the oven-baked method will be kinder to your waistline, but for this recipe of the month we tried both styles and despite the greater caloric burden imposed by deep-fat frying, it was our preference. Baking the empanadas results in a crust that is somewhat cracker-like. Empanadas come in a variety of sizes. Empanadas can be made ahead of time and frozen before they are cooked. You should not thaw them before cooking. If your empanadas are large, they might require cooking at a lower heat for a longer time. Keep in mind that the filling is precooked (with the exception of the scallions and olives), so any method of reheating that browns the crust and heats the filling will suffice. Fillings that have ground beef, onions, peppers, olives (and sometimes raisins) are known as picadillo. South American empanadas, despite their savory fillings, often have sugar added to the dough or are dusted with powdered sugar after cooking. Baked empanadas can be sealed by being crimped with the tines of a fork. If you deep-fat fry them, however, you must make a better seal to prevent the oil from invading the filling, which would be very unfortunate. The edge of an empanadas is known as the repulgue. In numerous places the design created by the repulgue indicates what sort of filling the empanadas have. Empanadas can contain almost any ingredient that you like, including beef, pork, chicken, seafood, onions, peppers, potatoes, hearts of palm - whatever is available and suits your palate. Two ingredients stand out that make South American empanadas unique; raisins and green olives. Some versions have both. The recipe here uses sliced green Manzatta Spanish olives (ours were stuffed with pimentos). When used judiciously the green olives offer a nice bite that balances the meat and onions in the filling. If re-heating already cooked empanadas, it is best to do so in an oven or a toaster oven, as microwaving them softens the crust.
Chimichurri is a sauce that is frequently used in Argentina and Uruguay as a marinade, for basting or as a sauce for grilled meats. It also makes for a wonderful dip for Argentinean empanadas. The ingredients are basic; fresh (Italian) parsley, garlic, oregano, red wine or white vinegar, chili flakes (or chopped fresh chilies) and olive oil. Some cooks add cilantro too. The flavors that stand out the most are the parsley, garlic and chili.
Ingredients (filling):
1 pound of ground beef (may substitute other fish or meat)
2 cups of chopped onions
2 teaspoons cumin
1 teaspoon oregano
2 tablespoons smoked paprika
1 red bell pepper, chopped finely
1/2 cup of sliced green olives
1/2 cup diced tomatoes (optional)
1/2 teaspoon pepper
2 teaspoons salt
1 teaspoon (or more!) red pepper flakes
3 hard-boiled eggs, sliced or chopped
1/4 cup olive oil
3 scallions, sliced thinly
Ingredients (dough):
4 cups of all-purpose flour
2 teaspoons baking powder
2 teaspoons salt
1/2 cup (1 stick) cold butter, cut into small pieces
1 cup cold water
1 large egg, lightly beaten with 1 tablespoon water (for egg-wash)
Preparation (filling):
Hard boil 3 large eggs (our favorite method is to place the eggs in a pot of room temperature water, heat the eggs to a full boil, and then cover the pan and wait 20 minutes.
Measure out and set aside the spices.
Finely chop the onions and the red bell pepper.
In a large skillet, lightly brown the ground beef in a 1/4 cup of olive oil.
Fold in the onions and red bell pepper.
When the onions are translucent, mix in all the spices and continue to cook for an additional minute.
Set the filling aside to cool.
Slice the olives.
Slice the scallions thinly (both white and green but discard the end roots).
Chop the eggs rather finely (using an egg slicer first makes it a breeze).
After the meat mixture has cooled, gently mix in the olives, eggs and scallions.
Preparation (dough):
Lightly beat 1 egg with 1 tablespoon of water until the yolk and whites are thoroughly mixed (but don't whisk!).
In a large mixing bowl, combine the flour, baking soda and salt.
Cut the cold butter into small 1/4-inch chunks.
Mix the butter into the mixing bowl, distributing it throughout.
Either press the now flour-covered chunks of butter against the side of the bowl or pinch the butter between your fingers to break it up. The goal is to create little flour-covered pebbles of butter. Using cold butter is essential to this process - the goal is to not let the butter melt.
Add the cold water to the flour in small amounts and mix into a dough which is a little bit on the dry side but not crumbly.
Refrigerate the dough for about 30 minutes.
Divide the dough into 12 equal portions (divide in half, then in 3rds and then each in half once again.
One by one roll each portion into a ball and then flatten the ball with your hand to make a thick disk.
Roll the dough out so that you have a 6-7-inch round or until the dough is evenly an 1/8 inch thick.
Either set aside the rounds (separated by wax paper) or fill each after it is rolled out.
Scoop up about a 1/2 cup of the filling in a large spoon (or use several small spoonfuls).
Spoon the filling onto the dough rounds in such a way that the filling is one side of the center-line and thicker in the middle than the ends.
Brush the egg mixture along the outer edge of the side that has the filling.
If you are baking the empanadas:
Pre-heat your oven to 400 degrees.
Fold the dough over the center-line and then press it along the bottom edge.
With the tines of a fork facing the center of the empanada, gently press the dough along the edge to create a seal.
Brush the egg wash all over the top of the empanada
On a parchment-lined baking sheet, bake the empanadas for 25 to 30 minutes or until they are golden brown. Don't crowd the empanadas on the baking sheet. This may mean you have to do two batches.
If you are frying the empanadas:
Fold the dough over the center-line and then press it along the bottom edge.
Pinch, fold over and pinch again the edge of the dough (see photo).
In a deep-fat fryer or a large skillet with about 2 inches of high-temperature oil, fry the empanadas at 350 degrees until they are golden brown.
Chimichurri Ingredients:
1 cup (packed) fresh Italian parsley
1/2 cup olive oil
1/3 cup red or white wine vinegar
4 garlic cloves, peeled
1 teaspoon dried crushed red pepper
1/2 teaspoon ground cumin
1/2 teaspoon salt
Note: Pre-made chimichurri can also be purchased at Andre's.
Chimichurri Preparation:
Rinse and shake dry the parsley.
Remove the leaves from the parsley stems until you obtain 1 cup (pressed) of leaves.
Very finely chop the parsley leaves.
Crush or very finely chop the garlic cloves. (You could also use a food processor for these two steps.)
In a mixing bowl combine the chopped ingredients, red pepper flakes, oil and vinegar.
Recipe: T. Johnston-O'Neill
Photos: Shari Johnston-O'Neill
Details

Hits: 1566
| | |
| --- | --- |
| | A stone's throw from the Gaslamp Quarter, on the corner of 3rd Avenue and J Street, lies the San Diego Chinese Historical Museum. The museum offers San Diegans an artifactual, pictorial and interactive look into the history of San Diego's Chinese-American inhabitants. Admission is an affordable $2. The museum features numerous cultural, historical and artistic displays as well as regularly held educational programs for children and adults. For a small extra fee the museum also offers docent-lead tours of the permanent collection and featured exhibits as well as tours of the remnants of San Diego's former Chinatown. |
Details

Hits: 871


Juneteenth, a holiday that commemorates the freeing of slaves in America, has been celebrated by Black Americans since news of emancipation reached the last slaves to be freed in Galveston, Texas in 1865. Despite the holiday's historic importance, it has never been widely recognized in the U.S. However, that appears to be changing, as calls to recognize Juneteenth on a larger scale have emerged against the backdrop of the murder of George Floyd.

By Ian A. Lutz
Details

Hits: 749
The Joomla! content management system lets you create webpages of various types using extensions. There are 5 basic types of extensions: components, modules, templates, languages, and plugins. Your website includes the extensions you need to create a basic website in English, but thousands of additional extensions of all types are available. The Joomla! Extensions Directory is the largest directory of Joomla extensions.
Components are larger extensions that produce the major content for your site. Each component has one or more "views" that control how content is displayed. In the Joomla administrator there are additional extensions such as Menus, Redirection, and the extension managers.
Modules are small blocks of content that can be displayed in positions on a web page. The menus on this site are displayed in modules. The core of Joomla! includes 24 separate modules ranging from login to search to random images. Each module has a name that starts mod_ but when it displays it has a title. In the descriptions in this section, the titles are the same as the names.
Content modules display article and other information from the content component.
User modules interact with the user system, allowing users to login, show who is logged-in, and showing the most recently registered users.
These modules display information from components other than content and user. These include weblinks, news feeds and the media manager.
Utility modules provide useful functionality such as search, syndication and statistics.
Navigation modules help your visitors move through your site and find what they need.
Menus provide your site with structure and help your visitors navigate your site. Although they are all based on the same menu module, the variety of ways menus are used in the sample data show how flexible this module is.
A menu can range from extremely simple (for example the top menu or the menu for the Australian Parks sample site) to extremely complex (for example the About Joomla! menu with its many levels). They can also be used for other types of presentation such as the site map linked from the "This Site" menu.
Breadcrumbs provide users with information about where they are in a site.
Templates give your site its look and feel. They determine layout, colours, typefaces, graphics and other aspects of design that make your site unique. Your installation of Joomla comes prepackaged with three front end templates and two backend templates. Help