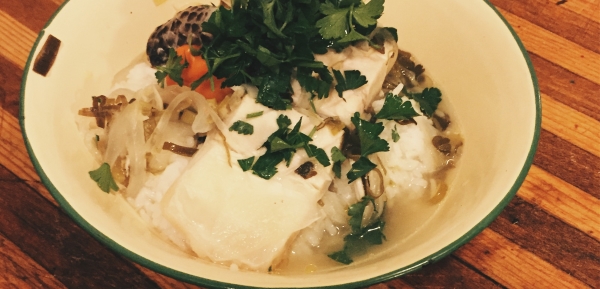 The cuisine of Martinique, an island in the Caribbean Sea, combines influences from a disparate variety of cultures and traditions. Much of Caribbean culture is known as "Creole" a term that originally referred to people of European descent who were born in the Americas. However its meaning broadened over time into an umbrella term for a cultures that were forged out a mixture of European, African and indigenous influences. The term emblematic of the food, language and people of the Caribbean islands, particularly the West Indies.
The sea influences the cuisine of these islands. The bountiful seafood coupled with produce that is now grown on these tropical islands are hallmarks of the diet in the Caribbean. Plantains, fresh herbs, fruit and various citrus items make constant appearances in the food from Jamaica in the North to Trinidad and Tobago in the South.
Martiniquais cuisine showcases the influence of French, African, Carib Amerindian and South Asian styles throughout its cooking methods, ingredients and flavor combinations. For example, dishes spiced with "Colombo" powder (also referred to simply as "Colombo") will have generous amounts of dried spices like mustard seed, turmeric, coriander, garlic and red chilies, an homage to the masalas of the Indian subcontinent. Another nod to the diverse heritage of Martiniquais cuisine is the acra, a fritter typically made from salt cod. This fritters origins can be traced to akara, a black-eyed pea fritter ubiquitous throughout West Africa, and in bacalahu, a preserved cod popular in seafaring European nations. Additional ingredients such as yams, peas and leafy greens also link West Africa with the Caribbean island cuisine.

The dish listed below, Sea Bass blaff, showcases a bit of each cultural influence. Its name comes from the noise a piece of fish makes when it is dropped into a pot of water.
Marinade Ingredients:
2 pounds red snapper, bream, or bass
1 Scotch Bonnet pepper
4 cloves of garlic
1 medium yellow onion, chopped
2 tablespoons white wine vinegar
4 limes, juiced
Salt and black pepper
Blaff Ingredieents:
2 cloves garlic, minced
6 scallions, finely chopped
1 large white onion, julienned (thin strips cut from end to end from a halved onion)
1 bay leaf
3 sprigs of fresh thyme, leaves removed and roughly chopped
2 whole cloves
5 sprigs flat leaf (Italian) parsley, finely chopped
1 Scotch Bonnet pepper
4 limes, juiced
Salt and pepper to taste
Preparation:
Place the pieces of fish into a large nonreactive bowl (stainless steel, ceramic, glass or enamal).
Add the marinade ingredients with enough water to cover the fish. Allow the fish to marinate eight hours or overnight.
Pour 1 cup water into a 2-quart saucepan and add in half of the scallions, garlic, onion, thyme and parsley, along with the bay leaf, Scotch Bonnet pepper and cloves.
Season the mixture to taste with salt and pepper.
Heat to a gentle simmer over medium high heat.
Once simmering, add the fish and lower heat to maintain a simmer for 5-7 minutes, until the fish is cooked through.
Remove the mixture from the heat and add in the lime juice and garnish with the remaining herbs and aromatics.
Stir the mixture gently, making sure not to burst the pepper, and serve with a side of rice or cooked yams.
Recipe and Photo by Liam Fox
Keep informed about San Diego Events!
Sign-up for our weekly Eblast by clicking here:
Sign Me Up!