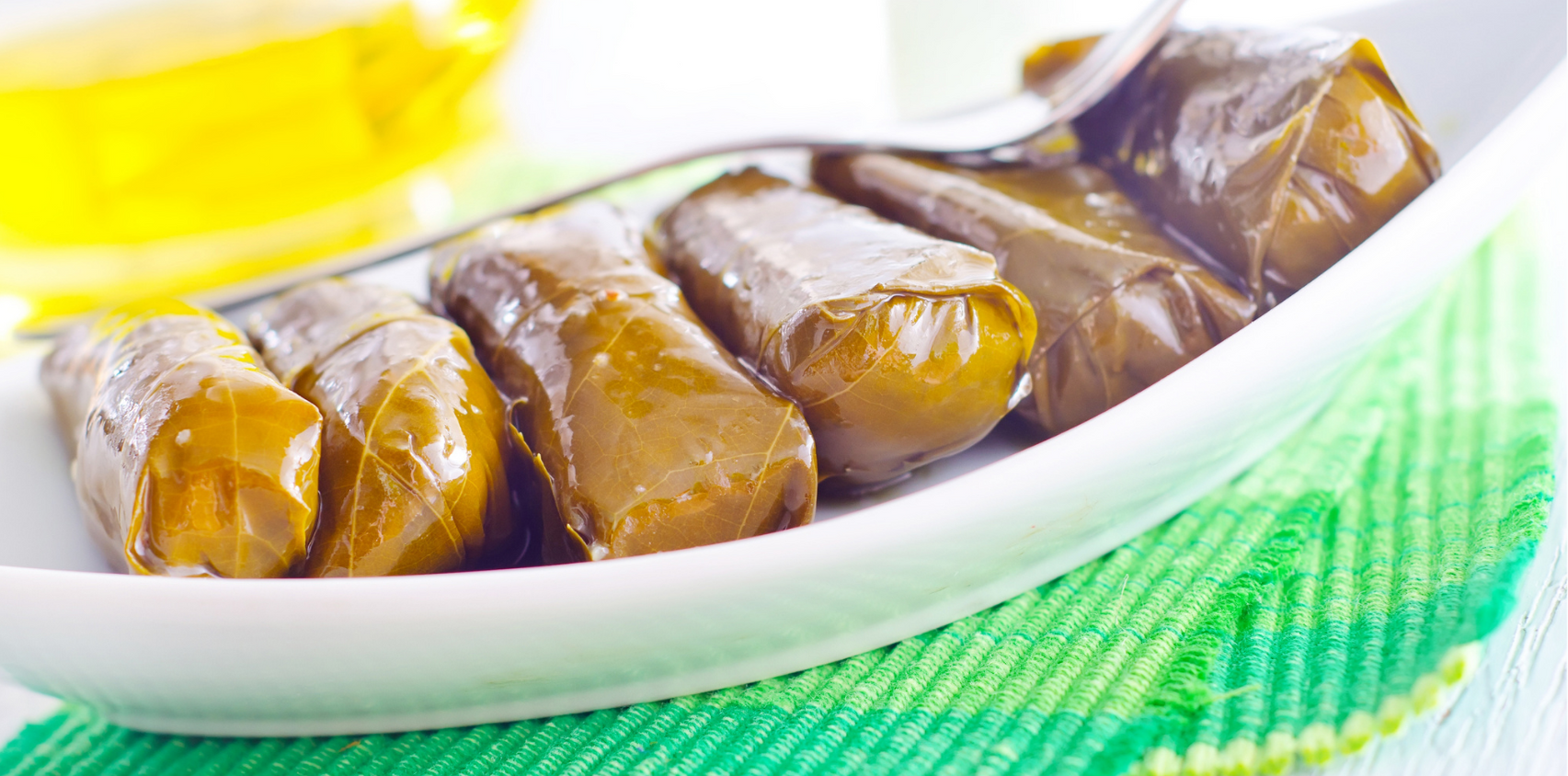 Ingredients:
1 1/4 cup virgin olive oil
1 lb of ground beef or lamb (omit for vegetarian)
1 cup chopped onion
1 cup long grain white rice
3 scallions (green inions), finely chopped
1/2 cup chopped sun dried tomatoes
1/4 cup minced fresh parsley
1/2 cup pine nuts
16 ounce jar grape leaves
1 teaspoon ground cinnamon
1/2 teaspoon ground allspice
1/2 teaspoon salt
1/4 teaspoon freshly ground black pepper
1-2 cup of chicken broth or water (see recipe)
1/3 cup lemon juice
2 tablespoon chopped fresh mint
(Sauce Ingredients and Preparation Directions in Section Below)
Preparation:
Please note: the only real difficulty in making dolmathes is in finding a heavy flat plate that weighs down the dolmathes while they are cooking, figure this problem out before you proceed!)
Heat 3 Tablespoons of the olive oil in a frying pan over medium-high heat. Add the yellow onion and sauté until translucent but not brown, about 2-3 minutes.
Transfer sautéed unions to a mixing bowl and mix together meat, rice, 1/2 cup of olive oil, green onions, sun dried tomatoes, parsley, pine nuts, cinnamon, allspice, salt, and pepper. Set aside.
Rinse the grape leaves in cold water to removes as much brine as possible and then dry.
Add 2 Tbsp. olive oil to the bottom of a large wide pot making sure the bottom is covered completely covered with oil. Blanket with one layer of grape leaves.
Place 1 leaf at a time, shiny side down, on a flat work surface. Remove stem. Spoon about 1 Tbsp of the meat and rice mixture in the center near the base of the leaf. Fold the stem end over to cover the filling, fold both sides of the leaf inward and tightly roll leaf toward pointed tip end. Repeat until either leaves or mixture is all used.
Arrange and layer the dolmathes in the pot in such a manner that the top layer is relatively even and flat. Add the remaining olive oil, the lemon juice, and chicken stock, using enough stock to just cover the dolmathes.
Place a heavy flat plate over the dolmathes to keep them from unraveling. Bring to a gentle boil, reduce the heat to low, and cook for 45 minutes or until rice is tender.
Remove dolmathes to a serving plate and reserve liquid.
Meat Dolmathes are usually served warm and vegetarian ones are served cold.
Avgolemono Sauce Ingredients:
yolks from 3 large eggs
1/3 cup lemon juice (from 2 medium lemons)
1 cup hot chicken stock or reserved cooking liquid from dolmathes
Avgolemono Sauce Preparation:
Separate yolks from eggs.
Beat eggs vigorously until they just begin to get foamy.
Continue to beat mixture and add lemon juice in a slow steady stream, continue beating for a minute.
Add hot chicken broth or reserved cooking liquid and whip for another minute.
Pour sauce back into the empty dolmathes pot and heat on low until steam rises, Do No Boil! Can be thickened with cornstarch.
Let stand 3-5 minutes before serving in a side dish or spoon over dolmathes.
Keep informed about San Diego Events!
Sign-up for our weekly Eblast by clicking here:
Sign Me Up!