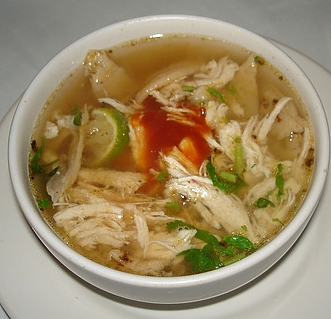 Yucateca Sopa de Lima (Lime Soup) (recipe adapted from the Hacienda Teya version)
First, a little background on Yucatecan food.
Yucatecan cuisine, derived from traditionally Mayan fare, differs somewhat from what most people consider to be Mexican food. While some of the ingredients are common to other parts of Mexico, Yucatan cooking makes heavy use of turkey, venison, sour oranges (used in many dishes), and a predominance of frijoles negro, (black beans) refried or whole, pickled onions, annatto spice and the slightly toxic and utterly unique epazote leaves.
Corn, corn tortillas, hot chillies (incendiary habanero and the milder Jalapeno and other peppers), coriander (leaves and seeds), tomatoes, avocado are used as they are elsewhere in Mexico. Chicken, Beef, pork, capers, olives, rice, black pepper, plantains and vinegar are perhaps post-Columbian colonial imports.
Signature Yucatecan dishes include:
Panuchos: a tostada made with corn tortillas stuffed with refried black beans topped with shredded white meat chicken or turkey that has been marinated in annatto spiced sour orange juice. Other toppings include sliced avocado, sour-orange pickled onions, tomatoes, and jalapeno peppers.
Salbutes: a tostada made with shredded chicken or turkey, lettuce, pickled onions, tomatoes, avocado and jalapeno pepper slices.
Papadzules: Rolled corn tortillas with eggs and covered in pumpkin and tomato sauces. Oddly enough considering the rather common ingredients, somewhat of an acquired taste.
Cochinita Pibil: A marinated (in sour-orange and annatto) pork dish that is cooked in banana leaves, most authentically in a pit.
Poc Chuc: Pork marinated in sour-orange juice and garlic and grilled over charcoal. Typically served with tomato and white onion salsa, roasted onion and fresh salsa.
Pavo en Relleno Negro: Turkey in black bean stuffing and sauce. A rather complex list of ingredients go into this dish including "black condiment", epazote, tomatoes, white onions. The stuffing includes pork, beef, onion, sweet green peppers, hard boiled eggs, black condiment and epazote leaves.
And . . .
Soupa de Lima ("Lime Soup"): can be prepared in the following manner:
(serves 8 and can be used as a light meal).
Ingredients:
1 pound shredded turkey or chicken breast (sometimes more, sometimes less)
1 head of garlic
Pinch of oregano
1 Sprig of fresh coriander
1 pound white onions
14 oz green sweet pepper
7 onces of tomatoes
Oil (corn or canola if you are health-conscious)
6 fresh limes
2 quarts of chicken broth. (or water with a couple of bullion cubes)
A cup of tortilla chips (not Fritos!). (note: the more authentic way is to take four corn tortillas, cut then into 1 inch strips and fry them in oil)
Preparation:
Cook the chicken along with garlic, oregano, coriander and salt in two quarts of water. When the chicken is cooked, remove the chicken from the broth and shred it with a fork or your fingers (by pinching off pieces with your fingers).
Strain broth and set aside.
Chop onions, pepper and tomatoes and sauté in a small amount of oil over a low heat until the onions are translucent.
Add all of the ingredients above, plus the juice of four limes (more or less to taste) to a pot and cook for 10 minutes.
Serve in soup bowls over a sparse layer of tortilla chips and garnish the top of the soup with a couple of thin round slices of lime.
Feel free to experiment with ingredient proportions as in our experience, while the basic ingredients were similar in the several places we visited, proportions, savory-ness, relative abundance of broth vs. chicken varied quite a bit. If any of our vegetarian readers wishes to attempt a meatless version of this dish, we would be delighted to append it to this article!
Enjoy!
Cultural Notes: One unique dining experience in the Yucatan is to find restaurants or cantinas that offer botanas meals. Such establishments offer numerous free tapas-sized plates of many of the dishes mentioned here (and many more not mentioned) if you buy a beer, cocktail or some alcoholic beverage, however, one might even get by in some places with just an ice-tea or a soft drink. The amount of food served can be quite substantial, more than a meal.
Many Yucatecan eateries also offer live music ranging from Mariachi bands, pop bands to exquisitely beautiful romantic serenades that feature great vocal harmonies and outstanding guitar work. The capital city of the Yucatan, Merida closes down between 11am to 4pm, just about the only places that remain open are tourist shops, museums, restaurants and cafes. As the midday sun can be quite oppressive, it is perhaps entirely wise to do as the locals do, take a nap or enjoy a long relaxed lunch.
Presently, the US dollar is so weak that eating in restaurants can quite often be more expensive that a similar type meal in the U.S. Exceptions are botanas eateries, cocina ecomonica or the stalls that sell salbutes, panuchos and poc chuc or pulled-pork sandwiches (tortas) in the large outdoor and indoor markets. There can easily be a 10 to 1 price difference between food served in more mainstream restaurants and essentially the same (and in our experience sometimes better tasting) food found in the more humble and atmospheric market stalls.
Keep informed about San Diego Events!
Sign-up for our weekly Eblast by clicking here:
Sign Me Up!