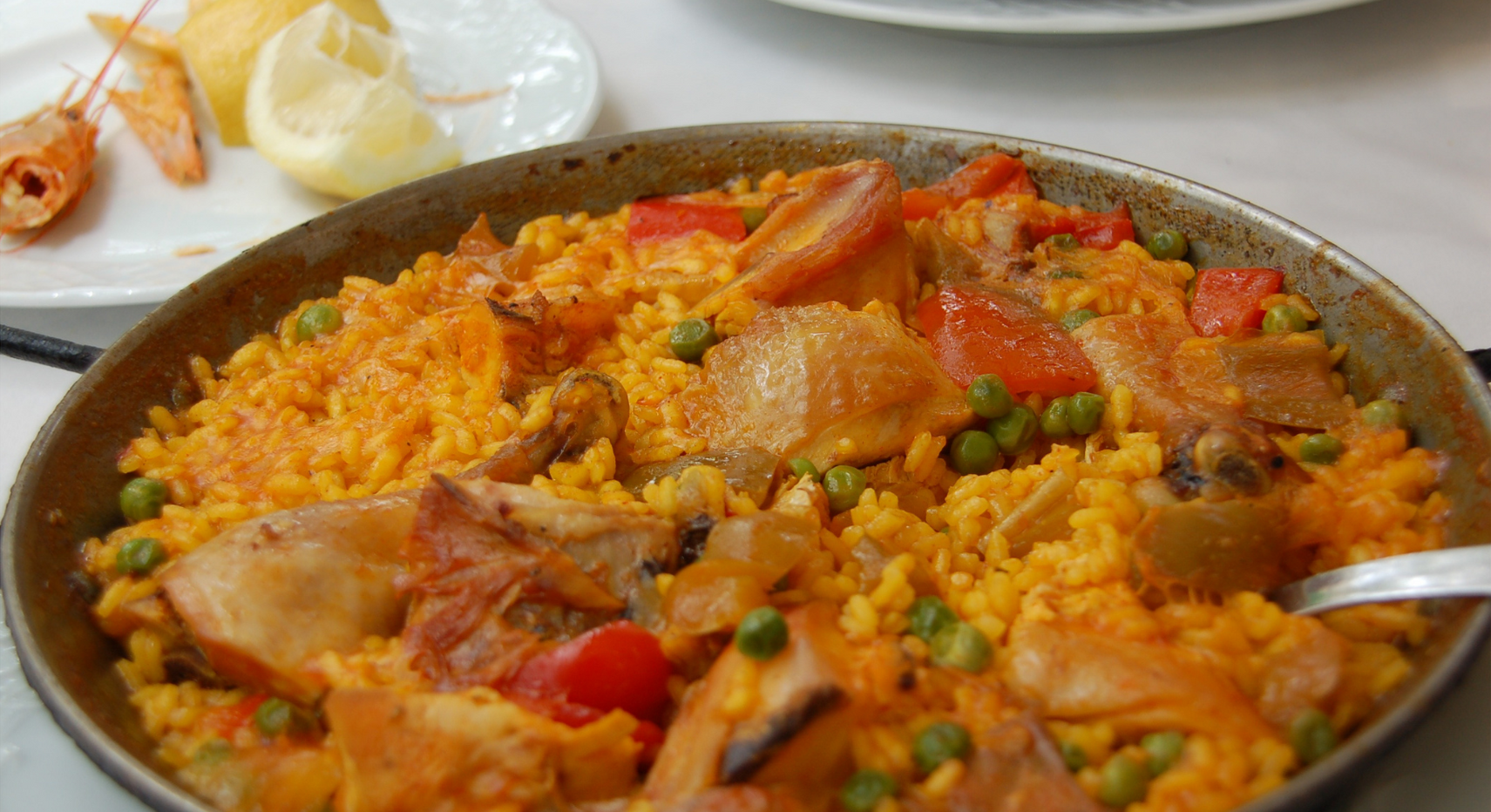 Paella is a Spanish rice dish that contains a mixture of ingredients which depending on the recipe might contain meat, seafood and vegetables. The most important ingredient in paella (other the rice and olive oil) is saffron, the world's most expensive spice which is also used in Middle-eastern and Indian cooking. Paella is traditionally cooked in a wide flat-bottomed steel pan over an open flame. A wood fire is most authentic, but a wide propane burner works well too.
Paella is thought to have originated in Albufera region in Valencia Spain and may date back to Moorish times. Unlike the paella found in most restaurants around the world, paella from Valencia typically does not include seafood. Below are two recipes, one a traditional Valencian version and the other is a more widely known seafood version. Paella is very adaptable and many different sorts of meats, seafood and vegetables can be used, one can even make completely vegetarian paella. Be creative! It is a dish that if favored for spring or summer picnics in Spain. Enjoy!
Ingredients:
3 leveled cups bomba or calasparra rice (short to medium-grain white rice)
6 cups chicken stock
3/4 cup olive oil (Spanish is best)
1 pound chicken - cut into small pieces
1 pound rabbit - cut into small pieces (or double chicken)
1 cup diced tomato
3/4 pound green flat beans - stem ends cut off, and cut into 1.5 inch pieces
1/2 pound shelled tavella beans - shelled.
1/2 pound garrofó beans - similar to flat whitebutter beans
½ teaspoon saffron
1 teaspoon sweet paprika
Salt
Preparation:
Heat the olive oil in a paella pan and brown the chicken and rabbit pieces until they become golden.
Add the green beans, the garrofó and the tavella beans, and stir all ingredients. Sofry or caramelize-fry for 5 minutes.
Add the grated tomato and cook at least 5 minutes.
Add the bomba rice and stir briefly. Distribute the rice uniformly over the paella pan bottom. At this point the fire should be at its strongest or the heat source high.
Immediately add the sweet paprika and the saffron. Add the boiling chicken broth and salt to taste. From now on, you shouldn't stir the paella any more. Cook for 16-18 minutes.
Remove pan from heat, let it rest 5 minutes and then enjoy!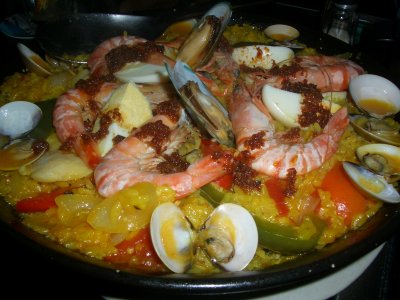 Seafood Paella
Ingredients:
¾ cup olive oil
6 cups chicken broth
1 cup dry white wine
3 cups bomba or calasparra rice
1.5 lbs skinless, boneless chicken breasts, cut into cubes
2 chorizo sausages, cooked and cut into chunks
10 mussels (scrubbed)
10 clams (scrubbed)
½ lb squid rings
1 lb uncooked medium large shrimp in their shells
½ lb frozen peas
1 large onion chopped
2 teaspoons minced garlic
1 cup medium diced tomatoes
2 red bell peppers, seeded and cut into thin strips
1 teaspoon paprika
2 bay leaves
1/2 teaspoon dried rosemary
1/2 teaspoon dried thyme
1/4 teaspoon ground cumin
1/2 teaspoon crushed saffron threads
1 tablespoon capers
Salt and pepper to taste
Lemon wedges and parsley, to garnish
Preparation:
In a small saucepan, bring the broth to a boil and stir in the saffron. Reduce the heat to low and simmer for one minute.
In the paella pan add olive oil and lightly brown chicken and chorizo pieces.
Add onion, garlic and bell pepper and cook until just softened, about 3 minutes.
Add tomatoes and spices.
Stir in the rice, add the wine and the simmering broth.
Bring to a boil
Scatter the chorizo, shrimp, clams, mussels and squid on the rice, cover and cook until the rice is tender and the seafood is cooked through, 15 to 20 minutes.
Add peas and capers during the last 5 minutes of cooking.
Discard any shellfish that does not open.
Remove the paella from the heat and let rest for 5 minutes.
Garnish with the lemon wedges and parsley.
Keep informed about San Diego Events!
Sign-up for our weekly Eblast by clicking here:
Sign Me Up!