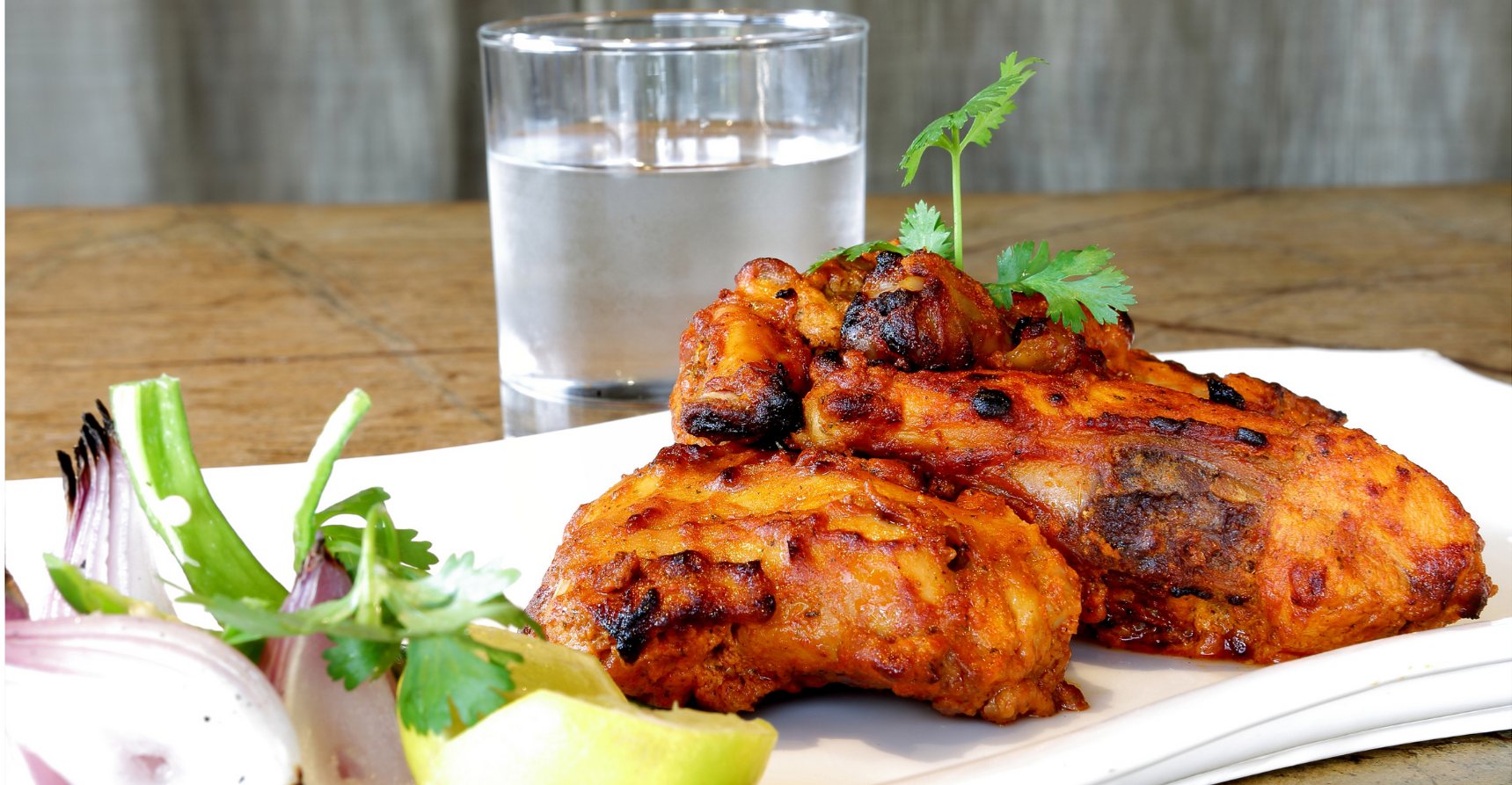 Ingredients:
1 (4 to 4 ½ pound) chicken, cut into 8 pieces, skin removed
2 tablespoons vegetable oil
½ cup chopped white onion
2 tablespoons chopped garlic
2 tablespoons chopped ginger
1 teaspoon finely chopped Serrano or Jalapeno pepper, stem and seeds removed
1 tablespoon paprika
1 ½ teaspoons salt
1 teaspoon cumin
1 teaspoon turmeric
1 teaspoon coriander
1 teaspoon garam masala
½ teaspoon cayenne
½ cup yogurt
1 tablespoon fresh lemon juice
Note: This recipe requires that the chicken be marinated for 4 or more hours.
Preparation:
Cut diagonal slices 1-inch apart, and 1/2-inch deep into the larger chicken pieces. Poke holes in smaller pieces with a fork.
Place the chicken in a baking dish.
In a blender, combine the oil, onion, garlic, ginger, pepper and process on high speed until mixture becomes a paste.
Add paprika, salt, cumin, turmeric, coriander, garam masala, and cayenne to blender and process until well mixed.
Add the yogurt and lemon juice to blender and mix thoroughly.
Pour the marinade over the chicken pieces. Turn to coat evenly, rubbing the marinade into the holes and slits.
Cover tightly with plastic wrap, refrigerate for at least 4 to 24 hours.
Preheat a grill. (even cooking in oven, set note below)
Grill chicken for 10 minutes and then turn chicken over and grill for an additional 10 minutes.
Turn and continue cooking as until the chicken is fully cooked.
Note: You can also bake or broil the chicken in an oven. To bake, preheat oven to 425 degrees F and cook chicken pieces on a baking sheet for 35 minutes, turning once.
Keep informed about San Diego Events!
Sign-up for our weekly Eblast by clicking here:
Sign Me Up!