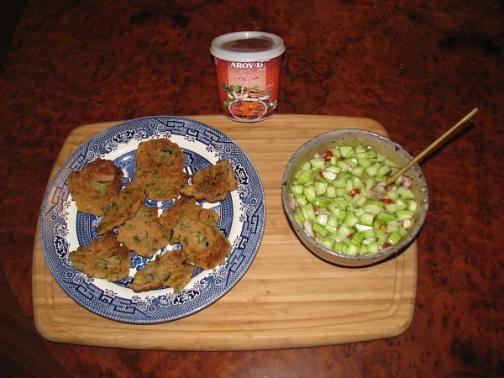 Savory Thai Fish Cakes These tasty fish cakes can be enjoyed as an appetizer or snack.
Ingredients:
1 pound fish cake (a paste, preferably fresh, but frozen is okay - just be sure to thaw)
1 tbsp Thai red curry paste
1/2 cup chopped fresh green beans (uncooked)
1/3 cup Kaffir lime leaves chopped fine
1/2 teaspoon salt
2 tablespoon sugar
1 egg
1/2 cup oil (peanut)
Preparation:
Mix all ingredients except oil.
Heat oil in a large frying pan or wok.
Drop teaspoonful sized dollops of the mixture into hot oil and pat down the spoonful with the bottom of the spoon to make a flat patty.
When bottom becomes golden brown flip the patty.
When fish cake is golden brown on both sides remove and place on plate lined with paper towels.
Cucumber Sauce
Ingredients
1 cup water
1/2 cup vinegar (rice or white)/li>
5 tablespoon sugar
1 teaspoon salt
2-3 Persian cucumbers, peeled, quartered lengthwise and sliced. If using American cucumbers, remove seeds after quartering./li>
3 shallots (fewer if large)
1 Thai chili pepper sliced in thin rounds (optional)
Preparation:
Bring water and vinegar to a boil.
Dissolve sugar and salt in mixture.
Let mixture cool.
Add chopped cucumbers, shallots, and Thai chili.
Chill in refrigerator.
The chilled cucumber sauce may be spooned over warm fish cakes before eating.
Notes: All the ingredients for this recipe can be obtained from the 99 Ranch Market.
Recipe submitted by Kristina Lersbuausin
Photo by Shari K. Johnston-O'Neill
Keep informed about San Diego Events!
Sign-up for our weekly Eblast by clicking here:
Sign Me Up!