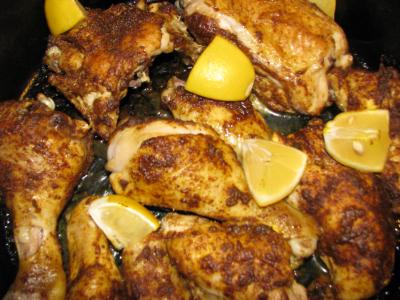 This is a delicious recipe that we've adapted from a Martha Stewart recipe. As such we can't vouch for the "cultural authenticity" (although the spices do seem spot-on). But if you like superbly spiced chicken that will tantalize your taste buds, this is it! We used a cast iron skillet to cook the chicken. Don't forget to drizzle the pan juices over the couscous, they will make you swoon! You should be able to find all the ingredients for this meal at most any grocery store.
Spiced Chicken Ingredients:
Ingredients:
1 teaspoon ground cinnamon
1 teaspoon ground coriander
1/2 teaspoon ground turmeric
1/4 teaspoon ground cardamom
1/4 teaspoon ground cumin
Coarse salt and freshly ground pepper
2 tablespoons extra-virgin olive oil
1 whole chicken (4 pounds), quartered, skin on
1 lemon, quartered
Spiced Chicken Preparation:
Place a rimmed baking sheet (or cast iron skillet) on the center rack of oven and preheat oven to 450 degrees.
Mix spices, 2 teaspoons salt, 3/4 teaspoon pepper, and the oil in a small bowl.
Rub spice paste all over chicken.
Carefully arrange chicken in a single layer on hot sheet (or skillet), and arrange lemon wedges around chicken.
Bake until chicken registers 165 degrees on an instant-read thermometer and juices run clear, 30 to 35 minutes.
Remove from oven and let stand for 10 minutes.
Season with salt and pepper, and serve with pan juices and roasted lemon wedges on the side.
Couscous Ingredients:
Couscous is a coarsely ground semolina pasta. For this recipe use the "parboiled" or "pre-steamed" couscous.
Cook Time: 10 minutes
1 1/2 cup couscous
2 3/4 cups chicken stock or water
1/4 teaspoon salt
Couscous Preparation:
In a saucepan, bring water to a boil.
Add salt and stir.
Add couscous and remove from heat
Allow to sit for about 5 minutes.
Couscous should be light and fluffy, not gummy. Be sure to allow the couscous to absorb the water. You can add all sorts of goodies to couscous; sautéed onions, raisins, currants, sliced almonds, "craraisins", cilantro and whatever else suits your palate.
Enjoy!
Photo by Shari K. Johnston-O'Neill
Keep informed about San Diego Events!
Sign-up for our weekly Eblast by clicking here:
Sign Me Up!