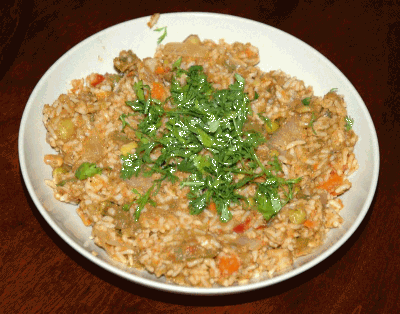 Many readers may be used to eating Naan, Paratha and Panneer at Indian restaurants. These foods mostly belong to the Eastern and Northern part of India. Other parts of India have equally enticing specialties. One of the dishes that Southern India is famous for is Bisi Bele Bath which is often served with the yoghurt side dish, Raita.
Bisi Bele Bath is very popular in Karnataka, a region of Southeastern India. It is served in almost all wedding receptions, festivals, buffets and parties. If you may have ever eaten at a South Indian buffet, Bisi Bele Bath is almost always served. It is a wholesome meal that contains rice, lentils (Thuar Dal) and vegetables.
Bisi Bele Bath is literally translated as "hot lentil rice mixture." All the ingredients needed for this dish are available at any Indian grocery store, like the one in the "Little India" mall on Black Mountain Road.
\r\n
\r\nYou can use a wide range of vegetables such as carrots, peas, beans, bell pepper, onion, tomato along with Indian Pumpkin and Indian beans (Frozen Papdi Liva available in Indian stores), it really depends on the tastes that you enjoy and which ingredients you can find.
Ingredients:
Rice
3 cups of white rice.
6 cups of water
Dal:
3 cups yellow Thuar Dal (a type of lentil)
6 cups of water
2 teaspoons of cooking oil
1/4 teaspoon of turmeric
Sauce:
5-6 teaspoons of Bisi Bele Bath powder
3 chopped Roma tomatoes
3 teaspoons of fresh Coconut
Vegetables:
5 carrots peeled and chopped.
8-10 green beans cut 2 inches long
3/4 cup of peas
2 Bell peppers (green or red) chopped small
1/4 of an Indian white pumpkin, chopped small
3/4 cup of Papdi Liva (Indian beans) about 25
2 medium sized yellow onions, chopped
Additional Ingredients:
2 teaspoons of tamarind paste Tamcon
1 teaspoon of black mustard seeds
3 dry Indian red chilies. Chopped very fine
7-8 curry leaves
1 tablespoon of ghee (clarified butter)
Chopped cilantro as garnish
Sauce Preparation
Blend the Bisi Bele Bath powder or paste with a few pieces of tomatoes and chopped coconut. The tomato gives a nice red color to the dish.
When everything is cooked and prepared according to the above instructions, gently mix all of the ingredients together in one pot or a very large skillet and heat well.
Add salt and tamarind paste which will add a nice sour taste to the dish. Stir the pot or skillet constantly so that the dish does not burn.
In a small pan heat 2 tablespoons of cooking oil to the smoke point and add the black mustard seed and chilies, and cover quickly. Shortly thereafter you will hear a popping sound which is the sound of the seeds hitting the pan lid. In India we call this phenomena [text missing]
Raitha Ingredients:
1 1/2 cup of plain yogurt.
1 grated carrot
2 medium sized chopped tomatoes
1 finely chopped cucumber
I/4 medium sized onion, chopped
1/2 teaspoon of cumin seeds
1/2 teaspoon of mustard seeds
4 teaspoon of cooking oil
2 chopped Jalapenos peppers
Several stems of chopped cilantro (as garnish)
4-5 curry leaves (garnish)
Raitha Preparation:
Add grated carrots, chopped cucumbers, onions and tomatoes to 1 1/2 cup of plain yogurt.
In the same method as described above, "splatter" in hot oil the jalapenos, black mustard seeds and whole cumin seeds removing the pan from the heat when you hear the popping sound.
Mix all the ingredients together, adding salt to taste.
Garnish with cilantro and serve.
Keep informed about San Diego Events!
Sign-up for our weekly Eblast by clicking here:
Sign Me Up!