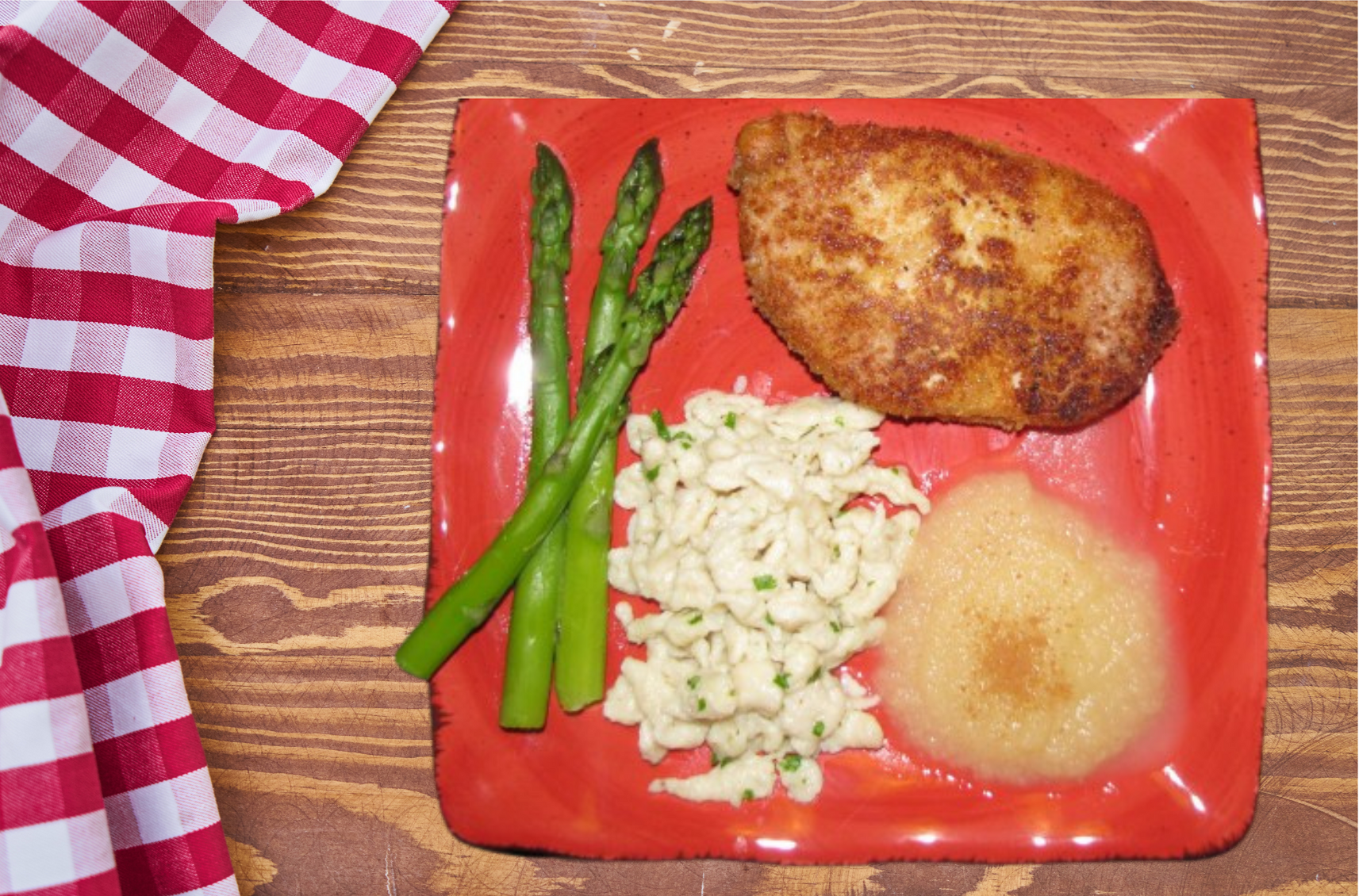 Schnitzel Ingredients:
1 pound pork cutlets
Salt and pepper
1/2 cup flour
2 eggs, beaten
1 cup dry bread crumbs
Cooking oil
Preparation:
Pound cutlets until they are thin.
Sprinkle cutlets with salt and pepper.
Set out three plates, the first with the flour, the second with the beaten egg and the third with the bread crumbs.
Coat each cutlet first with flour, then cover both sides with egg, then coat with bread crumbs until completely covered.
Heat a 1/4 inch of oil in a skillet over medium high heat.
Add breaded cutlets.
Cook until dark golden brown.
Drain on paper towel and serve.
Spaetzle
Literally translated from German as "little sparrow," spaetzle are small irregularly shaped noodles made with flour, eggs, water or milk, salt and sometimes nutmeg. There are two main ways to make spaetzle, the more traditional way by slicing small slivers off of a flattened piece of firm dough or by forcing batter through a sieve or colander that has large holes. There are also spaetzle-making machines. The recipe below uses the force-through-a-colander method.
Ingredients:
3 cups of flour
4 eggs
1 cup of milk
1 tablespoon of salt
2 tablespoon of finely chopped parsley (optional)
2 tablespoons of butter (to taste)
Preparation:
Fill a large wide pot 3/4 full of salted water and bring to a rolling boil.
Mix the flour, salt, eggs and parsley in a mixing bowl.
Stir in milk slowly until a thick batter forms.
Let batter sit for 5 minutes.
The batter should be thick, just before it reaches the thickness that it will no longer pour from the mixing bowl.
This part is a bit tricky; it requires more hands than most people have and you will be working over a boiling pot of water.
Hold the large-holed colander over the pot and pour about a cup of batter into the colander.
Using a spoon or the bottom of a glass, force the batter through the holes.
The batter will float to the top of the pot, stop adding more batter when the top of the water is covered.
Boil for 5-8 minutes.
Remove Spaetzle with a large slotted spoon and then drain further through a stainer.
Repeat the cooking process until all the batter is used.
Mix with butter and serve.
Keep informed about San Diego Events!
Sign-up for our weekly Eblast by clicking here:
Sign Me Up!