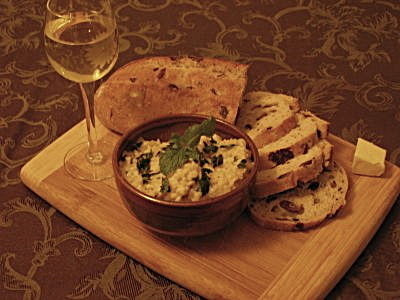 Risotto is a classic Italian rice-based dish that originates from rice-growing northern regions. It is an easy and quick dish to prepare although perfection is somewhat elusive. Risotto uses either short or medium grain starchy rices such as Carnaroli, Vialone Nano, and Arborio, which is readily available in American grocery stores. Risotto usually begins with sautéing onions (this recipe uses fennel too) in butter or olive oil. This creates the "soffritto" which comprises the base of many risottos. After the onion (or other ingredients that can withstand long sautéing) is edges towards translucent, one adds the rice, fully coating it in the oil and browning it lightly. This process of "toasting" the rice before any liquid is added is called tostatura in Italian. Typically the next step is to add a cup of white wine and continue heating until the liquid has cooked in and evaporated. Then the stock (usually chicken, seafood or vegetable) is added one ladle-full at at time. Wait until the stock is absorbed/evaporated between each ladle of stock that you add. When all the stock is added, the risotto should be removed from the burner and let stand for 5 minutes or so. After this you can add cold butter and Parmesan cheese (a process known as mantecatura). The rice in the finished risotto should be a bit firm (al dente). These are the basic steps for many risotto dishes. The following recipe uses fennel, Italian hard cheese, lemon zest and parsley. You can experiment widely with this dish. Try adding walnuts, peas, Italian sausage, artichokes or whatever else that tickles your taste-buds!
Ingredients:
1 pound fennel bulbs thinly sliced
1 medium onion, peeled and finely chopped
6 tablespoons (3/4 Stick) unsalted butter or olive oil divided into two parts
2 cups Arborio risotto rice
1/2 cup of white table wine
4 cups chicken broth or vegetable stock
Grated zest from one lemon (vigorously wash lemon first)
5 tablespoons freshly grated Parmesan or Grana Padano cheese
2 tablespoons finely chopped mint or parsley, or both
Salt and Black pepper to taste
Preparation:
Wash and slice thinly the fennel bulbs. The green part is unused in this recipe
Chop the onion finely.
On medium in a medium pot(6 quart), saute the sliced fennel and onions with half the butter (or oil) until the onions are almost translucent
Add rice, stirring to coat all the rice with the butter.
Stir in the wine. Keep stirring until the wine has been absorbed.
Ladle in the broth, one ladle at a time waiting for the broth to be almost entirely absorbed between each ladle-full of broth. Stirring rather frequently and scraping the bottom of the pan will help keep the risotto from burning. A wooden spatula works well for this.
When all of the broth has been added, turn of the heat, and stir in the lemon zest.
Let the risotto rest for 5 minutes.
Somewhat vigorously (not too much so) mix in the remaining butter and cheese. The risotto should be slightly creamy and glistening.
Serve risotto in small bowls, season with salt and pepper, and garnish with finely chopped herbs. Garden salad and a good artisan bread are great compliments to this dish. Risotto is often served as a first course (primo), but it also make good entree for a light meal!
Buon Appetito!
Recipe by T. Johnston-O'Neill
Keep informed about San Diego Events!
Sign-up for our weekly Eblast by clicking here:
Sign Me Up!