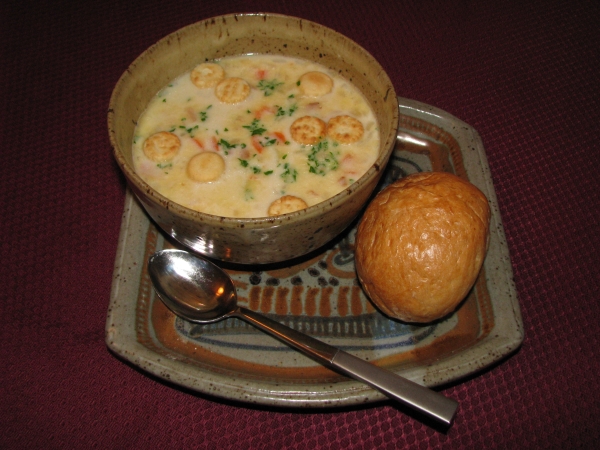 New England Clam Chowder is linguistically—if not culinarily—linked to Native Americans. The clams normally used in this chowder are commonly known as "hard clams" which are differentiated according to their size into, "Little Necks", "Chowder Clams" and "Cherry Stones" . The scientific name for this clam is,Mercenaria mercenaria, Latin for "wages", obtaining this name because of the practice of using clam shells to fashion beads that Native Americans used as currency. In New England, this particular clam is also called a "quahog" which is derived from the Narragansett Indian name for the clam, poquauhock.1
New England Clam Chowder has a venerable history. Not only is it a culinary statement of regional American identity (set against the oppositional tomato based "Manhattan Clam Chowder"), but it also has merited august literary notice. Herman Melville devoted an entire chapter of Moby Dick to this mariner's delight.
However, a warm savory steam from the kitchen served to belie the apparently cheerless prospect before us. But when that smoking chowder came in, the mystery was delightfully explained. Oh, sweet friends! hearken to me. It was made of small juicy clams, scarcely bigger than hazel nuts, mixed with pounded ship biscuit, and salted pork cut up into little flakes; the whole enriched with butter, and plentifully seasoned with pepper and salt. Our appetites being sharpened by the frosty voyage, and in particular Queequag seeing his favorite fishing food before him, and the chowder being surpassingly excellent, we dispatched it with great expedition.
Clam Chowder is relatively easy to make, but like many other kinds of stews and chowders it tastes significantly better the day after initial preparation, once its flavors blend and mellow. There are many variations but the basic ingredients are clams, clam juice, potatoes, bacon and milk and/or cream. While in Captain Ahab's time Clam Chowder was thickened with "hard tack" ship's biscuits, today it is more common to employ plain flour. For those who must restrict their gluten, substituting heavy cream for half the milk and replacing half the Yukon potatoes with russets (which will disintegrate somewhat during cooking thereby thickening the soup) should lead to perfectly acceptable results. A strong dash of white wine also makes a somewhat merrier chowder. To save time and effort, canned clams can be used with excellent results. The following recipe is a basic recipe, there are many variations out there including adding any of the following: celery, celery leaves, thyme, sage, Old Bay Seasoning, cauliflower, corn, garlic, leeks, sherry, white wine, and salt pork (instead of bacon).
Ingredients:
5 pounds of fresh quahog/hard/cherry-stone clams or 2 (7 1/2 once) cans chopped or minced clams
2 pounds Yukon Gold or round white potatoes, peeled and diced
1 yellow onion, finely chopped
3 medium carrots sliced and quartered
3 slices thick bacon cut into 1/4 inch pieces
3 cups milk
3 tablespoons all purpose flour
3 tablespoons butter
2 bay leaves
1 teaspoon fresh thyme leaves or 1/4 teaspoon dried thyme
salt & ground black pepper (to taste)
several sprigs of finely chopped parsley for garnish
oyster crackers
Preparation: Using Fresh Clams: (if using canned clams, skip to step 7)
Scrub fresh clams vigorously and thoroughly.
In a large pot steam the clams in one cup water for eight minutes until the shells open.
Remove clams from pot and let them sit until they are cooled enough to handle. Reserve the water the clams were steamed in.
Over a bowl to catch the clam "liquour" remove the clams from the shell (but not the connective mussle) with a small paring knife.
Chop clams into small pieces.
Strain the reserved water from the pot and the liquor from the bowl through cheese cloth to remove any sand.
Fry the bacon in the empty pot over medium-low heat until the fat renders and the bacon crisps, 5 to 7 minutes.
Add the onion and cook, stirring occasionally, until softened, about 5 minutes.
Add the flour and stir until lightly colored, about 1 minute.
Gradually whisk in the reserved clam broth.
Add the potatoes, carrots, bay leaf, and thyme and simmer until potatoes are tender, about 10 to 15 minutes.
Add the clams, cream, parsley, and salt (if necessary) and ground pepper to taste; bring to simmer.
Remove from the heat, discard the bay leaf, and serve immediately.
At the table allow guests to garnish their bowls of chowder with chopped parsley, additional ground pepper and oyster crackers.
1 Olsen, Stephen, Donald D. Robadue, Jr and Virginia Lee. 1980. An Interpretive Atlas of Narragansett Bay, Rhode Island Sea Grant, Narragansett, Rl.
Recipe by T. Johnston-O"Neill
Keep informed about San Diego Events!
Sign-up for our weekly Eblast by clicking here:
Sign Me Up!