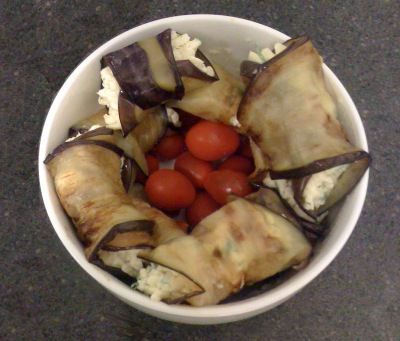 Eggplant rolls stuffed with cheese (Baklajan S Sirom) are a very popular appetizer in Russia and post-Soviet republics in Europe and Asia. Eggplant recipes come from South-Eastern Europe countries such as Ukraine, Moldavia, and those located in the Caucuses mountains. the essential ingredients for this dish are lightly salted soft or curd cheese mixed with herbs and flavorings like parsley and cilantro, garlic and shredded walnuts. in Bulgaria goat cheese is usually used as an ingredient for eggplant rolls. One exotic variation of this recipe comes from Georgia. There, it is very common to add bits of pomegranate and crashed nuts in the cheese paste. Sometimes paste is handmade in order to squeeze the juice from pomegranate bits and add exclusive taste to the dish. Eggplant rolls stuffed with cheese are a perfect appetizer for any occasion. This recipe calls for Edam cheese but you can also make it with Russian-style Tvorag cheese (directions below).
Ingredients:
1-2 American eggplants
1 pound of semi-soft cheese (like Edam)
5-6 cloves of garlic grated or finely chopped
3-4 sprigs of fresh parsley and dill(to add into the cheese paste)
3 tablespoons of mayonnaise
1 hard boiled egg chopped fine
Salt and pepper
Olive Oil for frying
Preparation:
Wash eggplants and cut lengthwise into strips the length of the eggplant, 2 inches wide and 1/2 inch thick
You need to disgorge the eggplant. Apply salt on each slice, put all slices on big wide plate, wrap with plastic or cover with another plate and chill in the refrigerator for 30 minutes.
Shred the cheese with grater into a deep dish
Peel and grate garlic
Finely chop hard boiled egg
Chop parsley and dill
Mix all of the ingredients* above with mayonnaise, salt and pepper
After the eggplant strips have chilled for 30 minutes, remove them from the refrigerator and pour off the accumulated liquid and rinse strips in cold water.
Fry eggplant strips in the frying pan with a little bit of olive oil until lightly browned
Let eggplant cool
Place a dollop of cheese mixture at the end of a strip and roll it.
*You can also add crushed walnuts or almonds.
Tvorog (Russian Curd Cheese)
If you are interested in expanding your gastronomical tastes and up to try something new, you can make these rolls with a curd cheese based on Russian recipe that only has two ingredients, whole milk and yoghurt.
Ingredients:
1 quart of whole milk
6 ounces of Greek-style yoghurt
Preparation:
Combine the milk with the yoghurt in a lidded container (a yoghurt maker is perfect)
Stand in a very warm place until the mixture resembles yoghurt. the temperature and length of time to form the yoghurt stage will effect the taste. This part of the process (essentially you are making more yoghurt) will take several days. Tvorog should have a 'bite' to it, but if you keep it too long at this stage it can become bitter.
Reserve around half a cup of the yoghurt mix and keep in the fridge to start your next batch of tvorog.
Pour the remaining yoghurt into a saucepan and heat on low
Allow the mix to come to a gentle bubble, do not stir.
Keep heating the yoghurt until it separates into curds, resembling the texture of cottage cheese
Line a colander with 3 layers of cheesecloth or muslin and place the colander into a larger bowl or in the sink.
Pour the mixture into the colander and allow the watery whey to drain.
When most of the liquid has drained out, draw the ends of the muslin together at the top and secure with a rubber band or knot to form a bag.
Hang the muslin bag over a sink to drain thoroughly. the tvorog should be very dry - much drier than cottage cheese
Remove the tvorog from the muslin and store in a container in the fridge.
Note: When using tvorog as a filling for the eggplant rolls, the flavor will be enhanced with the addition of a bit more salt.
Recipe by Olga Kolpakova. Tvorog recipe adapted from www.russianrecipes.co.nz
Keep informed about San Diego Events!
Sign-up for our weekly Eblast by clicking here:
Sign Me Up!