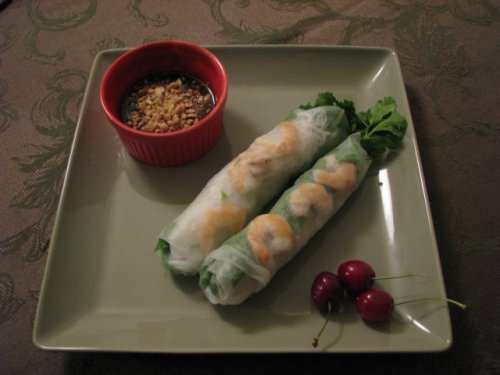 Gỏi Cuốn Vietnamese Summer Rolls are a refreshing summer treat. In American restaurants they are often sold as appetizers but in Vietnam they are typically eaten as a snack. Popular among students, Gỏi cuốn are usually sold by the piece in Vietnam. Gỏi cuốn literally means "salad roll." Basic ingredients are shrimp, pork, lettuce, Asian basil, rice noodles and rice paper wraps, Variations abound. Gỏi cuốn are not fried and are served cold or room temperature with Nuoc Leo dipping sauce.
Ingredients:
1/2 pound medium shell-on shrimp (36/40 size) de-veined
1/2 pound. pork loin (in an Asian grocery you might find julienned pork)
1 bunch of Thai basil
1 bunch of Asian mint
1 bunch of cilantro (the Vietnamese version is called rau ram)
1 head of green leaf lettuce shredded or chopped medium fine
Package of 8 inch Rice Paper Rounds (banh trang)
4 ounces cooked rice vermicelli (bun) noodles
1 teaspoon sugar
1 teaspoon salt
Preparation:
If using frozen shrimp, first completely thaw in cold water
In a small sauce pan boil the pork with the salt and sugar until it is fully cooked. Completely cover the pork with water but not much, you will use the broth for the sauce
When done remove pork from pan and set aside to cool
Cook the shrimp in boiling salted water.
Remove shrimp from pot and set aside to cool.
Julienne the cooled pork
Remove from the shells from the shrimp and discard shells
Slice shrimp in half lengthwise. It is best to do this by laying a shrimp on a cutting board with the outside bend towards the hand you cut with. Press down lightly on the shrimp with your finger tips and with a sharp knife slice through the shrimp (needless to say, exercise all due caution!). If the shrimp was not de-veined to start with, remove the vein with the knife
Cook the rice noodles according to the package directions. Typically you have to soak the noodles in water for 5 minutes or so and then cook them for another 5 minutes
After rice noodles are finished cooking, immediately strain them and run cold water over them to stop them from cooking.
Dipping Sauce (Nuoc Leo) Ingredients.
garlic chili sauce (to taste, start with one teaspoon)
1/4 cup broth from cooking pork
¼ cup tương (or Chinese hoisin) sauce
¼ cup roasted peanuts, chopped fine
1 fresh Thai red chili, seeded and thinly sliced (for garnish)
* Note: For more authentic Nuoc Leo, you can add a small amount of fried ground pork and pork liver. Optionally you can add smaill amounts peanut butter, sugar, tomato paste and finely chopped garlic.
Sauce Preparation:
Mix all the ingredients except the peanuts and fresh chilies. If the optional ingredients are used, fry the ground pork and liver first and add the remaining sauce ingredients (except peanuts and chilies) mix thoroughly over medium high heat for 2 to 3 minutes. Cool sauce before serving.

After the sauce is done sprinkle the top with the crushed/chopped peanuts and for color and zest top with a few thin slices of the red chilies. Assembling the Gỏi Cuốn
Note: The rice paper needs to be wetted in a large bowl (or deep plate) of water. It is best to prepare the summer rolls one at a time; soak, fill and roll. It only takes a few moments to sufficiently wet the rice paper, it will still be slightly stiff when removed from the water, but it will soften quickly, so don't over soak.
Arrange all the ingredients around a clean cutting board.
Completely dunk a sheet of rice paper into a large bowl of fresh water, let water run off and then lay flat on cutting board
In the lower third of the rice paper sheet add layers of the ingredients above in a long mound parallel to your body. Layering order is up to personal preference, but to make them look like what you find in restaurants, put the halved shrimp (cut side facing down) on the top
wrap ingredients like you are wrapping a burrito. Fold the bottom of the rice paper over the mound, fold in the sides and then roll everything forward to close the top. Some restaurants use two layers of rice paper, placing the halved shrimp in between the two layers so that the are clearly visible through the outermost layer of rice paper. Using two layers allows one to create a tighter neater wrap, but this is optional. Experiment until you get it right!
To serve, divide the sauce into as many dipping bowls (ramikins work great) as there are eaters. Sprinkle a goodly amount of crushed peanuts on the top of the Nuoc Leo sauce. For color and zest, sprinkle the top of the sauce with a few slices of the red chilies.

Gỏi cuốn is eaten with the hands. This is the easy part, just dip the end of the gỏi cuốn in the sauce and then take a bite! You will be surprised by the blend of flavors and the sensation of freshness provided by the mint, basil and the clean taste of the rice noodles. Enjoy!
Based on a recipe submitted by Colleen Nguyen.
Keep informed about San Diego Events!
Sign-up for our weekly Eblast by clicking here:
Sign Me Up!