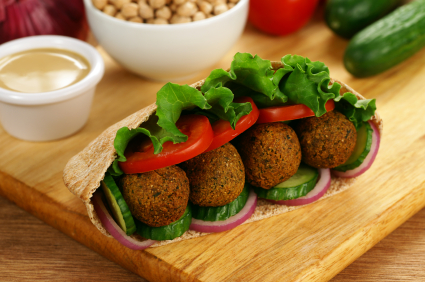 Hummus and falafel are both quite popular (particularly hummus) in America, but we would imagine most people buy them preprepared. But you can make your own and you will be delighted by the results.
In May of last year 300 chefs in Lebanon set the Guinness World Record for the largest plate of hummus. The previous record was set a few months earlier by 50 chefs in the Arab-Israeli village of Abu Ghosh near Jerusalem The Abu Ghosh chefs whipped up over four tons of the garbanzo-tahini concoction. In May of 2010, Lebanese cooks smashed this record with a staggering 11.5 tons of the savory dip. Seemingly every Eastern Mediterranean country has tried to lay claim to the best tasting hummus in the world. In the often fiercely partisan climate of the Middle East, hummus is a contested symbol of ethnic and national pride.
Hummus dates back to at least the 14th century in the Southeastern Mediterranean Levant. Hummus starts with two ingredients, boiled puréed garbanzo bean (aka chick peas) and puréed seasame seed paste (tahini). Any number of flavorings (most commonly lemon juice and salt) are added. Olive oil is also a common addition to the dip. Hummus is garnished or mixed with a variety of ingredients such as marinaded artichokes, carmelized onions, cilantro, chopped hard boiled eggs, garlic, chillies, ground cumin, cucumbers, mint leaves, olives, paprika, parsley, pine nuts, roasted red peppers, sumac (a lemony power made from sumac fruit), chopped tomatoes, sun dried tomatoes, and whole cooked garbonzo beans. We urge you to experiment with such options. In the Middle-East hummus is also sometimes topped with a layer of ful (boiled and chrushed fava beans). Palestinians, Israili Arabs and Mizrahi Jews (Jews from Arab and/or Muslim-majority countries) often eat hummus warm or even hot. Most typically hummus is eaten with a flat bread such as pita, but in America it is sometimes scooped up with celery or carrot sticks and sometimes even tortilla chips.
The sources for the recipe below refer to it as "Israeli Hummus" but as the Isareli authors of The Hummus Blog note, "Israeli hummus is pretty much derived from the Palestinian hummus." Indeed the ingredients in the recipe below are widely shared by most hummus makers regardless of nationality. Variations tend to revolve not around the basic indredients but the proportions of the ingredients,flavorings used, particularities of serving and consuming.
The secret to making very smooth hummus is to remove the skins from the garbanzo beans by gently pinching the beans between your index finger and your thumb. For canned garbanzo beans you do this right after you remove them from the can. If you are using dry garbanzos, soak, cook and then let them cool before doing this.
Hummus Ingredients:
1 15 ounce can garbanzo beans, drained and rinsed*
4 large garlic cloves, peeled
1/2 cup of water
1/2 cup olive oil
1/4 teaspoon cumin
1/2 cup tahini, at room temperature (stir paste before measuring)
1/4 cup plus 1 tablespoon of fresh lemon juice
Salt
Paprika and 1/4 cup of chopped parsley, for garnish
Preparation:
Set aside 2 tablespoons of the garbanzo beans and add the remaining bean to a food processor.
Puree with water, half (1/4 cup) the olive oil, half (1/4 cup) the tahini, 1/4 cup of lemon juice, 3 of the garlic cloves, cumin and salt. Process until smooth and creamy. Transfer to a serving bowl.
Clean the food processor and add the remaining olive oil, tahini, 1 tablespoon water, 1 tablespoon of lemon juice, and garlic clove.
Process the lemon/tahini mixture until smooth.
Before serving, make an indent in the center of the hummus and poor the tahini-lemon mixture inside.
Garnish with paprika, parsley and the whole garbanzo beans and serve with pita bread.
Notes:
* The original recipe (from www.foodandwine.com for this hummus uses 1/2 pound of dried garbanzo beans. To prepare, the beans are soaked in water (along with 1 tablespoon of baking soda) overnight. The next day they are simmered with 7 cloves of garlic (note: cooked garlic is milder than raw garlic, so you need more of it) for 40 minutes. After the beans are tender, pour off and reserve the liquid. Then remove and peel the garlic. Puree the cooked garbanzo beans with 1/2 cup of olive oil, 1/2 cup of the reserved liquid, 1/4 cup of lemon juce, 1/4 cup of tahini 6 cloves of boiled garlic, and the ground cumin. Follow the directions above for making the tahini/lemon topping.
This recipe was adapted from a recipe submitted by Jessica Yoon, the sister of our associate editor, Michelle Yoon. Jessica is currently attending the who is currently resides in Paris, France and is enrolled in Le Cordon Bleu's culinary program. Jessica maintains a food blog called www.jessicasdinnerparty.com
About Falafal:
Just like hummus, Falafel in the Middle East is subject to a lot of partisan debate. Israelis claim it as one of their national dishes and Christian Copts eat it during lent as a meat replacement. Originally a street food in many countries it is also a part of the the Arabian "Mezz" which has many different small dishes served together on one table. While garbonzo beans are the bean of choice for falafels in most countries, fava beans are often used in Egypt and some recipes call for the use of both beans. Falafel dry mix is widely availible (much cheaper if bought in bulk from Henry's Market), just add water mixes tend to make a much drier falafel. Reportedly McDonalds sell falafel burgers in Egypt and elsewhere in the Middle East and calls them "McFalafels." Too bad they are not sold here!
Falafel Ingredients:
1 cup dried chickpeas or 16 oz. can of chickpeas or garbanzo beans.
1 large onion, chopped
2 cloves of garlic, chopped
3 tablespoons of fresh parsley, chopped
1 teaspoon ground coriander
1 teaspoon ground cumin
2 tablespoons flour
Salt
Pepper
Oil for frying
Preparation:
Place dried chickpeas in a bowl, covering with cold water. Allow to soak overnight. Omit this step if using canned beans.
Drain chickpeas, and place in pan with fresh water, and bring to a boil.
Allow to boil for 5 minutes, then let simmer on low for about an hour.
Drain and allow to cool for 15 minutes.
Combine chickpeas, garlic, onion, coriander, cumin, salt and pepper (to taste) in medium bowl. Add flour.
Mash chickpeas, ensuring to mix ingredients together. You can also combine ingredients in a food processor. You want the result to be a thick paste.
Form the mixture into small balls, about the size of a ping pong ball. Slightly flatten.
Fry in 2 inches of oil at 350 degrees until golden brown (5-7 minutes).
Serve while still warm
Additional notes: This recipe was adapted from www.mideastfood.about.com Falafels can take the form of balls or pattys. Falafel can be served as an appetizer with hummus and tahini, or as a main course. You can make a falafel "sandwich" (a common way they are consumed in Egypt) by stuffing pita bread with falafel, lettuce, tomatoes, tahini, salt and pepper. Falafel can also be used as a veggie burger, I think it tastes much better than store bought veggie burgers. I should note that I myself have experimented with falafel to make a great tasting veggie burger and the closest I got was with the addition of sautéed mushrooms (cooked until dry and nearly crispy).
Keep informed about San Diego Events!
Sign-up for our weekly Eblast by clicking here:
Sign Me Up!