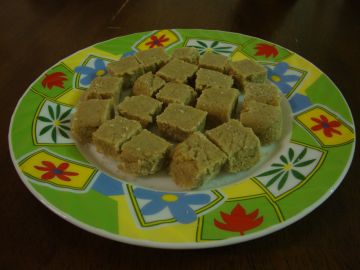 >
Coconut Burfi (Photo by Vijaya Vedantham)
Burfi is a confection that is extremely popular throughout India. Made from a wide variety of ingredients burfi are rich, dense mildly sweet two-bite sized cut into the shapes of quadrilateral polyg<khoya) made from boiled until thickened condensed milk, boiled down cream or sometimes dried milk powder, and flavored and colored with mango, chocolate, saffron, rose water, coconut figs and carrot. Burfi are often topped with various ingredients such as slivered almonds, chocolate or an edible metallic foil. Sometimes burfi are made in layers. Often the shape of the burfi is an indication of its ingredients; saffron burfi are often flattened rounds, cashew or pistachio burfi are typically diamond-shaped and coconut flavored cham cham are pink and round (or obloid). Burfi are great as a snack or as a finale to delicious Indian meal. The best place to buy burfi here in San Diego is at the restaurant/snack shop Surati Farsan in Little India off of Black Mountain Road in Mira Mesa. Make 'em and take 'em to a potluck and not only will they be the talk of the party, but they will all disappear! The two burfi recipes were submitted by our fabulous "Calendar Master," Vijaya Vedantham, who hails from Mumbai. Ingredients are readily available in local Indian food markets.
Coconut Burfi
Ingredients:
1 cup sugar
3/4 cup grated fresh coconut
¼ cup cashew nut powder (Optional, if not used substitute 1 cup finely grated fresh coconut)
1 tablespoon butter/ghee
1 teaspoon green cardamom powder
Preparation:
Mix all the ingredients together
Add mixture to a dry pan and heat on medium mixing continuously
Continue cooking and mixing until it thickens
Mix in ghee or butter
Stir the mixture until it no longer sticks to the pan. It takes a long time and if you stop mixing it will burn!
Grease a pie can (or better yet a small square pan) with butter
Spread mixture in the bottom of the buttered pan and let cool
Slice Coconut Burfi into 1 ½ inch squares
Badam (Almond) Burfi
Ingredients:
½ cup whole un-roasted almonds
½ cup un-roasted cashew nuts
1 cup sugar
1 teaspoon green cardamom power
1 teaspoon ghee or unsalted butter
Preparation:
Soak almonds for 1 hour in warm water and then drain
Soak cashews in warm water for ½ hour and then drain
Peel off the almond skins
Grind both nuts together in the blender without adding water until you have a paste
In a deep pt add sugar and some water and heat on medium flame. Amount of water should be just enough to soak the sugar. Do not add too much water.
Heat till sugar melts and the syrup begins boil and thicken
After the syrup thickens add the nut paste & cardamom powder and keep mixing. Continue mixing without stopping until the mixture thickens
Add ghee/butter once the mixture thickens
Continue mixing until the mixture no longer sticks to the pan
Grease a pie can (or better yet a small square pan) with butter
Spread mixture in the bottom of the buttered pan and let cool
Slice Almond Burfi into 1 ½ inch squares
Recipe and photo by Vijaya Vedantham
Keep informed about San Diego Events!
Sign-up for our weekly Eblast by clicking here:
Sign Me Up!