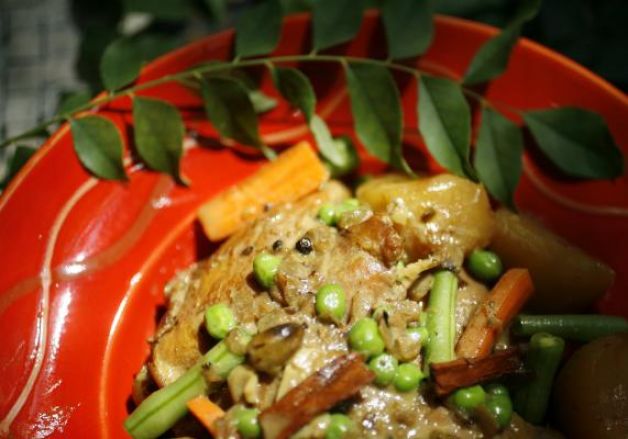 Photo from the Complete Book of Indian Cooking

Kerala is on the Southwest coast of India. It is a hot and wet land of tremendous ethnic and religious diversity, forged out of its long and varied history. Earliest habitation dates back to at least the peoples responsible for the Edakkal Cave pictorial writings that may be more than 7,000 years old. For several millennia, Kerala has been one of the most important trading centers in the world. Before European contact, Kerala was ruled by a plethora of Indic empires including the Chera, Ays, Pandyan, Chola, and Rashkatraka. In a bid to take over the spice trade largely controlled by the Arabs, the Portuguese under Vasco de Gama established a fort at Cochin. Today the area is still known as Fort Kochin. The Portuguese were eventually expelled by the Dutch but in the late 1700s they were ousted by local Nayar (Nair) troops under Marthanda Varma. A short few years later, a series of wars between the English and the rulers of Mysore eventually resulted in treaties establishing the area as "Princely State" in British India. Subsequent uprisings against British rule were not uncommon. But western influence in Kerala was not limited to military, political, and economic engagements. Kerala is a land of great religious diversity. While Hindus and Muslims make up a majority of the area's residents, they are not and were not alone.
From perhaps as far back as 3 millennia ago, Jews were trading with India. The first wave of large scale immigration of Jews appears to have happened after the siege of Jerusalem in 70 A.D. A second large scale migration, this time Sephardic (aka Paradesi) Jews escaping the Inquisition, occurred in the 16th century. Both sets of migrants enjoy a great deal of freedom, power, and influence, although tensions did exist between the two groups themselves. The oldest Jewish grave stone in Kerala dates from 1269 C.E. Upon the establishment of the modern state of Israel, most Keralan Jewish families emigrated away from Kerala and now very few remain.
Kerala presently has a very large and active Christian community. Churches large and small are found far and wide and are variously known as Nasarani, Syrian, or St. Thomas Christians, as it is thought that St. Thomas himself evangelized Kerala in the first century. Up until the 14th century, the "Church of the East" was centered in Persia and its influence stretched all the way to China. Today, the last vestiges of this once great tradition are to be found primarily in Kerala.
These many historical, religious, and cultural traditions have left their distinctive marks on local existence. Other than the obvious differences in religious observations and traditions, and some differences in ritual and everyday dress, one of the most recognized differences are in food. With the exception of Jewish cuisine (although one can eat in the Menorah Cafe in the Koder House Hotel, the fare is not particularly Jewish), Hindu vegetarian food, and halal Muslim eats and foods that are associated with Christian Keralites can be found throughout the Fort Cochin area. The following recipe, which uses ingredients found in other Indian cuisines, is considered to be a Syrian Christian dish.
Ingredients:
2 pounds skinless boneless whole chicken thighs
2 tablespoons oil (coconut is best)
seeds from 6 green cardamom pods (crack open, use seeds only)
6 whole cloves
1 stick cinnamon
1/4 teaspoon black peppercorns
2 bay leaves
2 1/2 cups finely chopped onions
2 Thai chilies, sliced lengthwise and seeds removed
1 tablespoon minced peeled ginger root
1 teaspoon powdered fennel seeds
1/4 teaspoon turmeric
1 1/2 teaspoon salt
6 small potatoes, quartered (about 3/4 pound)
1 cup chopped green beans (2-inch)
1 cup sliced carrots
20 fresh curry leaves
2 tablespoons peeled and julienned fresh ginger
2 tablespoons minced garlic
1 can of coconut milk or fresh coconut milk (14 oz)
1/2 cup frozen peas, thawed
Preparation:
Rinse chicken and thoroughly pat dry with paper towels. Set chicken aside.
In a deep saucepan, heat oil over medium heat.
Add cardamom, cloves, cinnamon, peppercorns, and bay leaves to pan and sauté until fragrant (about 40 seconds).
Add chopped onions and sauté until golden, 10 to 12 minutes (if onion edges start to burn, lower heat).
Add chilies, minced ginger, fennel, and turmeric and sauté for an additional 2 minutes.
Push fried masala mixture to side of pan. Add chicken, folding each piece to double the thickness. Spoon masala over top and brown for 5 minutes.
Flip chicken to brown other side for an additional 3 minutes.
Stir chicken in the pan to mix well with masala.
Add 1 cup water and salt. Bring to a simmer.
Reduce heat to medium-low, cover and simmer until chicken is partially cooked (about 15 minutes).
Add potatoes, green beans, carrot, curry leaves, julienned ginger, and garlic to pan with chicken.
Increase heat to medium and return to a simmer, then reduce heat to medium-low.
Cover and simmer for another 10 minutes.
Add coconut milk and peas. Continue to simmer until vegetables are tender, 6 to 8 minutes.
Serve hot over rice.
Recipe adapted from the "Complete Book of Indian Cooking," by Suneeta Vaswani
Keep informed about San Diego Events!
Sign-up for our weekly Eblast by clicking here:
Sign Me Up!