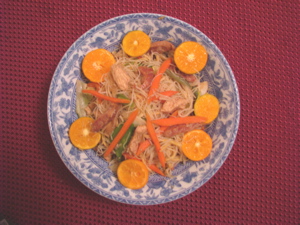 Filipino Pancit Bihon is a delicious, easy to prepare rice noodle dish perfect for a summer meal. Garnished with Calimansi fruit, the dish embraces the Southeast Asian culinary taste quartet of savory, salty, sweet and sour. Pancit Bihon is a quintessential Filipino dish made with meat, vegetables and thin rice noodles. For a vegetarian version, just leave out the meat or substitute tofu. Pancit means noodles and bihon (or bihun) are thin "vermicelli" rice noodles. As they can be cooked and prepared quickly, they can be considered a Filipino fast food. Noodles and the lore associated with them may have originated in China. Long noodles represent long life and Pancit Bihon are often prepared for birthday celebrations (sometimes they are even called "birthday noodles" in restaurant menus). There are as many variations of Pancit Bihon as there are cooks, so feel free to experiment with other meats and vegetables. Calimansi, which are used as a garnish in this recipe, are small citrus fruits that are sweet and sour. You can eat the whole fruit, rind and all. Their palate-cleansing acidity and dash of sweetness goes quite well with this recipe.
Ingredients:
An 8 ounce package of Pancit Bihon rice noodles (obtainable at Asia grocery stores)
1/2 lb chicken breast (cut into strips)
½ package of Chinese pork sausages (sliced into strips)
2 cloves garlic (minced, pressed or crushed)
1 medium onion (cut into thin strips)
2 carrots (julienne cut)
1/4 pound of snow peas
1 head of a small cabbage (julienne)
½ pound of green beans (diagonally cut into small pieces); can substitute thawed frozen French-style green beans.
3 stalks of celery (cut into small, thin strips)
2 cups of chicken broth
3 tablespoons soy sauce
3 tablespoons peanut oil
Salt and pepper to taste
3 scallions sliced thinly (for garnish)
several Calimansi (halved or quartered) or lemon slices
Preparation:
Preparatory note: The onion, carrots, cabbage, green beans, celery, and meat (sausage and chicken) should be cut into short (2 inch), thin (1/4 inch) "sticks" (much like julienne). Another way to prepare the chicken is to boil it until tender and then shred it. Pork and shrimp can be added to or substituted for the chicken.
Soak noodles in warm water for 15 minutes, drain and set aside.
Mince or crush garlic and set aside.
Slice scallions thinly and set aside.
Cut up onion, cabbage, green beans and celery per instructions above.
Cut up chicken and sausage per instructions above.
In 3 tablespoons of peanut oil, brown the Chinese sausage in a wok.
Add in minced garlic and sliced onions to wok and sauté until onions are translucent.
Add chicken strips and continue cooking until the chicken is cooked through.
Add the chicken broth and all the remaining vegetables and cook for an additional three minutes, stirring constantly.
Mix in softened noodles, toss and cook until the broth is absorbed, but not too dry.
Add soy sauce, salt, and pepper to taste.
Sprinkle dish with thinly sliced scallions.
Serve hot with sliced Calimansi or lemon slices as an edible garnish.
Diners may add additional soy sauce if desired.
Based on a recipe submitted by Sherry Sebastian (her mom's recipe!)
Keep informed about San Diego Events!
Sign-up for our weekly Eblast by clicking here:
Sign Me Up!