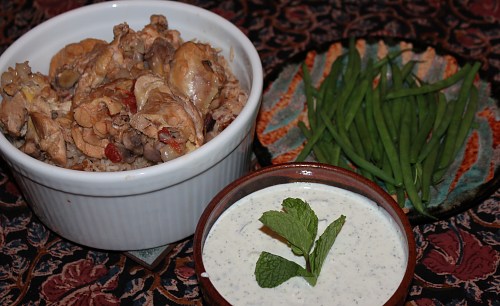 Chicken Kapsa is a popular chicken and rice dish found in Saudi Arabia, Syria, and elsewhere in the Middle East. It is a dish we cook regularly in our house. It is considered the national dish of Saudi Arabia and is often eaten at family dinners. There are many kinds of Kapsa. This version has some unique ingredients that you will have to either make yourself or hunt down in a Middle Eastern grocery store. One of these ingredients is dried lime (sometimes called "black lime", or loomi) or lemon. Dried limes or lemons are exactly what they sound like, which means they're dried until they're completely desiccated. You can make them yourself but it will take weeks or even months (I haven't tried using a dehydrator). You need to poke 3 or 4 holes in the dried limes so that the flavors can permeate the dish. Also, you can either buy Arabic Seven Spice (called baharat in Turkey, which simply means "spices") in a Middle-Eastern grocery store or make it yourself (see ingredients below). Basmati rice is the rice of choice; other rices simply won't work very well with this dish. If you can get aged Basmati rice, it tastes better. You can augment Kapsa with raisins, almonds or pine nuts. While Saudis often eat lamb at ceremonial or festive occasions, they are the highest consumers of chicken per capita in the world. If you can find soft kimaje flatbread, that's a good complement to this dish. Salata Kheyyar Bel-Labban is a yogurt, cucumber and mint "salad" that is excellent with Kapsa. Using strained (Greek, Indian, or Middle Eastern) yogurt is best. Pre-prepared sauces are not nearly as tasty. Like many foods, the yogurt salad and the Kapsa itself taste better the next day.
Kapsa Ingredients
1 whole chicken cut up
1 medium onion chopped
1 small can tomato paste, fresh tomatoes or small can of tomatoes
2 tablepoons Arabic Seven Spice
1 cinnamon stick, or a teaspoon of ground cinnamon
4 dried lemons or limes (with 1/4 inch holes poked in them)
2 tablespoons raisins (optional)
1 teaspoon of crushed garlic (optional)
3 cups of chicken broth
2 cups rinsed Basmati rice
Arabic Seven Spice (baharat) Mixture
Thoroughly mix the following finely ground spices:
2 tablespoons ground black pepper
2 tablespoons paprika
2 tablespoons ground cumin
1 tablespoon ground coriander
1 tablespoon ground cloves
1 teaspoon ground nutmeg
1 teaspoon ground cinnamon
1/2 teaspoon ground cardamom
Preparation
Put the chicken and all the other ingredients except the rice into a medium large pot.
Bring to a boil and then cover pot and simmer on medium-low heat for 30 minutes.
Transfer the chicken pieces (leave behind the limes and tomatoes) from the pot to an oven-proof dish and place dish into an oven set at 350 degrees Fahrenheit.
Add rice to the pot on the stove top.
Bring to a boil again, cover and reduce heat to low.
Cook for 15 to 20 minutes until the rice is fully cooked and all the broth is absorbed.
Fill a serving dish or platter with cooked spice rice, putting the chicken pieces on top of the rice.
Salata Kheyyar Bel-Labban (Yogurt & Cucumber Sauce)
Combine in a mixing bowl the following:
1 cup yogurt
1 large cucumber, peeled and chopped or quartered and sliced very thinly *
1/2 teaspoon of salt
1 garlic clove, pressed or chrushed
1 teaspoon olive oil
1 tablespoon minced fresh mint
* Peeling the cucumber is optional. Usually I puree half the sliced cucumbers, and mix half the yogurt along with the salt, garlic, olive oil and mint in a food processor. Afterwards I combine the pureed mixture with the remainder of the cucumbers and yogurt. For a slightly different taste, dill can be substituted for the mint.
Recipe and photo: T. Johnston-O'Neill
Keep informed about San Diego Events!
Sign-up for our weekly Eblast by clicking here:
Sign Me Up!