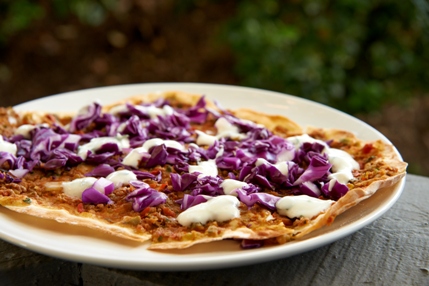 Lahmacun (or Turkish pizza) can be enjoyed at any time of the day as a delicious snack or entree, and is wonderful for lunch or picnic. The combination of garlic, lamb, vegetables, tomato, yogurt, and crispy dough work in perfect harmony to create a satisfying culinary experience that will transport you to the Middle East.
Thought to have its origin in Turkey, lahmacun which means "meat with dough" in Arabic is a popular treat found in Turkey, the Middle East and some European countries. In the Netherlands it is know as Turkish pizza. It is eaten in Armenia, Azerbaijan, Georgia, Israel, Iran, Iraq, Jordan, Lebanon, Palestine, Saudi-Arabia, Syria and Turkey. It is also a popular dish in countries such as Germany and the Netherlands where a substantial number of immigrants from Turkey and the Middle East live.
Lahmacun is composed of a thin, round dough base which is topped with a mixture of minced meat, onions, fresh tomatoes, peppers and parsley. It can also be made as a vegetarian dish. In that version feta cheese, eggs, parsley and butter are used. Some fillings also include green peppers and tomato paste. Lahmacun is cooked in an oven (brick being best) but can also be prepared on a grill.
Lahmacun is served in a variety of ways, flat right out of the oven, rolled and cut into smaller pieces or rolled into a cylinder shape similar to a rolled taco. When served rolled, it is not uncommon to include fresh parsley and thinly sliced onions. Lemon juice is frequently squeezed over the top of the lahmacun. In the Netherlands it is usually served stuffed with red cabbage, garlic sauce and sambal (spicy chili-based Southeast Asian sauce which is now readily available in grocery stores in San Diego).
Lahmacun is great as a snack but it can be also eaten for dinner or lunch. It is especially enjoyed by people who are in a hurry. In the Netherlands it is very often eaten as a late night snack after a party. Lahmacun has become so popular in the Netherlands over the last 10 years that it can sometimes even be bought from the supermarket as a ready-made meal./p>
Ingredients:
The dough:
3 3/4 cups all-purpose flour
1/2 tablespoon butter
1/3 ounces active dry yeast
2 teaspoons salt
1 teaspoon white sugar
1 cup warm water (110 degrees F)
1/2 cup milk
sunflower oil for greasing the bowl
The lamb sauce:
1/4 pound lean ground lamb
1 medium tomato
1 onion
1 cup parsley
1 red pepper
1 green pepper
2 tablespoons tomato paste
2 tablespoons sunflower oil
1/2 cup water
2 teaspoons salt
2 teaspoons paprika
pepper for taste
The garlic sauce:
1 cup plain yogurt
1/2 teaspoon chopped fresh parsley
1 clove crushed garlic
salt and pepper to taste
The garnish:
1 cup shredded green cabbage
1 cup shredded red cabbage
or
1 cup shredded lettuce
thinly sliced tomatoes, cucumber and red onions
Preparation:
Preparing the lamb topping:
Cut the onion, red and green peppers, parsley, and tomato into small pieces.
Pulse the vegetables in a food processor until the are finely chopped.
In a mixing bowl, combine the vegetables and ground lamb.
Add tomato paste and oil to the mixture.
Season with salt, pepper and paprika.
Add 1/2 cup of water to the mixture.
Mix thoroughly until consistent.
Mixing the garlic sauce:
Combine the yogurt, parsley and crushed garlic.
Add salt and pepper to taste.
Stir well and set aside.
Preparing the dough and assembling the Lahmacun:
Dissolve the yeast in 1 cup of warm water.
Combine the flour, butter, milk, sugar and salt in a mixing bowl, and add the yeast mixture.
Use your hands to mix the dough thoroughly.
Shape the dough into a ball and transfer to an oiled bowl.
Cover with a wet towel and let rise in a warm place for about 30 minutes or until the dough has doubled in size.
Preheat the oven to 430 degrees F (220 degrees C).
Transfer the dough to a floured work surface, and cut the dough into 10 equal portions.
Shape each portion into a round ball.
Flatten each round with your hand and then roll with a rolling pin until it is the size of a 10-inch round tortilla. The rolled-out dough should be thinner than a tortilla, more like the thickness a crepe.
Place the rounds on a parchment-lined baking sheet.
Spoon the lamb sauce onto a dough round spreading it thinly to the edges.
Bake the "pizzas" for 7-8 minutes or until their edges turn a light tan color.
Remove the Lahmacun from the oven.
To complete the Lahmacun, drizzle with garlic sauce, top with shredded cabbage, and roll it up. For a spicy kick add some variety of chili sauce like Sambal, Tabasco or Harissa.
Recipe by Mari-Liis Muiste
Photo by Heidi Adams
Keep informed about San Diego Events!
Sign-up for our weekly Eblast by clicking here:
Sign Me Up!