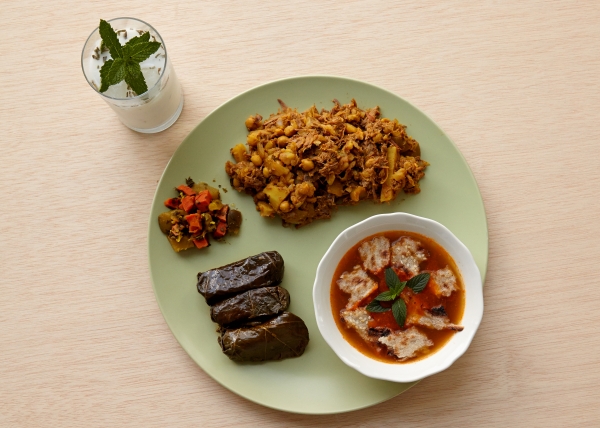 Persian Abgoosht with Doogh is a hearty stew made with meat and garbanzo beans. Historically a peasant and laborer food, it is now enjoyed by Iranians from all walks of life.
In Farsi (the language spoken by Iranians) abgoosht, sometimes spelled "ab-goosht" when rendered in the Roman alphabet, is a contraction or portmanteau of ab meaning "water" and goosht a general term for "meat", but it refers to various forms of stew. It is usually made with lamb in Iran, but beef can also be used.
Abgoosht is traditionally cooked in small clay pots called dizi and cooked slowly over a charcoal fire. At Abgoosht shops, many dizi are cooked at the same time. The dizi are also used as serving vessels, so abgoosht is also colloquially known as dizi. Finding a dizi to cook abgoosht in might be a challenge here in the States, a Dutch oven over low heat or even better a crockpot (my 30 year old one has a ceramic interior) works fine. It seems possible that you could speed the cooking time up with a pressure cooker, but the potatoes would have to be cooked subsequently or they will be mushy.
The most unusual ingredient used in abgoosht is black-lime, known at limo amani or simply dried lime. Dried limes can be purchased at the Balboa Market (near Genesee Ave.). Dried limes are used as flavoring through out the Eastern Mediterranean and Middle East. If you are looking to explore other recipes with dried limes, try the Syrian kapsa recipe found in the Participant Observer Cookbook. Dried limes are more of a flavoring than something to be eaten directly (although this can be done), but beware they are rather tart and strong tasting. During cooking they become soft. Poking holes in them before they are added to the pot allows liquid to infuse into the lime and thereby release its flavor. Lime juice can be used as a substitute although the flavor is quite different.
What sets abgoosht apart from other stews is it's final preparation. After the stew cooks for 3-4 hours, it is drained with a colander and the resulting broth is reserved. The remaining solids are then mashed with a pestle (similar to one found a in mortar and pestle set) known as a goosht koob. The amount of mashing seems to depend on personal preferences but it often ends up much like a rather smooth meat-vegetable pâté. The soup part is eaten first. Often pieces of dried flatbread (sangak, barbari, lavash or even pita) are broken off into the soup just before eating it. Balboa Market sells fresh flat breads like sangak (which is a huge single piece of flatbread).
After the soup is eaten, the solid abgoosht is then eaten with a fresh (not dried) flat bread. Spring onions, fresh mint, radishes and small slices of fresh lime can also be eaten with the abgoosht. A special mixed-vegetable pickle known as torshi is also a normal accompaniment for this meal. A very easy to make mint yoghurt drink known as doogh offers a minty cool compliment to the thick stew and the astringent sour of the torshi pickle. Sometimes Abgoosht is used as a sandwich filler.
Notes:
Some cooks simply put whole onions, whole tomatoes, meat (lamb or beef), water, limes, garbanzo beans and spices in the pot and cook it slowly for several hours (again adding the potatoes in the last hour). Cutting everything up into smaller bits certainly makes mashing things easier. Bone-in cuts of lamb or beef (shanks) are preferred for the marrow. Garbanzo (Nakhod) beans are a key ingredient, but sometimes white beans, kidney beans or black-eyed peas are added with the garbanzo beans.
Abgoosht is mostly associated with cold winter weather, but it really can be enjoyed any time of the year.
Ingedients:
1 and a half pounds of beef shanks
1 larger or two medium onions (chopped coarsely)
3-4 garlic cloves
1 cup of canned garbanzo beans (drained)
2 dried limes
3-4 medium sized tomatoes
2 tablespoons tomato paste
3 medium sized potatoes cut into medium sized chunks
2 tablespoon turmeric
1 tablespoon ground cinnamon
6 cups of water
Salt and pepper to taste
Preparation:
Cut up onions and put them on the bottom of the crockpot or heavy pot. Add meat, tomatoes, tomato paste, garlic cloves, garbanzo beans, spices and 6 cups water.
Bring to a low simmer
Poke a couple of holes in the each of the dried limes and add them to the pot, pushing them down so that they fill with liquid.
Cover and cook on low heat for 2 ½ to 3 hours until the tomatoes completely dissolve and the meat is falling off the bone.
Add potatoes, cover the pot again and cook everything until the potatoes are fork-soft but not mushy.
Add salt and pepper to taste. To bring out the richness of the dish, you might have to use a bit more salt than you usually do. If you have high-blood pressure or other conditions that require you to restrict your salt intake, adjust the amount of salt according to your needs.
After the potatoes are fully cooked and the meat is very tender, place a colander in a pot or large bowl and drain the liquid from the solids.
Return the solids to the cooking pot and have at them with a potato masher. Again personal preference dictates how much mashing you should do.
If necessary, reheat the broth and then serve it in bowls. Breaking bits of dried flat bread into the broth is a common way of eating the broth.
10. Serve the abgoosht on a plate along with torshi pickles. Dolmas (as shown in the photo) also go well with this meal. Small slices of lime, mint leaves and spring onions add a nice touch.
Doogh (Yoghurt-Mint Drink)
Doogh is an easy to make yoghurt-mint drink. Mix a half cup of Greek style yoghurt with two cups of either club soda, sparkling water or regular water. Add a heaping teaspoon of dried mint or finely chopped fresh mint, a pinch of salt and even a very small amount of pepper to the concoction. Serve over ice. Add a sprig of fresh mint to add a final bit of panache and minty aroma.
Befarma'id! بفرماييد (Bon Appetite in Farsi
Recipe by Tom Johnston-O'Neill
Photo by Heidi Adams
Keep informed about San Diego Events!
Sign-up for our weekly Eblast by clicking here:
Sign Me Up!