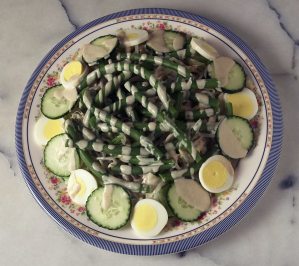 Similar to Indonesian Gado-Gado, Surinamese Goedangan is vegetable salad that employs a unique and refreshing (perfect for summertime) coconut/yogurt dressing.
Surinam is a country on the Northeast coast of South America. It is a relatively small country with only slightly more than a half-a-million people. In spite of its small size, it is remarkably culturally diverse. Little more than a third of the population is descended from South Asia (India). Creoles are the second largest group followed by people from Javanese, Chinese and African descent. Indigenous people only account for about 2 percent of the population. With such ethnic diversity comes culinary diversity too.
Goedangan was undoubtedly influenced by Javanese cuisine. It is very similar to Gado-gado, which was the very first Participant Observer Recipe of the Month and is an absolute favorite of some of our readers. Instead of a spicy peanut sauce, Goedangan calls for a mildly-spicy yogurt and coconut cream sauce. The sauce, together with the crunchy parboiled vegetables and cucumber, make this a cooling summertime dish.
Preparation Notes: Most (but not all) of the vegetables in this recipe need to be parboiled. This will require you to have a large pot of salted boiling water. After they are parboiled, it is best if the vegetables are rapidly cooled in ice water, which will keep them slightly crisp. Parboiling the vegetables in batches (using the order specified below) will allow you to arrange the ingredients in an eye-pleasing manner.
Ingredients:
1 medium head cabbage
1 pound of green beans
2 cups mung bean sprouts
1 cucumber
1 medium sized carrot, thinly sliced
6 hard-boiled eggs
1/3 cup coconut cream
1/2 cup plain yogurt
3 tablespoons dark brown sugar
1 green chili pepper seeded and finely chopped
1 teaspoon ground coriander
1 lime (juice)
salt to taste
Preparation:
Make hard-boiled eggs in your favorite manner. A good foolproof method is to place eggs in a medium to large pot of cold water, bring it to a boil and then cover the pot and turn off the heat. Twenty minutes later the eggs will be perfectly cooked.
Blend coconut cream and yogurt in a mixing bowl.
dd minced green chili, brown sugar, coriander, lime juice, and salt to the coconut and yogurt blend..
Chill the mixture in refrigerator
Slice cabbage into thin strips
Parboil the cabbage for 2 minutes and then transfer to the bowl of ice water.
After the cabbage cools, remove and arrange it on a serving platter
Parboil the bean sprouts for 3 minutes and then transfer to the bowl of ice water
After the bean sprouts cool, transfer them to the serving platter (on top of the cabbage). Neatness and artistry counts!
Parboil the green beans for 4 minutes and then transfer to the bowl of ice water
After the green beans cool, transfer them to the serving platter (on top of the cabbage and sprouts)
Slice the cucumber into 1/4 inch slices. If you score the cumber lengthwise with the tines of a fork, they will look nice
Slice the hard-boiled eggs
Arrange all the ingredients on the platter as shown in the picture above
Drizzle with the chilled coconut/yogurt dressing and serve extra dressing on the side for diners who want more.e.
Eet smakelijk! (bon appétit in Dutch, the official language of Surinam).
Recipe by T. Johnston-O'Neill
Photo by Heidi Adams
Keep informed about San Diego Events!
Sign-up for our weekly Eblast by clicking here:
Sign Me Up!