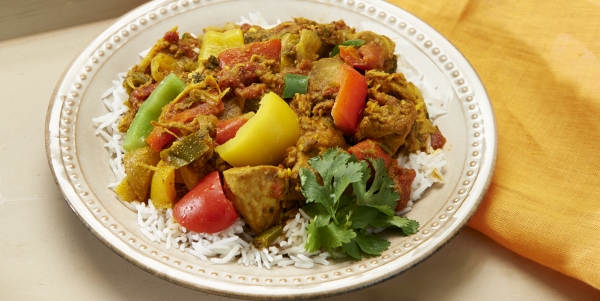 According to a recent survey, Chicken Jalfrezi has now become England's most popular takeout food (which they call "take away"), supplanting the milder and saucier Tikka Masala as a British favorite. Several observers have noted that British are increasingly seeking out spicier food. Jalfrezi hails from the north of India but it can be found in Pakistan as well. Folk etymologies abound for the origin of the name "Jalfrezi". Some think the curry was highly influenced by Chinese food. Chinese food in India is far different than what is found elsewhere in the world. This version of Jalfrezi uses chicken but other meats, Indian paneer cheese or vegetables (garbanzo beans, broccoli, peas etc.) can be used in place of the chicken. Unlike other curries, the vegetable and meat pieces are cut medium-large. There are several commercially available Jalfrezi sauces, but the basic spices are easy to come by—and everything tastes better fresh rather than from a bottle. As always, feel free to experiment. Jalfrezi is very easy to make, keeps well and tastes even better the day after it's made. Using brightly colored bell peppers makes it look a bit brighter in color than many Indian curries. Jalfrezi is also thicker and drier. This recipe uses Serrano chilies, for a milder dish use fewer chilies or substitute Jalapenos or ground chili. Jalfrezi is usually eaten with long-grained Basmati rice and/or naan.
Ingredients:
2 medium chicken breasts, cut in to medium sized cubes
1 tablespoon ground cumin
1 tablespoon ground coriander
1 tablespoon turmeric
2 tablespoons vegetable oil or ghee
1 onion sliced
1 red Bell Pepper, seeded and cut into medium sized pieces
1 yellow Bell Pepper seeded and cut into medium sized pieces
3 Serrano chilies, de-seeded and sliced thin.
2 garlic cloves, chopped
1 (14.5 ounce) crushed tomatoes or 2 cups of finely chopped fresh tomatoes)
2 tablespoons grated fresh ginger root
1/2 cup chopped cilantro leaves
red chili powder, to taste (optional)
Salt (to taste)
Preparation:
In a bowl coat the chicken with the ground cumin, ground coriander, turmeric and chili powder (optional).
Heat the oil or ghee in a large deep skillet over medium-high heat.
Add onions, Bell Peppers, chilies and garlic, and cook until the onions become translucent.
Add the seasoned chicken.
Fry gently, turning the chicken frequently.
Add tomatoes with their juice, cover the pan, and simmer over medium heat for 20 minutes.
Uncover, and simmer for another 10 minutes to evaporate most of the excess liquid.
Add ginger and cilantro, and simmer for another 5 to 7 minutes.
Add salt to taste.
Serve over Basmati rice and/or with Indian naan.
Recipe by Tom Johnston-O'Neill
Photo by Heidi Adams
Keep informed about San Diego Events!
Sign-up for our weekly Eblast by clicking here:
Sign Me Up!