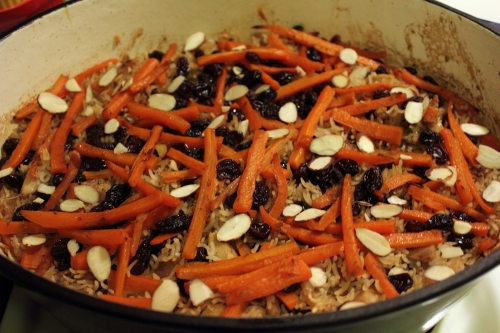 Afghan Qabili Palau is considered the national dish of Afghanistan. Savory with surprising touches of sweetness, Afghan Qabili Palau is perfect for a dinner with guests or a grand occasion.
Many signature dishes from around the world are not everyday food, but instead are foods that are served at special occasions such as weddings and other communal celebrations. In many parts of the world meat is inordinately expensive compared to its price in the U.S. Qabili Palau is from Afghanistan and it is a version of pilaf. Due to the expense of its ingredients, it is not an everyday dish—it is mostly reserved for special occasions. Present day Afghanistan sits between what is considered the East and the West. Its cuisine reflects this. It is a syncretic blending of many different cultural influences. The cuisine employs spices commonly found in South Asia (cinnamon, cardamom and cumin), but more sparingly and without the heat of chilies. It uses other ingredients more commonly found in Middle-Eastern and Mediterranean cultures such as raisins and almonds (or pistachios). Grapes are a major product in Afghanistan (nearly 50% of the land used for fruit production is dedicated to growing grapes!) and many dishes, such as this one contain raisins. Qabili Palau may be made with goat, lamb, beef or chicken. The recipe presented here uses dark meat chicken.
Ingredients:
3 cups Basmati rice
3 cups chicken broth
4 tablespoons light olive oil
2 pounds dark meat chicken (thighs or legs) cut into bite-sized pieces
2 medium onions, roughly chopped
3 large carrots, peeled and julienned (like match sticks)
1 cup raisins
2 teaspoons ground coriander
1 teaspoon ground cinnamon
1 teaspoon ground black pepper
1 teaspoon ground cumin
2 teaspoons salt (optional)
1/2 teaspoon ground black cardamom seeds
1/2 teaspoon ground cloves
1/2 cup sliced or slivered almonds
Preparation:
Soak rice in water.
Heat 2 tablespoons oil in a skillet on medium.
Slowly brown onions (15 to 20 minutes—patience is required for best results!).
Transfer onions to a medium sized bowl.
Add more oil to the skillet, raise the heat to medium high and brown chicken, turning frequently. Do this in batches to allow the chicken to brown rather than steam.
Preheat your oven to 300 degrees F.
Transfer chicken to the bowl containing the browned onions.
Add 1/2 cup of water to the skillet and cook the carrots (turn frequently) for about 10 minutes.
Add raisins to the skillet with the carrots and cook another two to three minutes, stirring frequently.
Transfer cooked carrots and raisins to a bowl.
Pour 3 cups of broth into skillet, swish around and then transfer the liquid to a large oven-safe pot.
Mix all the spices and salt into the pot with the broth.
Drain soaking rice and gently stir into the pot.
Bring the pot to a boil.
Gently mix in the chicken and half of the carrots and raisins.
Cover the pot and place in the preheated oven for 1/2 hour.
Remove pot from oven and transfer to a large serving plate.
Artistically distribute the remainder of the carrots and raisins on top and sprinkle with almonds.*
>ښه اشتیا ولری (kha ishtya walare)—Bon Appetite in Pashto<
Recipe by: T. Johnston-O'Neill
Photo by: Emily Johnston-0'Neill
* Note: if you intend to serve the rice in the pot it is cooked in, you can arrange the carrots and raisins on top before it goes into the the oven and then sprinkle the sliced almonds on top right before serving.
Keep informed about San Diego Events!
Sign-up for our weekly Eblast by clicking here:
Sign Me Up!