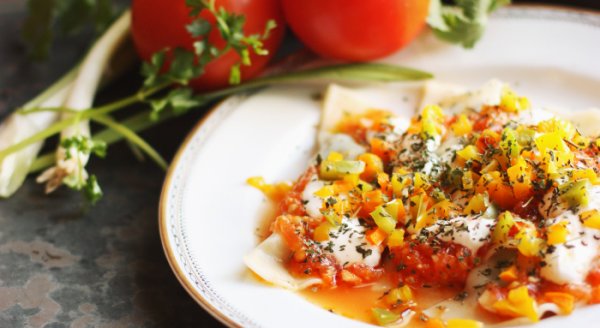 The Participant Observer Recipe of the Month is: Afghan Ravioli known as Aushak. A delicious pasta dish that eaten for special occasions. It can be made entirely vegetarian or prepared with a beef or lamb sauce. Tangy yogurt sauce give this dish an unique taste.
Aushak (also spelled Ashak), is a traditional Afghan dish made of savory dumplings that are covered with a tomato sauce, yogurt and dried mint. This dish is often referred to as 'Afghan Ravioli.' It can be made vegetarian or with beef or lamb. The combination of the tangy yogurt sauce with the savory ravioli and tomato sauce is what makes this dish so unique and delicious. Aushak hails from the city and region surrounding Kabul. The raviolis are filled with gandana greens, also called tareh in Persian. They are part of the Elephant Garlic family and are similar to common chives, although larger and flatter. They are sometimes known as Persian or Chinese chives.

The yogurt sauce consists of kashk (which is made from drained sour milk or yogurt and then dried) and labneh (thick yogurt that has been strained to remove its whey) to create a very tangy topping. Labneh is a common ingredient in Middle Eastern cuisine. It can often substitute for cream cheese, such as on bagels. If you're feeling ambitious, you can find a recipe online and make your own labneh. Pasta is called khameerbob in Afghanistan. A reasonable substitute is East Asian gyoza wrappers, which are used for this recipe. Khameerbob is rather labor intensive, which is why in Afghanistan aushak is reserved for special occasions. The raviolis can also be assembled and cooked ahead of time and stored in your refrigerator or freezer. How the ravioli is folded and the range of ingredients used varies from cook to cook—feel free to experiment. Alternative ingredients are suggested for the most authentic taste. Purchase the original ingredients from an international market.
Ingredients:
Note: Gandana chives, kashk and labneh can all be purchased at the Balboa International Market, Sahel Bazaar or North Park Produce.
Ravioli
1 packet round gyoza wrappers (we like Hong Kong brand best—available at 99 Ranch Market). Square wonton wrappers may also be used.
1/2 bunch cilantro leaves
2 to 3 bunches chopped gandana(or leeks, chives or scallions), Gandana/tareh is available at
1 teaspoon salt
4 to 6 cloves crushed garlic
1 tablespoon freshly ground coriander
1 teaspoon black pepper
1 teaspoon cayenne pepper (or to taste)
1/4 cup corn oil or vegetable oil
Pepper and Meat Topping (meat is optional)
1/2 lb ground beef or lamb
1/2 red bell pepper
1/2 yellow bell pepper
1/2 orange bell pepper
1/2 teaspoon salt
1/2 teaspoon cayenne
1/2 teaspoon ground coriander
Tomato Sauce
6 large tomatoes, or one 14.5-ounce can of crushed tomatoes or tomato sauce
2 tablespoons olive oil
1 teaspoon cayenne, or to taste
1 teaspoon ground coriander
1 teaspoon crushed garlic
Yogurt Sauce
3 tablespoons kashk
1/3 small container of labneh (if kashk isn't available, mix equal parts labneh and yogurt)
1 teaspoon water
2 tablespoons dried mint (or more to taste) to sprinkle on top. (Note: some recipes call for fresh mint)



Preparation:





Gandana (tareh) - The gandana (scallions or chives) must be washed. Fill a large bowl with water and add the gandana, swish it around, drain and refill a couple times. The root end should be cut off and discarded.
Chop gandana (or whichever filling you chose) finely
Add gandana and 1/4 cup vegetable oil and crushed garlic in large bowl and let sit for 10 minutes while assembling other ingredients.
Prepare meat topping: Brown beef in oil, add 1/2 teaspoon salt, 1/2 teaspoon cayenne, 1 teaspoon ground coriander, and chopped bell peppers. Once cooked, set aside.
Prepare tomato sauce: If using whole tomatoes, cut them in half and then grate them from the cut side with a course vegetable grater. Add oil to pot or pan and add grated tomatoes or crushed tomatoes. Cook gently for 10-15 minutes. Then, add the cayenne, ground coriander and crushed garlic.
Prepare yogurt sauce: Whisk together labneh and kashk and set aside until ready to spoon over raviolis.
Assemble ravioli: Place 1/2 teaspoon of gandana (or tareh and green onion filling) in the middle of the gyoza wrapper. Then, moisten edges of wrapper with a little bit of water. Fold wrapper in half and seal by pinching edges together. Again, folding styles vary.
Fill a large saucepan with water and bring to a rapid boil. Add a few pinches of salt after water comes to a boil. Add raviolis and return to a boil. After water is boiling, turn down to medium heat to a very gentle rolling boil (vigorous boiling will destroy the ravioli. Cook for 5 to 8 minutes, depending on your al dente preferences. Do not let them overcook.
Place cooked raviolis on a platter. Spoon tomato sauce, then yogurt sauce over raviolis (as little or as much as you like). Sprinkle dried mint on top. Spread pepper and meat mixture (or just pepper mixture if vegetarian) on top.
Enjoy aushak by itself or with good Persian bread to soak up sauce.

Based on recipe submitted by Farida and Leslie Dufour

Check out their international cuisine site at: Culture and Cuisine.

Photos by Hilary Dufour.
Keep informed about San Diego Events!
Sign-up for our weekly Eblast by clicking here:
Sign Me Up