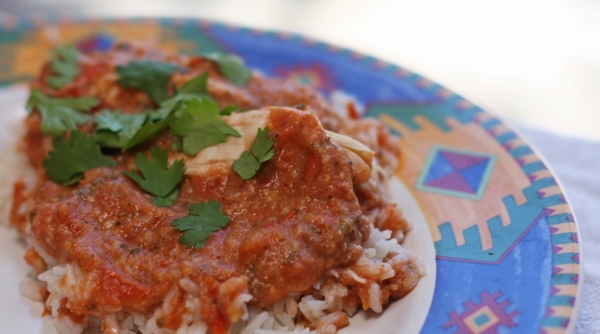 Oaxacan Stew (Estofado de Oaxaca) originated in the predominantly indigenous state of Oaxaca, Mexico, the stew belongs to a unique cuisine that has received world-wide culinary appreciation. This spiced stew contains many ingredients typically found in this region of southern Mexico.
Oaxaca is a southern state in Mexico. The majority of the population in Oaxaca is indigenous with Mixtecs and Zapotecs (58% of the population) people being the most numerous. It is estimated that over half of all people who speak indigenous languages in Mexico live in the state of Oaxaca with nearly half the population not speaking Spanish fluently or at all. Because of this cultural heritage, while Oaxacan food does share ingredients with other parts of Mexico, some of their foods are quite unique. Oaxaca is famous for its huge variety of sauces known as mole prepared from a diverse number of ingredients but typically containing one or more types of hot peppers. The state is sometimes referred to as the "Land of Seven Moles" reflecting the seven basic types of sauces found there: negro (black), amarillo (yellow), coloradito (colored), mancha manteles (tablecloth stainer), chichilo (named after the main pepper), rojo (red) and verde (green). Often the mole is considered more important to a dish than the meat, pulses or vegetables that are smothered in the mole. One delicacy found in Oaxaca are chapulines or grasshoppers that are semi-domesticated and raised specifically for human consumption. Many different spices are used in Oaxacan cuisine besides numerous kinds of peppers, including cinnamon, oregano, anise, cloves, cumin, thyme, sesame seeds, marjoram and allspice. Favored ingredients also include plantains, tomatoes, onion, tomatillos, garlic, nuts (particularly almonds), limes and chocolate. The recipe below contains many of these ingredients.
This stew is a family recipe and is a reflection of the flavors and aromas developed by the great cooks from the state of Oaxaca. Estafado means stew; this particular estafado (stew) from Oaxaca blends nuts, spices, bananas and capers to create an intriguing aromatic dish perfect for a family or festive dinner.

To prepare this dish you will need a spice grinder (or mortar and pestle), a blender or food processor and a large skillet.
Ingredients:
6 large unripe tomatoes chopped into quarters (red, but with green color
remaining,if possible)
Green olives stuffed with pimentos (optional)
1 teaspoon capers
½ bunch Italian parsley
1 white onion
1 plantain (cooking banana)
2 ounces natural style sesame seeds style (Guapo brand are a good choice,
they are darker in color than regular sesame seeds.
1 pound of chicken breasts, chicken tenders or dark meat chicken cut
into large pieces
1 corn tortilla
½ stick of Mexican cinnamon ("canela") Mexican cinnamon is a must, because
of its soft texture.)
10 allspice seeds
15 whole cloves
1 teaspoon oregano
6 cloves garlic
¼ cup raisins
¼ cup peeled almonds
1 cup chicken broth (optional)
Cilantro for garnish
Preparation:
Boil quartered tomatoes, three cloves of garlic and ½ chopped onion until soft. Use just enough water to cover the vegetables.
After ingredients are soft, let everything cool for 10 minutes.
In a blender or food processor, puree the cooled ingredients.
Bring water to boil in a pot and add the chicken, 3 garlic cloves, ½ white
onion and 1 teaspoon salt.
Boil gently until the chicken is cooked through.
In a large frying pan fry quartered plantains in vegetable oil until
slightly browned. Remove from pan and set aside.
Gently heat corn tortilla in same pan and set aside.
In same pan, brown the sesame seeds for a few minutes, turning them
continuously to ensure they don't burn. Set aside to cool.
Grind in a spice grinder or a mortar and pestle all the spices (cooled
sesame seeds, cinnamon, cloves, allspice and oregano into a smooth powder. You
may have to do this in batches.
In blender or food processor blend the spice mixture, parsley, cooked banana, almonds, oregano, raisins and tortilla into a thick paste.
Mix in ½ -1 cup liquid-either water or the remaining water from cooking the tomatoes, or chicken broth.
In large frying pan gently sauté this mixture with 1-2 tablespoons
vegetable oil, finally letting it simmer gently for ten minutes. Add
additional liquid if necessary to prevent sticking.
Carefully add the blended tomato mixture to the liquid spice mixture in
frying pan.
Simmer for an additional 10-15 minutes
Add to the simmering pan the cooked chicken, capers, olives salt to taste,
and a pinch of sugar if desired.
Simmer for a few more minutes.
Serve over rice, garnish with cilantro and eat with warm corn tortillas.
Recipe submitted by Hilary Dufour from Veronica and Culture and Cusine.
Photo by Hilary Dufour
Keep informed about San Diego Events!
Sign-up for our weekly Eblast by clicking here:
Sign Me Up!