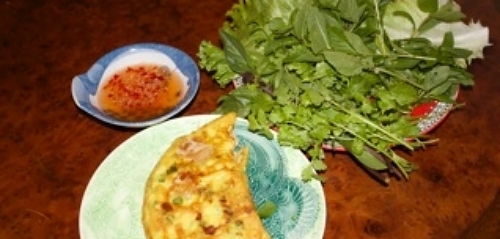 This recipe is from Vietnam, but similar dishes are found in Cambodia and Thailand. The name means "sizzling cake" for the sound the batter makes when it is poured into the skillet. The finished Bánh Xèo looks a bit like an omelet or a crepe, but it has neither wheat flour nor egg. The crepe is made from rice flour mixed with coconut milk. The yellow color is from the turmeric (which has potent anti-oxidants). Bánh Xèo is served like many other Vietnamese dishes, wrapped in lettuce leaves and dipped in a sauce. While the vegetable ingredients are common to most Bánh Xèo recipes, the meat or fish varies from place to place and recipe to recipe. Bánh Xèo can include thin slices of pork (often fatty pork belly), shrimp (often with shells on), squid or some combination there of. Fresh herbs such as cilantro, mint, Asian basil are wrapped with the Bánh Xèo in the lettuce leaves. The dipping sauce, or Nuoc Cham, is sweet, hot, sour with a hint of garlic and fish. You can buy Nuoc Cham in a bottle or make your own. If you buy it, you must dilute the Nuoc Cham with water. Unlike flour base crepes, Bánh Xèo does not really bind together, when it is folded in half it is likely to break, if this happens, don't worry you didn't do anything wrong. Indeed, we found it rather difficult to even get the crepe out of the pan without it breaking apart. My kingdom for a bigger spatula! Sometimes Bánh Xèo is prepared with dampened rice paper which holds everything together nicely. Despite the freshness of many of the ingredients, it is a dish more often eaten in the cooler rather than hotter months. The most common cooking oil in Vietnam is coconut oil which is fragrant and imparts its own distinctive flavor. The batter can be made from scratch (as described in this recipe) or by using store-bought packets that contains both the rice flour and turmeric.
Vietnamese cooking is influenced by the widespread Asian and Southeast Asian notion of 5 elements of taste; sour, bitter, sweet, spicy, and salty. These elements are symbolic of (respectively): wood, fire, earth, metal and water. The elements are also associated with specific organs of the human body, colors and senses. Vietnamese vegetables are often eaten fresh or only slightly cooked, giving Vietnamese food a very fresh taste. A full Vietnamese meal would include many different dishes including rice, a main dish, a stir fried side dish, vegetables (raw, steamed, pickled or fresh), soup, assorted relishes and dipping sauces. Desert most typically would be fresh fruit or a dessert such as Chè, a sweet drink filled with fruits, sweet beans, tapioca, jelly and a host of other ingredients.
Ingredients:
Crepe:
1 cup rice flour
2 teaspoons of turmeric powder
2 cups of water
1 cup of coconut milk
3 scallions (spring onions)
1 pound small white shrimp (either fully shelled or trimmed)
3/4 pound of very thinly slice pork belly
1 pound of bean sprouts
Salt
Pepper
Coconut Oil (heat a small amount so that it is liquid)
Wrap:
Leaf lettuce or mustard greens (whole leaves)
Mint
Thai Basil
Cilantro
Dipping Sauce (Nuoc Cham):
3 tablespoons lime juice
1 tablespoon white vinegar (optional)
2 tablespoons sugar
½ cup water
2 tablespoons fish sauce (Nam Pla)
1 small garlic clove, finely minced
1 or 2 Thai chilies, thinly sliced
2 tablespoons finely shredded carrots (optional)
2 tablespoons peeled and finely shredded cucumber (optional)
Preparation:
Batter:
Cut off the roots of the scallions and remove any layers or ends that are discolored.
Slice the scallions finely using both the green and white parts.
In a large bowl combine rice flour, water, coconut milk, turmeric, scallions and salt until smooth.
Let batter stand for 1/2 hour.
Crepe:
Season pork belly and shrimp with salt and pepper.
Brush coconut oil on a skillet or wok that has been heated to medium-high.
Add two shrimp and some of the pork and cook until both have changed color completely.
Arrange the shrimp so that they are at opposite end of each other on an imaginary line 1/4 of the way up the pan.
Position the pork between the shrimp.
Ladle 1/3 of a cup of the batter on the pan, while swirling and tilting the pan until the surface is coated with the batter.
Cover the skillet and cook for one minute.
Add a small handful of sprouts.
Cover and cook for an additional minute.
Fold the Bánh Xèo in half, remove it from the pan and onto a serving place.
Repeat steps 1-10 until all the ingredients are used.
Sauce:
Heat some water in a kettle or a pot.
Combine boiling water and sugar into a heat proof bowl and mix until the sugar is dissolved.
Let cool for several minutes and then add and mix in all of the remaining sauce ingredients.
Serve in individual bowls
Eating:
Bánh Xèo are eaten with your hands
Cut or break crepes in half
Lay half of the crepe on a large lettuce or mustard leaf
Add several sprigs of mint, cilantro and Thai basil to the top and sides.
Wrap everything up in the leaf into a cylinder shape
Dip into the Nuoc Cham and enjoy!
Recipe and photo by: T. Johnston-O'Neill
Keep informed about San Diego Events!
Sign-up for our weekly Eblast by clicking here:
Sign Me Up!