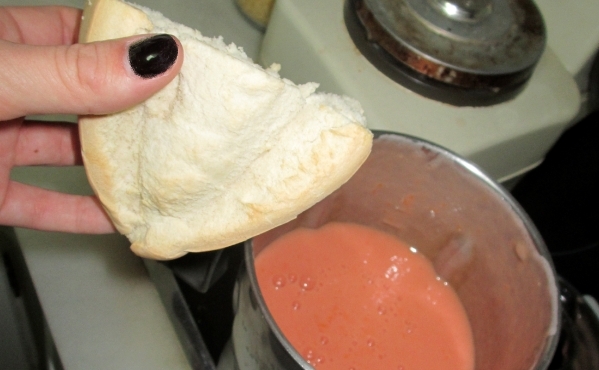 Salmorejo is a dish from the south of Spain. From the simplest of ingredients comes a delicious soup that can be enjoyed in a variety of ways. Using Spanish ingredients (such as sherry vinegar, Iberian ham (similar to Italian prosciutto) and Spanish olive oil) brings out the very best in this delightful Andalusian repast.
Spain, together with Portugal, forms the Iberian Peninsula, or Iberia, which is separated from the rest of Europe by the Pyrenees Mountains. As a gateway between Europe and Africa, as well as the Mediterranean Sea and the Atlantic Ocean, Spain has been much fought over throughout history. Various groups such as the Greeks, Celts, Romans and the Moors (Muslims from North Africa) have all occupied Spain. This long history of invasion is still evident in Spanish cuisine.
Due to this rich and varied history, food has become an integral part of Spanish culture, with each of Spain's regions home to a range of distinctive cuisines and flavors. Spain's culinary traditions rely on an abundance of locally grown vegetables and fruits, spices, nuts, as well as meats, poultry and fresh seafood.
In 2013, my junior year of college, I studied abroad with the CIEE Liberal Arts Program for a semester in the beautiful city of Seville, Spain in the Southern Andalucía region. In one of my classes, which focused on local culture, we were given an assignment to have our homestay families teach us about one of their favorite traditional Spanish recipes. Together, my host-mother and I went to the closest market to gather ingredients to make salmorejo.
Salmorejo is a cold tomato based soup, much like gazpacho, but with a richer, creamier texture. Originally from Cordoba, salmorejo is a typical Southern Spanish dish, and can be found in any home, restaurant or tapas bar in the region of Andalucía. The dish is typically served as a starter or first meal, and can be eaten simply as a soup, or mopped up with bread, or even spread onto a sandwich (bocadillo).
Recipes for salmorejo vary slightly depending on preference, but all contain the basic ingredients of tomatoes, bread, garlic, olive oil and vinegar. The dish is typically garnished with chopped hard-boiled egg and jamón Ibérico, a cured Spanish ham made from black Iberian pigs. It is worth noting that Spanish olive oil (aceite de oliva), as well as traditional Sherry vinegar (vinagre de Jerez) are incredibly delicious, and the dish will truly stand out if made with these traditional ingredients.
Ingredients:
2 pounds or about 6-8 ripe tomatoes
1 clove of garlic
½ cup olive oil (Spanish is best!)
2 tsp. sherry vinegar
Salt and pepper, to taste
1 Small Baguette (slightly stale is best)
Garnishes (Guarniciones):
Chopped hard-boiled egg
Jamón Ibérico (Iberian Ham)
Chopped onion
Drizzle of olive oil
* Authentic Spanish ingredients can be purchased at the Patra Negra Market on Garnet Avenue in Pacific Beach. Tell them we sent you!
Preparation:
Chop tomatoes and garlic coarsely.
Break bread into small pieces and soak in water.
Squeeze excess water from the soaked bread.
Blend tomatoes, garlic and bread in a blender (adding the bread piece by piece).
Blend until smooth (3 minutes or so).
Add in the olive oil and vinegar slowly and continue blending until the entire mixture reaches a smooth, creamy texture.
Chill the Salmorejo, then garnish before serving.
¡Buen Provecho!
Recipe and photo by Olivia Jelenik
Keep informed about San Diego Events!
Sign-up for our weekly Eblast by clicking here:
Sign Me Up!