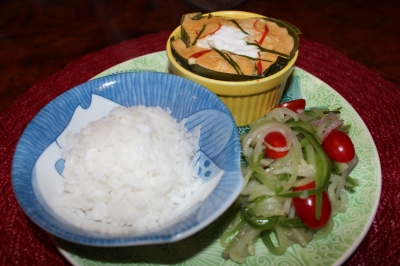 Haw Mok Pla comes from the central plains of Thailand. This dish has a unique taste because it is cooked in banana leaves. Haw Mok Pla is cooked in a steamer or it can be baked in an oven.
Thai cooking has changed quite a bit over the centuries and dishes vary from place to place but certain ingredients are employed widely and are considered essential. Fish sauce is used for saltiness. Palm sugar is used as a sweetener. Tamarind or lime is used to add sourness. It is highly desirable to use these ingredients rather than using salt, sugar or vinegar. Many Thai dishes use a variety of curry pastes (green, red, yellow, sour, Panang). These pastes can be made at home but some of the commercial versions are quite tasty. Similar dishes can be found in Cambodia and Laos. Some recipes call for the fish to be pureed with all the other ingredients, other recipes use small chunks for added texture. A very wide variety of fish can be used, this recipe uses Red Snapper fillets. Haw Mok can be eaten as an appetizer, as a meal (with rice) or at a food stall in Bangkok. In northern Thailand, the mouse is wrapped in the banana leaves like an eggroll and then grilled. Haw Mok Pla (ห่อหมก) is traditionally made in banana leaf cups that are held together by tooth-pick sized pieces or wood or bamboo; however, it is much easier (particularly with previously frozen leaves that are rather more brittle than fresh ones) and less messy to line a ramekin with the banana leaf. Ingredients that you might not find in a regular grocery store (like the fish sauce, red curry paste, banana leaves, palm sugar and Kaffir lime leaves) can be purchased at an Asian supermarket like 99 Ranch Market. If they don't have the Kaffir lime leaves, these can be obtained at Specialty Produce.
Haw Mok Pla is a layered dish. In cups made from banana leaves, herbs (or Napa cabbage) are placed at the bottom, the mousse mixture is spooned onto the herbs and then garnished with a bit more coconut cream, thinly sliced Thai chilies and very thinly sliced (chiffronaded) Kaffir lime leaves.
Ingredients:
1 1/2 pounds of snapper fillet, diced
2 cups of coconut cream
3 tablespoons of Thai red curry paste
1 tablespoon Nam Pla fish sauce
2 teaspoons of powdered palm sugar (dark brown sugar may be substituted)
2 eggs
2 teaspoons of cornstarch
8 large Thai basil leaves
several Thai chilies sliced lengthwise very thinly (see photo)
several Kaffir lime leaves sliced very thinly
For Salad:
1 large cucumber
2 shallots
1 dozen cherry tomatoes
2 tablespoons of lime juice
1 tablespoon of Nam Pla fish sauce
1 teaspoon of sugar
Preparation:
Cut four 8" rounds from a banana leaf and rinse them in tap water.
Line the interior of the 4 ramekins with the banana leaf rounds, pleating the edges.
Reserve a quarter cup of the coconut cream in a small bowl.
Add the remainder of the two cups of coconut cream to a mixing bowl.
Add the curry paste, fish sauce, palm sugar, 2 eggs (without their shells!) and cornstarch to the coconut cream and mix until all of the curry paste is completely dissolved.
Add the fish to the bowl and mix gently.
Place 2 Thai basil leaves into the banana leaf lined ramekins.
With a slotted spoon, add the fish, in equal amounts, to the four ramekins.
Fill the ramekins with the remaining liquid from the mixing bowl.
Place a dollop of coconut cream on top of the filled ramekins.
Artistically arrange the chiffronded lime leaves and chilies on top.
Fill a large pot (large enough to fit the 4 ramekin) 1 1/2" deep with water.
Place the pot on the stove and arrange the ramekins in the pot.
Bring the water to a boil, cover the pot and reduce the heat.
Steam the Haw Mok Pla for 20 minutes
Remove the ramekins from the pot with tongs, dry the outside of the ramekins with a towel and serve with Jasmine rice.
Thai Salad:
Slice a cucumber lengthwise in quarters. Cut out the seed-filled center and then slice the remaining cucumber thinly. Slice the shallots thinly. Slice a dozen cherry tomatoes in half. Place all ingredients in a serving bowl. Make a dressing with fish sauce, lime juice and sugar. Pour dressing over salad and toss.
Recipe and photo by: T. Johnston-O'Neill
Keep informed about San Diego Events!
Sign-up for our weekly Eblast by clicking here:
Sign Me Up!