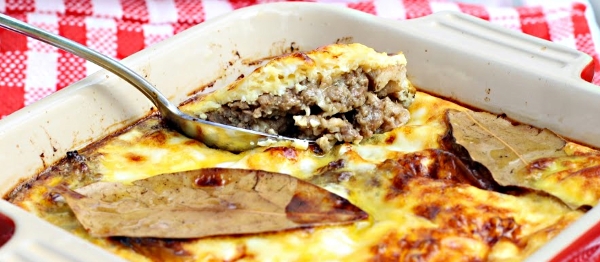 Bobotie (pronounced ba-boor-tea) is a mixture of mildly curried meat and fruit with a creamy golden custard-like topping, somewhat similar to to Greek moussaka. The dish melds sour, spicy, sweet and savory flavors to a whole greater than its parts.
Bobotie, the national dish of South Africa, has a history dating back to at least the 17th century, but its origins are hotly debated. Some researchers believe that the dish is of Dutch origin and was adopted by the "Cape Malays" of South Africa. The Cape of Good Hope was a Dutch Colony that existed from 1652 to 1795 when it was occupied by English forces (the same year that France conquered the Netherlands). During the years as a Dutch colony many people from other Dutch colonies migrated there by force or choice. "Cape Malays" were slaves and dissidents from Dutch colonies in the East Indies. Historians who oppose the view that bobotie was a purely Dutch invention hold that quite naturally Cape Malays brought their own cooking traditions with them. They view bobotie as an adaptation to local ingredients of the Javanese dish bobotak. Bobotak is normally a seafood dish that uses shredded coconut, not bread, as a thickener; but the general concept underlying the dish is similar. With ingredients from Africa, the Middle East, South Asia, Southeast Asia, and Europe bobotie is a great example of trans-cultural culinary innovation and borrowing.
Originally lamb and pork were favored meats, but bobotie is now often made with beef. The dish is often garnished with sliced almonds, walnuts, chutney and bananas and served with sambal chili sauce (from Southeast Asia). Recipes typically call for the use sultanas which are "white" or "golden" seedless raisins (like Thompson seedless raisins)that are a little less sweet than regular raisins. Curry powder and chutney can be obtained in either Middle-Eastern grocery stores (such as the Balboa International Market) or Indian groceries. Malt vinegar can be found in most supermarkets. It is a personal choice whether to use beef, lamb, or pork (or any combination thereof). Traditionally several bay leaves are arranged on the top of the dish.

Nelson Mandela said that bobotie was his favorite dish and rumor has it that it was the first thing he wanted to eat when he returned from his travels abroad while president of South Africa.
Ingredients:
2 pounds of ground beef, lamb or pork
3 eggs
2 medium onions chopped
2 cloves garlic, crushed
2 slices of soft bread with the crust removed(white or brown)
1 ½ cup milk
½ cup sultanas (golden raisins)
1 tablespoon oil (light olive oil)
½ tablespoon butter
1 ½ tablespoon curry powder
1 ½ tablespoon chutney (peach, mango or apricot)
1 tablespoon apricot jam
1 tablespoon Worcestershire sauce
1 teaspoon turmeric
1 ½ tablespoon malt vinegar
several bay leaves
1 pinch of salt
Preparation:
Soak bread in milk.
Heat oil and butter in a large pan and sauté onions for 3 minutes.
Add garlic and sauté until the onions are translucent.
When onions are soft, add curry powder, salt, chutney, apricot jam, Worcestershire sauce, turmeric and vinegar and mix well.
Drain and mash bread, reserving the milk.
Add bread to pan together with meat and sultanas.
Cook over low heat, stirring, and when meat loses its pinkness, remove from stove.
Add 1 beaten egg, mix well, then spoon into a greased, 11 x 6 inches baking dish and level the top.
Beat remaining eggs with reserved milk and the salt and turmeric.
Pour the milk and egg mixture over meat mixture and decoratively arrange bay leaves on top.
Stand dish in a larger pan of water (this is important to prevent drying out) and bake, uncovered, at 350 F for 1 hour or until the custard is set.
Garnish with shredded coconut, chutney and or sliced almonds and serve with rice.
Lekker chow!
Recipe and Photo by Flavia Ferrarettot
Keep informed about San Diego Events!
Sign-up for our weekly Eblast by clicking here:
Sign Me Up!