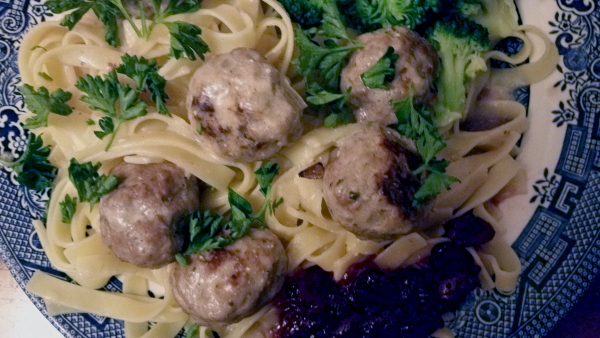 Swedish Meatballs (Svenska Köttbullar are a perfect dish to enjoy during the cold and rain-drenched days of normally sunny San Diego. The meatballs should be light and slightly springy in texture.
The tradition of eating meatballs in Sweden can be traced to the 1700's. Recipes for "Köttbullar" can be found in cook books from 1800's, and each family develops their own variations on the dish.
The Swedes are worldwide known for their meatballs but can't take credit for the invention. It is believed that King Karl XII, who reigned during the late 1700's' brought the dish back from one of his journeys in Turkey. The Turkish meatballs can be found in many different variations, but it may be that the original meatballs came from Persia.

Almost everyone that has visited IKEA has at least once tried the meatballs with potato' brown sauce and lingonberry jam, judging from the fact that they are the number one food that is bought at IKEA. Now they even sell vegan meatballs. However, if you make them yourself, you will find that they will taste even better!
Ingredients:
4 slices fresh white bread
1/4 cup milk
3 tablespoons butter
1 medium onion finely chopped onion
1 pound ground beef
1 pound ground pork
2 egg yolks
1/2 teaspoon black pepper
1/4 teaspoon ground allspice
1/4 teaspoon freshly grated nutmeg
1 teaspoon kosher salt
1/4 cup all-purpose flour
3 cups beef broth
1/4 cup light olive oil
1/2 cup heavy cream
Several parsley sprigs chopped (for garnish)
Preparation:
Sauté onions in butter until they turn translucent.
Break up the bread into small piece and add to mixing bowl with milk and eggs.
Add ground pork, ground beef, onions, pepper, allspice, nutmeg and salt to the mixing bowl and mix thoroughly (if using a Kitchen-Aid type mixer it will be a lot easier).
Pre-heat oven to 350 degrees
Using a kitchen scale, make meatballs by rolling in your palms one ounce of the mixture, arranging the meatballs on a cooking sheet
Cook for 25 minutes
Turn oven down to 200 degrees.
Heat olive oil in large skillet to medium high.
Working in batches, brown the meatballs slightly.
Return the meatballs to the oven to keep them warm.
Turn skillet down to medium.
Add flour to pan and mixing it well with the leftover pan drippings.
brown the roux (flour and drippings)until it turns a light brown.
A little at a time, whisk in the beef broth breaking up any clumps.
While whisking, gently bring to a boil.
Whisk in the heavy cream.
Stirring frequently, cook the gravy for about 5 more minutes.
Put the meatballs in a serving bowl and cover with gravy.
Serve with a small dish of Lingonberry jam. (Available at IKEA!)
Additional notes: These are great for parties, as the meatballs are easy to pick up with toothpicks. Swedish meatballs are often served with boiled or mashed potatoes. Our favorite way to serve them, however, is over German egg noodles with a green vegetable or salad.
Intro by Josefin Hultén
Recipe by T. Johnston-O'Neill
Photo by Shari Johnston-O'Neill
Keep informed about San Diego Events!
Sign-up for our weekly Eblast by clicking here:
Sign Me Up!