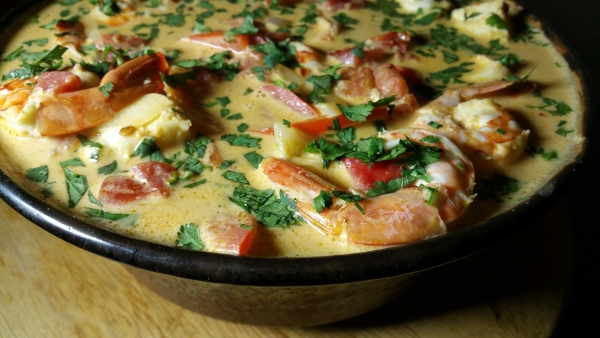 Moqueca a fish stew from Brazil. Combining fish, shrimp, tomatoes and coconut milk, moqueca has a unique flavorful taste. We believe that one of the best ways to combat ethnic stereotypes and widen one's cultural perspective and appreciation is to recognize the internal diversity that many cultures and countries have. Brazil embraces immense cultural diversity. Due to the forces of colonization and tremendous immigration to Brazil, the majority population in much of the eastern regions of Brazil hail from diverse countries in Africa, the Middle East, Europe, and Asia (particularly Japan). On the east coast, indigenous populations, particularly in urban areas, are only a tiny fraction of the number of residents. Our recipe of the month is from Bahia, which is a beautiful land on the eastern coast, approximately 1000 miles north of Rio de Janeiro. The capital city is Salvador, but it was previously known as Bahia too. Tourism is a major industry, and in addition to a tropical climate,, Bahia has a spectacular beach and also is host to the largest street festival in the world. While Rio's more famous (and more expensive) Carnival is world renowned, the six-day Carnival in Salvador is its equal by nearly any measure.
Moqueca (mo-KEH-kah) comes from the state of Bahia in Brazil. Bahia means "bay" in Portuguese, and the Bay of All Saints (Bahia de Todos os Santos) is the largest navigable bay in Brazil. The explorer Amerigo Vespucci gave the bay its name when he landed there at the end of the 14th Century. Vespucci was born Italian, but he sailed under the Spanish and then later Portuguese flag. Like Columbus, he was searching for a sea route to India. However, much of the true history of his voyages remains a mystery because at least in two cases, evidence for such voyages was based on letters that many scholars consider to be forgeries. The German cartographer, Martin Waldseem
From the 16th Century Bahia became a very large sugar cane growing and processing center. Slaves brought from Africa worked the fields and in the processing plants. Forty percent of all the slaves brought to America (more than 5 million) came to Brazil, most to Bahia which became the largest slave selling site in the New World. Many of the slaves were sent to other plantations throughout Brazil. Brazil abolished slavery in 1888, through the signing of the Lei Áurea (Golden Law), by Princess Isabel of the Empire of Brazil. The text of the proclamation was brief and succinct: Article 1: From this date, slavery is declared abolished in Brazil. Article 2: All dispositions to the contrary are revoked. Many slaves took considerable personal risk to retain their African heritage. So new traditions developed that were loosely based on African practices. Capoeira is now enjoyed as a spirited martial arts and dance form accompanied by drums, and the "stringed bow" berimbau is partly based on an Angolan mating ritual but was at the same time a very effective fighting style developed by escaped slaves who sought liberation for themselves and their fellow slaves. The Brazilian government outlawed capoeira, and those charged with practicing it were whipped, tortured and sometimes given long jail sentences. The ban was only lifted in 1937.
Not surprising given this history, many dishes in Bahia have African influence and use coconut milk or coconut meat. The ingredients for the dish vary from place to place in Bahia and Moqueca is a very popular seafood dish in Bahia and is often eaten with farofa, a couscous-like dish that is based on toasted manioc (a staple crop in West Africa) flour or meal. You can substitute the farofa with rice. This recipe calls for both fish and shrimp. Any firm white fish (cod, shark, swordfish, bass, red snapper, etc.) will do. This recipe is best if you marinate the seafood for one hour or so, so please do this ahead of time. Traditionally this dish is prepared in an oven-proof ceramic dish, but a Dutch oven or a large pot or skillet works fine. Preparing this dish only requires basic kitchen skills, but the results are fabulous, and it would be a good dish to serve at a party.
Brazilian palm oil, coconut milk, and manioc meal (for farofa) can be purchased at the Brazil by the Bay Market.
Ingredients:
1 ½ pounds of white fish (pull out the pin bones before cooking!)
1 pound of shrimp, shelled and de-veined (can leave the tails on)
2 cups of sliced onions (1 medium large onion)
2 cups of chopped tomatoes
1 bell pepper (red or yellow), thinly sliced (Note: we are particularly fond of the small bell peppers that are widely available now, sliced into rings)
2 garlic cloves, minced or crushed
1 14½-ounce can of coconut milk (or cream if you desire a thicker sauce)
4 tablespoons of fresh lime juice.
6 tablespoons of chopped cilantro
2 tablespoons palm oil
1 tablespoon of paprika
1 teaspoon of pepper flakes, or serve with your favorite hot sauce (Ours is Marie Sharp's from Belize)
Salt and pepper to taste.
Preparation:
Mix together 1 tablespoon of the palm oil, garlic and lime juice.
In a bowl of sufficient size, coat the fish and shrimp with lime juice marinade.
Cover the bowl with plastic wrap and let the fish and shrimp marinate for 1 hour in the fridge.
Slice all of the other vegetables and set aside.
20 minutes before the end of the marinating time, start the rice.
In a frying pan, saute the onions and peppers in the remaining palm oil for 4-5 minutes or until the onions are translucent.
Add the tomatoes, coconut milk, paprika, pepper flakes and salt and pepper to the frying pan and stir.
In a large skillet or dutch oven, arrange the fish on the bottom of the vessel.
Gently pour the mixture from the frying pan over the seafood
Bring the skillet/dutch oven to a simmer.
Cover the pan and cook for 6 minutes (until the fish is flaky).
Add the shrimp, being sure that it is fully submerged, cover and cook for an additional 4 minutes after the mixture has returned to a gentle simmer.
Sprinkle the cilantro over the Moqueca and serve over rice or farofa.
Serve with hot sauce so that guests or family members can add as much or little spiciness as they prefer.
Cook's notes:
If you decide to prepare this in an earthenware pot, you will follow all the directions up to step 9 and then cover the vessel and cook it in the oven at 400° for 10 minutes.
I'm sort of a fanatic about not over-cooking shrimp. When I cook this dish I add the shrimp for the final five minutes the skillet or pot simmers

Farofa
Saute a quarter cup of chopped onions and one teaspoon of garlic in 2 tablespoons of dende (palm) oil
Bring heat to medium high and add 2 cups of manioc meal.
Lightly brown the manioc meal, stirring from the bottom for 8-12 minutes (being careful not to burn it)
Recipe and text: T. Johnston-O'Neill
Photo: Shari Johnston-O'Neill
Keep informed about San Diego Events!
Sign-up for our weekly Eblast by clicking here:
Sign Me Up!
\