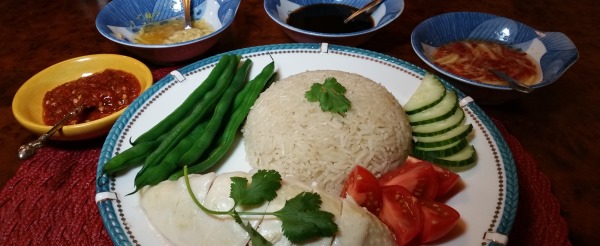 Hainanese Chicken Rice is found throughout much of mainland Southeast Asia, but it is most famous in the island nation of Singapore. It is an interesting blend of tastes, mixing mild tastes of chicken poached with ginger with heavier-tasting savory rice and enjoyed with sweet, sour and spicy sauces.
Hainan is the southernmost Chinese province and features an island tropical environment resplendent with palm trees and white sandy beaches. The interior of the island is mountainous and forested. Due to its proximity to age-old trade routes, it is more culturally diverse than most other parts of China. Hainanese-speaking Han are most evident, but observed religions include Chinese folk religions, Chinese and Theravada Buddhists, Muslims and some who were missionized Christian centuries ago. The island was populated by immigrants from the Chinese mainland, originally the Li, but later people from Fujian and Guangdong regions. Traditionally the Hainanese economy was based on fishing. Similar to all these Southeast Chinese areas, it has experienced a great deal of outward migration, due to famine, war and emerging opportunities in Southeast Asia.
Wherever the South Chinese ended up, they brought their culture with them; but to a surprising degree, they adapted to the cultures of their final destinations. Immigrants from Hainan brought their culinary traditions, which they adapted to Southeast Asian sensibilities and ingredients. The culture and food that developed in Singapore and Malaysia from this cultural transfusion is known as Peranakan, Baba-Nyonya or Nyonya culture. It is a distinct blending of Chinese and Southeast Asian culture and cuisine. Hainanese Chicken Rice is ubiquitous in the region and interestingly, unlike most other Peranakan cuisine, it's name retains it's cultural origins and is very similar to Wenchang Chicken from the island of Hainan. The main difference between the two is not so much the chicken (the preparation is quite similar), but the way the rice is prepared and the sauces served with the dish. Like many other Southeast Asian dishes, Hainanese Chicken Rice is salty, sour, sweet and spicy. Also similar to other dishes of the area, these distinct elements coupled with strong differences in textures and mouth-feel create a culinary experience that is far greater than the constituent parts. If you visit a hawker center in Singapore, you will surely find Hainanese Chicken Rice.
Hainanese Chicken Rice must be prepared in stages, as you need the broth from the cooked chicken to make the rice. Ideally the chicken for this recipe is poached at a sub-boiling temperature for 45 minutes to an hour. This results in a very tender chicken, but you must test for doneness. This recipe is adapted to American chickens, which are considerably larger that chickens in Southeast Asia. Some recipes, no doubt erring on the side of caution, call for boiling the chicken or bringing it to a boil for 20 minutes or so and then turning off the heat and covering the pot for another 15 to twenty minutes until the chicken is cooked through. An unusual final step is to remove the cooked chicken from the broth (which you must reserve to cook the rice) and then gently lowering the cooked chicken into an ice bath to cool it. The New York Times writer Mark Bitman had this to say about the dish: "Hainanese chicken, the best one is the provenance of devotees, who save the stock they don't need for the rice, freeze it, and use it as a starting point for the next time they cook chicken this way. If you do this repeatedly, the stock will become stronger and stronger, as will the flavors of both chicken and rice. If you do this hundreds of times, the way restaurants do, the flavors will be quite intense. But even if you do it once, the dish is a total winner."
Ingredients:
Chicken
1 whole fresh chicken
Sufficient water to just cover chicken
4-5 slices ginger
3 scallions, cleaned and cut into thirds (use white and green parts, but not roots)
1 tablespoon salt
Ice
Rice
3 cups of jasmine rice
Chicken fat from fresh chicken
4 cloves of garlic, minced
4 shallots finely sliced
4-1/2 cups chicken stock
2 teaspoons salt
Ginger-Garlic Sauce
2 tablespoons of shredded ginger
1 teaspoon finely chopped garlic
3 tablespoons sesame oil
pinch of salt
Sweet Dark Soy Sauce
Note: Kecap Manis can be substituted
1/3 cup water
3 tablespoons sugar
1/2 cup dark soy sauce
Chili Sauce:
3 tablespoons chicken broth
1 tablespoon lime juice
2 teaspoons white vinegar
6 fresh, finely sliced red Thai chilies
1 tablespoon shredded fresh ginger
3 cloves of garlic chopped finely
½ teaspoon sesame oil
1 teaspoon salt
1 teaspoon sugar
Preparation:
Cooking the chicken:
Remove any fat from the whole chicken and reserve for preparing the rice.
Place the whole chicken in a large pot that is just large enough to fit the chicken from side to side without crowding.
Add the ginger, cut up scallions, and salt to the pot (around the sides of the chicken).
Add just enough water to the pot to cover the chicken completely.
Heat water to a full boil, then cover the pot tightly and turn off the burner.*
Leave the chicken in the hot water for 45 minutes and test for doneness by pricking a leg with a toothpick or skewer (the juices should be clear).
When the chicken is nearly done, fill a large bowl or pot with ice water.
Very gently transfer the cooked chicken to the ice water bath and keep it there until the chicken is fully cooled.
Gently remove the chicken and pat dry with a paper or cloth towel.
Cut the chicken in serving portions (see photo).
* We used a Dutch oven to make sure the temperature was retained long enough for the chicken to cook all the way through.

Cooking the rice:
Render the reserved chicken fat in a frying pan over medium heat. If necessary, add some peanut or light olive oil so that you have 2-3 tablespoons of oil in the pan.
Saute the shallots in the chicken fat for two minutes.
Add the minced garlic and saute for another minute.
Add the rice to the pan.
Stir rice constantly to mix well with the oil, shallots and garlic (2 - 3 minutes)and everything is glossy.
Transfer rice to a rice cooker or pot.
Add 4-1/2 cups of chicken stock, cover and turn on rice cooker. If using a pot, bring everything to a boil, cover and turn down the heat to low, and wait 15 minutes.
Prepare the sauces. Simply mix the ingredients mentioned and distribute to individual bowls.

Serve chicken and rice on individual plates and garnish with thin cucumber slices (cut in half), fresh cilantro and tomato wedges. Scoring the cucumer lengthwise with a fork before it is sliced makes it visually appealing.
Selamat Makan!
慢慢吃 (Mang-Mang Sik)!
Recipe by T. Johnston-O'Neill
Photo by Shari Johnston-O'Neill
Keep informed about San Diego Events!
Sign-up for our weekly Eblast by clicking here:
Sign Me Up!