Instruments for the Musicàntica group
The Center for World Music is a unique nonprofit organization whose mission is to foster awareness and understanding of the world's diverse performing arts and cultures through public performances and teaching. Its primary purpose is to draw public attention to the diversity of the world's performing arts traditions: Asian, African, European, Latin American, and American. Thus, the Center's philosophy is to promote cross-cultural understanding through appreciation of the performing arts, and to their significance to the diverse traditions of the world. More specifically, the four main goals of the Center for World Music are (1) to encourage public appreciation in of the varied cultural expressions of the world through the performing arts, (2) to provide opportunities that promote understanding of the world's diverse cultures through their performing arts traditions of music and dance, (3) to promote the diverse multicultural assets of the San Diego region, and (4) to encourage appreciation and understanding of the world's culturally diverse performing arts traditions through direct experiences in different countries and cultures around the globe.

The mission, purpose, philosophy, and goals of the Center for World Music are implemented by means of four San Diego and international high-quality programs: a Concert Series Program of more than 20 concerts a year, a World Music in the Schools Program (with 14 native and native-trained artist-teachers in residence), a Special Events Program (e.g., festivals, home concerts, workshops, etc.), and a Cultural Tours Abroad Program (with music and dance workshops and performing arts tours in Bali, India, China, Istanbul, Peru, Mexico, and Ghana).

The Center for World Music was created by Samuel H. Scripps and his wife Luise in 1963 as the American Society for Eastern Arts, with an initial mission of introducing the Asian performing arts to the American public. The Society soon broadened its scope and appointed Dr. Robert E. Brown as Executive Director in 1973, when it was reborn in Berkeley, California as the Center for World Music. Activities at that time included 40 artists in residence from Asia and Africa, year-round teaching at a Berkeley facility, and a successful Indonesian Music in the Schools program (funded in part by the National Endowment for the Arts) in Berkeley, San Jose, and Oakland. At its height, the Center administered its activities with an annual budget in excess of $500,000.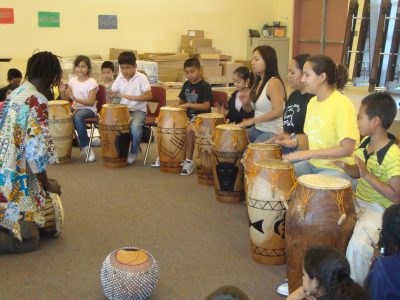 West African Drumming Class
In 1979 the Center moved permanently to San Diego, where it continued to foster world music appreciation and performance through association with local universities and colleges, and expanded its outreach through projects developed with the local Hmong, Filipino, Indian, and Chicano communities. Based on its successful school programs, the Center for World Music has continued to sponsor artists in support of world music for children through artist sponsorships, including an extensive World Music in the Schools Program begun in San Diego since 1999. At the Museum School, for example, students studied Indonesian gamelan music, ethnic dance, instrument building, and Japanese shakuhachi flute via a rigorous curriculum, delivered by four artists in residence. During the 2009-2010 school year, the Center served 2,210 students at 9 schools with long-term weekly classes (13-28 weeks) and provided an additional 3,240 students at these 9 schools with school-wide assembly performances by the Center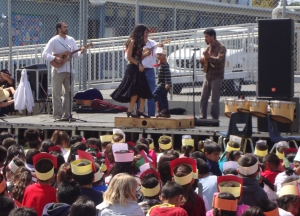 Son Jarocho from Veracruz, Mexico
Aside from its unique mission, purpose, philosophy, and goals, perhaps the finest asset of the Center for World Music is its beautiful two-acre performing arts campus in the hills of central Bali that was constructed between 1987-2005 by the distinguished American ethnomusicologist and professor, and former long-time President of the Center for World Music, Dr. Robert E. Brown. With its 20 spacious Balinese-style buildings, the campus can accommodate 30 student guests and has for many years been the home of the Center for World Music.
To learn more about the Center for World Music, please visit our website: www.centerforworldmusic.org
Dr. Lewis Peterman, (former) President of the Center For World Music
Keep informed about San Diego Events!

Sign-up for our weekly Eblast by clicking here:

Sign Me Up!