Calendar
<
February, 2020
>

Recommended
Coming Soon...
Thursday, Feb 27
All Day
Ongoing and Extended Events
10:45 AM
Book Talk: Baja California Land of Missions
1:00 PM
Music: Kembang Sunda Gamelan
3:20 PM
Talk: Urban Redevelopment Projects in South Africa
7:00 PM
Stage: Dream Hou$e
8:00 PM
Stage: Hurricane Diane
Friday, Feb 28
All Day
Ongoing and Extended Events
5:00 AM
28th Annual Kuumba Festival
3:30 PM
Talk: The Racial Imaginary at Work Poetry and the Visual Arts
6:00 PM
Music: Antonio Carlos Jobim Tribute
7:00 PM
Música En La Plaza: Los Montaño
7:00 PM
Stage: Dream Hou$e
7:30 PM
Stage: Orestes 2.0
8:00 PM
Film: Jojo Rabbit
8:00 PM
Stage: Hurricane Diane
8:00 PM
Stage: She Loves Me
Saturday, Feb 29
All Day
Ongoing and Extended Events
11:00 AM
28th Annual Kuumba Festival
2:00 PM
Stage: Safa's Story
2:00 PM
Stage: Orestes 2.0
2:00 PM
Spoilers Book Club: Native Son
3:00 PM
Stage: Little Rock
7:00 PM
Stage: Safa's Story
7:00 PM
Stage: Dream Hou$e
7:30 PM
Stage: Orestes 2.0
8:00 PM
Film: Jojo Rabbit
8:00 PM
Stage: Hurricane Diane
8:00 PM
Stage: She Loves Me
9:00 PM
Music: Los Pericos, Los Estrambóticos & Ecno
9:00 PM
Spanglish At Finest City Improv
Sunday, Mar 1
All Day
Ongoing and Extended Events
11:00 AM
28th Annual Kuumba Festival
12:00 PM
7th Annual Mariachi Festival
1:00 PM
Music: Kembang Sunda Gamelan
2:00 PM
Acting Shakespeare Panel
2:00 PM
Stage: She Loves Me
3:00 PM
Los Angeles Balalaika Orchestra
7:00 PM
Music: Irving Flores Afro-Cuban Jazz Quartet
7:00 PM
Stage: Dream Hou$e
7:00 PM
Stage: Hurricane Diane
7:30 PM
Music: Miguel Zenón Quartet
Monday, Mar 2
All Day
Ongoing and Extended Events
7:30 PM
Stage: Winston Churchill
8:00 PM
Music: iLe
Tuesday, Mar 3
All Day
Ongoing and Extended Events
9:45 AM
Classics 4 Kids: Ferdinand The Bull
11:30 AM
Classics 4 Kids: Ferdinand The Bull
6:30 PM
Talk About Series: Venezuela - What Does It Mean To Live in a Failed State?
7:00 PM
Stage: Hurricane Diane
7:30 PM
Stage: Winston Churchill
Wednesday, Mar 4
All Day
Ongoing and Extended Events
9:45 AM
Classics 4 Kids: Ferdinand The Bull
11:30 AM
Classics 4 Kids: Ferdinand The Bull
7:00 PM
Stage: Hurricane Diane
7:30 PM
Music: ABBA Mania
Thursday, Mar 5
All Day
Ongoing and Extended Events
9:45 AM
Classics 4 Kids: Ferdinand The Bull
11:30 AM
Classics 4 Kids: Ferdinand The Bull
3:00 PM
Kumeyaay Rock Art in the San Diego Region
6:00 PM
Talk: Diversity in Medicine Lecture
7:00 PM
USD Mariachi Showcase Opening Night
8:00 PM
Stage: House of Joy
8:00 PM
Stage: Hurricane Diane
Friday, Mar 6
All Day
Ongoing and Extended Events
9:00 AM
Amnesty International Annual Human Rights Conference
9:45 AM
Classics 4 Kids: Ferdinand The Bull
11:30 AM
Classics 4 Kids: Ferdinand The Bull
5:00 PM
Contemporary Chinese Photography in Conversation
6:30 PM
USD Mariachi Student Showcase
7:00 PM
12th Annual Brasil Jazz Festa
7:30 PM
Stage: Orestes 2.0
8:00 PM
Stage: House of Joy
8:00 PM
Stage: Hurricane Diane
8:00 PM
Stage: She Loves Me
Saturday, Mar 7
All Day
Ongoing and Extended Events
9:00 AM
Amnesty International Annual Human Rights Conference
6:00 PM
Stage: The Cabinet of Tia-Juana
6:30 PM
USD Mariachi Professional Showcase Grand Finale
7:00 PM
Italian Film: Investigation of a Citizen Above Suspicion
7:30 PM
Stage: Orestes 2.0
8:00 PM
Stage: House of Joy
8:00 PM
Stage: Hurricane Diane
8:00 PM
Stage: She Loves Me
9:00 PM
Stage: The Cabinet of Tia-Juana
Sunday, Mar 8
All Day
Ongoing and Extended Events
9:30 AM
Amnesty International Annual Human Rights Conference
11:00 AM
National City International Mariachi Festival
1:00 PM
Finding Difficult Passengers on the Eillis Island Manifests
2:00 PM
Documentary Film: Beyle
2:00 PM
Stage: She Loves Me
7:00 PM
Stage: Hurricane Diane
Monday, Mar 9
All Day
Ongoing and Extended Events
4:00 PM
Talk: A Journey Through Turbulent Times - China and America
Tuesday, Mar 10
All Day
Ongoing and Extended Events
7:00 PM
Stage: House of Joy
Wednesday, Mar 11
All Day
Ongoing and Extended Events
7:00 PM
Stage: House of Joy
Calendar
---
All Day
Ongoing and Extended Events


Stage

• Bojo's Place
Until March 1, 2020

* Note: newest and shorter run productions can be found in our regular calendar listings.


Exhibitions and Art

• Coded Messages From the Underground Railroad
Until February 27, 2020

• Poetry for People
Until March 11, 2020

• Photographic Exhibition: Graciela Iturbide & Manuel Alvarez Bravo
Until March 15, 2020

• Chicano/a/x Printmaking: Making Prints and Making History - 50 Years of Art Activism
Until Sunday, April 5, 2020

• Tijuana 1964: The Photography Of Harry Crosby
Until May 17, 2020

• Art of East Asia
Ongoing

• Art Of The 20th Century
Ongoing

• German Expressionism
Ongoing

• Hanjialin Bao - Between Black and White
Until January 26 2020

• Barrio Art Crawl
Ongoing, every 2nd Saturday of each month



Places

• Free Admission to Japanese Friendship Garden
Ongoing, 3rd Tuesday of each month

• Walking Tour of Asian Pacific Historic District
Ongoing, every 2nd Saturday of each month

• Chicano Park Tour
Ongoing Saturdays and Sundays


Kids

• Kids Meet Mandarin
Ongoing Fridays

• Chinese Storytime
Ongoing Mondays

• Spanish Storytime
Ongoing Mondays

• Bilingual Storytime
Ongoing Fridays


Classes and Workshops

• Asian Brush Painting/Sumi-e Class
Ongoing Tuesdays

• Capoeira Angola de Sao Bento Grande
Ongoing Saturdays

• Mahjong Lessons
Ongoing Thursdays

• Emei Qigong Practice
Ongoing Saturdays

• Kokedama Workshop
Ongoing every 1st and 3rd Tuesday

• Irish Gaelic Class
Ongoing Tuesdays

• Poetry for the People: African Americans
Wednesdays until March 11, 2020

• Tai Chi Workshop
Ongoing Saturdays

• Italian Intermediate Conversation Class
Ongoing Tuesdays until February 25, 2020


•< a href=//./index.php?module=calendar&calendar[view]=event&id=21087">Yiddish for Beginners
Ongoing Sundays
9:00 AM
Art Around The World Camp This week we will travel around the world and visit different countries to create amazing art pieces on pottery, canvas and with clay! Come and explore a new destination every day using a variety of mediums.

Campers ages 5 and up are welcome.

Tickets are $225 for full week or $55 per day.

Admission/Cost: $55 - $225

Location:
Cool Creations Camps
Pottery Studio & Cafe
1753 Garnet Avenue
San Diego, CA 92109
MAP

Dates and times:
Ongoing from August 12 - August 16, 2019
Monday through Friday - 9:00 AM to 1:00 PM
7:30 PM
Dramatic Reading: Camelot For two nights only, the beloved Lerner and Loewe's musical, "Camelot" comes to Cygnet Theatre for a staged concert reading.

An idealistic young King Arthur hopes to create a kingdom built on honor and dignity but his ideals are tested with his wife Guenevere falls in love with Knight Lancelot.

The musical features songs like "If Ever I Would Leave You," "I Loved You Once in Silence" and, of course, "Camelot."

With book and lyrics by Alan Jay Lerner, music by Frederick Loewe, direction by Sean Murray and musical direction by Terry O'Donnell, the cast features Wil Bethmann as King Arthur, Michael Cusimano as Sir Lancelot and Allison Spratt Pearce as Guenevere.

Proceeds benefit Cygnet Theatre's Artist Advocate program, which provides the financial support needed to hire the most talented artists and to pay them a meaningful wage. The benefit begins with a pre-show reception at 6:00 PM with a 7:30 PM performance.

Admission/Cost: $50 - $75

Location:
Cygnet Theatre
4040 Twiggs St.
San Diego, CA
MAP

Dates and times:
Monday, August 12 - 7:30 PM
Tuesday, August 13 - 7:30 PM

Call (619) 337-1525 for additional details.
Today's Date
IN PRINT SINCE 2006
Music From Everywhere!

Published By:
Music of the Month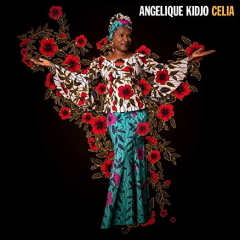 Celia
by Angelique Kidjo
Participant Observer Staff
Section Editors, Writers and Contributors: Sharon Payne, Ana Alvarez,
Cecilia Xinyu Cai, Jaehyeon Ahn
Spanish Translations: Ana Alvarez, Programming: Rachel Duncan
Associate Editors: Christa Parrish, Katie Tonellato
Editor in Chief: Tom Johnston-O'Neill
Orgs and Causes in San Diego
Join Our Team!