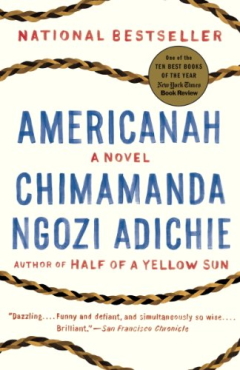 Buy at Amazon
The San Diego Participant Observer Book of the Month is Americanah by Chimamanda Ngozi Adichie

"What's the difference between an African-American and an American-African? From such a distinction springs a deep-seated discussion of race in Chimamanda Ngozi Adichie's third novel, "Americanah." Adichie, born in Nigeria but now living both in her homeland and in the United States, is an extraordinarily self-aware thinker and writer, possessing the ability to lambaste society without sneering or patronizing or polemicizing.

For her, it seems no great feat to balance high-literary intentions with broad social critique. "Americanah" examines blackness in America, Nigeria and Britain, but it's also a steady-handed dissection of the universal human experience — a platitude made fresh by the accuracy of Adichie's observations.—New York Times.

"Americanah tackles the U.S. race complex with a directness and brio no U.S. writer of any color would risk."—The Philadelphia Inquirer

Chimamanda Ngozi Adichie grew up in Nigeria. Her work has been translated into thirty languages and has appeared in various publications, including The New Yorker, Granta, The O. Henry Prize Stories, the Financial Times, and Zoetrope: All-Story. She is the author of the novels Purple Hibiscus, which won the Commonwealth Writers' Prize and the Hurston/ Wright Legacy Award; Half of a Yellow Sun, which won the Orange Prize and was a National Book Critics Circle Award finalist, a New York Times Notable Book, and a People and Black Issues Book Review Best Book of the Year; Americanah, which won the National Book Critics Circle Award and was a New York Times, Washington Post, Chicago Tribune, and Entertainment Weekly Best Book of the Year; the story collection The Thing Around Your Neck; and the essays We Should All Be Feminists and Dear Ijeawele, or A Feminist Manifesto in Fifteen Suggestions. A recipient of a MacArthur Fellowship, she divides her time between the United States and Nigeria.