Published By:
Calendar
<
April, 2021
>

Recommended
Coming Soon...

Ongoing/Extended Events

Click to View

Wednesday, Apr 21
12:00 PM
Poetry Reading with Kazim Ali
4:00 PM
Book Talk: Yellow Wife
7:00 PM
Shakespeare Trivia Night
Thursday, Apr 22
12:30 PM
3 Italian Films
6:30 PM
2021 Women PeaceMakers Event
Friday, Apr 23
10:00 AM
Virtual Tour of Umbria, Italy
12:00 PM
iCafé – Your Passport to Culture!
4:00 PM
The Shadow of El Centro: a History of Migrant Incarceration and Solidarity
Saturday, Apr 24
11:00 AM
Book Talk: Kate Quinn
11:00 AM
16th Annual Student Shakespeare Festival
7:00 PM
San Diego Opera: the Barber of Seville
Tuesday, Apr 27
7:00 PM
San Diego Opera: the Barber of Seville
Wednesday, Apr 28
11:30 AM
Talk: Confronting Racism. Embracing Diversity
3:30 PM
Radicalism at the Crossroads: Black Women Activists in the Cold War
4:00 PM
Talk: the Ripple Effect of Racial Bias in the Toy Industry
6:30 PM
Film: Innocence
Thursday, Apr 29
1:00 PM
Talk: a Third Way - the Origins of China's Economic Strategy
Friday, Apr 30
10:00 AM
10th Annual International Jazz Day
12:00 PM
iCafé – Your Passport to Culture!
12:00 PM
Talk: Jillian Hernandez
7:00 PM
San Diego Opera: the Barber of Seville
Saturday, May 1
10:00 AM
Old Town Cinco de Mayo
7:00 PM
San Diego Opera: the Barber of Seville
Sunday, May 2
10:00 AM
Old Town Cinco de Mayo
Tuesday, May 4
5:00 PM
Julius Caesar Shakespeare Reading Part 1
8:00 PM
Film: Romeo and Juliet (1996)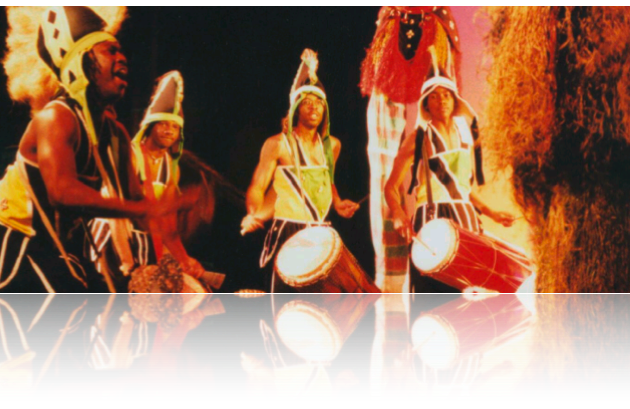 Teye Sa Thiosanne - "Keepers of the Tradition" - is an African drum and dance company and a San Diego based non-profit organization currently providing performances and programs in African music and dance. The company has been in existence since 1988 and has been consistent in providing the community with cultural expression.

Before the company's inception, the founder and co-director were carefully trained by many impressive artists of the African tradition, including Naomi Geddo and Nimely Napla of Liberia, Marie Basse, Assane Konte and Malang Bayo of Senegal, Ibrahim Camara and Moustapha Bangoura of Guinea and Ya Ya Diallo and Moussa Traore of Mali.

Teye Sa Thiosanne has a very beautiful story to tell through the rhythm and fire of their ballets. The effectiveness cuts through all cultural barriers. Their fine blend of talent and energy is very entertaining to audiences young and old.

To date, the company has done numerous presentations, sponsored summer series workshops, implemented children's classes, sponsored artists in residence, and participated in numerous collaborations with other community organizations in cultural programming. The company has sponsored their own fund-raising dinner party and presented two full-scale concert productions. The last production was to celebrate the company's 10th anniversary.

These accomplishments make it evident that the artists are very proud to engage in an artistic expression which represents their African heritage and they continuously strive to present the best in African arts for those who come to share in the tradition.

For more information, please visit www.teyesathiosanne.com or call (619) 417-2978.
Keep informed about San Diego Events!
Sign-up for our weekly Eblast by clicking here:
Sign Me Up!
Today's Date
IN PRINT SINCE 2006
Music From Everywhere!

Orgs and Causes in San Diego
Join Our Team!