Tired of the endless parade of lackluster and formulaic films that spew out of Hollywood? Ready to experience film making that will enthrall and intrigue you with new cultural vistas and illuminating insights? The San Diego Latino Film Festival will take you there! Now in its 18th year, this year's festival features 185 films from around the Latino world. Our Keely Badger attended the festival media kickoff party and was able to chat with Ethan van Thillo, the festival's founder and executive director and several of the producers, directors and writers who will have films showing at the festival. The festival runs from March 10th to the 20th at the Hazard Center UA Theater. Schedule of Films

Please note: all of the festival films are in English or have English subtitles.

By Keely Badger and Tom Johnston-O'Neill
Photos by Junko Takahashi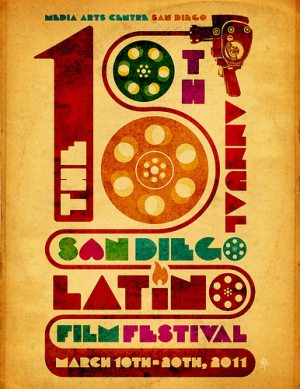 Ethan van Thillo founded the San Diego Latino Film Festival 18 years ago when he was a student at San Diego State. Over the years the film festival has steadily grown into one of the premiere film festivals on the West Coast. Van Thillo says 18 years ago no one was even talking about Latino Cinema... but now it has become part of the cultural fabric of San Diego. This year they expect upwards of 20,000 attendees at the festival.

Four of the theater's screens will be devoted to the festival. Van Thillo notes, "On one screen you see Guatemalan film, on another a Chilean, another a Brazilian, Peruvian and so on." This year the festival will highlight Brazilian films and showcase Jewish-Latino films. Headlining films include: Flamenco Flamenco, from legendary film maker Carlos Saura, the historical film, Hidalgo (about priest Miguel Hidalgo, who led Mexico's struggle for independence and Cuban director, Fernando P
Cartas a Elena (Letters to Elena) is set near scenic Copper Canyon in the state of Chihuahua, Mexico. Thirteen year old Emilio helps the local mail carrier distribute letters from U.S. migrants to their elderly relatives in the village. As many of the villagers are illiterate, Emilio reads the letters out loud to them. However, Emilio is so saddened by what he reads—tales of misfortune and difficulties tying to survive north of the border&mdashthat Emilio decides instead to regale the elders with fanciful tales of optimism and success. The great news from the children transforms the village; sullen and listless villagers become rejuvenated, joyful, and full of pride. However, their joy is short lived. Villagers eventually realized that Emilio has been telling each of them exactly the same story, their joy departs. In the midst of all of this emotional drama Emilio meets Elena and first love blossoms.

The script was so appealing that the film makers were able to enlist the services of several celebrated veteran Latino stars such as Elsa Cardenes (who in addition to starring in many Spanish language films, appeared in several classic American films including: Giant (with Elizabeth Taylor, Rock Hudson and James Dean), The Wild Bunch, and opposite Elvis Presley in Fun in Acapulco) and Carmen Salinas who has be delighting Latino audiences for 50 years starring in countless telenovelas and films.

Los Angeles based producer Paul Mendoza (who also appears as the character "Octavio" in the film), says that the film is about familial love and the pain of absence. He hopes the film will give people from the United States an opportunity to see the other side of things. Instead of harboring the view that immigrants are trying to take away their job, he hopes that Americans will see that immigrants left a beautiful country in order to live in a place where they are judged, mistreated, and have to endure the deep pain of total separation from away from their cherished families. Mendoza states the simple cause that "they are doing it to get ahead." He adds that for every Hispanic migrant in Los Angeles, there is someone back in Mexico with a broken heart who doesn't know if they will ever see their son or daughter again.




Cartas a Elena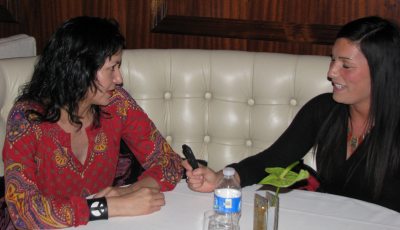 Director/Writer Carmen Marron speaks with Keely Badger
Go for It! is an inspirational dance movie that won the Audience Awards at last year's Dances with Films independent film festival in Santa Monica and the San Antonio Film Festival. Written and directed by a former high school guidance counselor, Carmen Marron, the film tells the story of a young Chicago Latino girl who loves to dance but is beset with family problems and shackled by self-doubt. The film features dancers from Americas Best Dance Crew, The Beat Breaks,as well as dancers who have performed with pop stars Madonna, Janet Jackson, and Miley Cyrus.

During her time as a guidance counselor in Phoenix Arizona, Marron says she, "saw that all the kids were going through the same issues she was while growing up, but they weren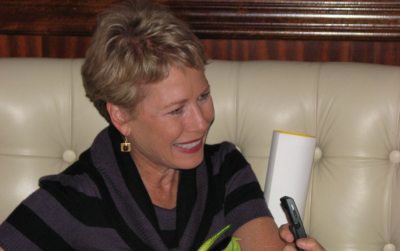 Jody Hammond was a radio and television news reporter for twenty years and she referring to the subject of her latest documentary Hammond says, "Mother Antonio is one of the most compelling people I



Student Director Garcia talks about his film Cross the Line

The San Diego Latino Film Festival is not only an opportunity to see high profile films with internationally known directors, writers and actors, but it is also chance to enjoy the work of promising local directors seeking share their cinematic visions. Brian Garcia is a 3rd year film student at San Diego State. Garcia says that his film, Cross the Line is an immigrant story about a mother who tries cross the border to reunite her daughter and her baby with her husband who is working in the US. As they cross the border they are intercepted by a group of vigilante minutemen. Their confrontation has tragic consequences. Garcia says he is "hoping to show the struggle of what immigrants go through so that [audiences] can relate to it, or learn that it's not easy for immigrants to come [here], they... die to come".

Garcia plans to continue making movies that examine social issues, movies that show real life being lived by real people. His film premiers on Wednesday March 16 (see online schedule for screening time).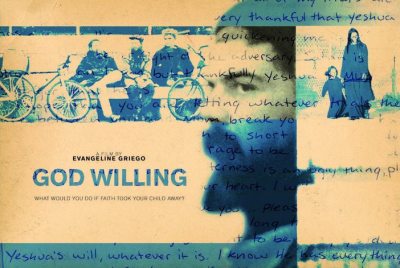 Not all films with Latino producers, directors, writers or actors are set within a specifically Latino milieu. Just one of innumerable examples would be the Harry Potter series film The Prisoner of Azkaban, which was directed by Mexican director Alfonso Cuaron (who is most famous in the US for his road movie Y Tu Mama Tambien). As in year's past, the San Diego Latino Film Festival widely embraces the work of Latino film makers and actor, regardless of whether the films are set in Latino countries (One film in the festival, The Runway, is set in Ireland) or have themes that are culturally specific.

God Willing is film by producer/director Evangeline Griego a documentary film maker who has won numerous prestigious awards. Familiar to past festival goers, she produced the film, Calavera Highway, which won the Best Feature Documentary Award at the 2008 festival here. Griego has produced several notable documentary series for PBS as well as many other independently produced documentaries that have garnered wide acclaim.

God Willing is a feature-length documentary that investigates a Christian nomadic cult known as the "Jim Roberts Group". Griego has a direct personal connection with the story as her nephew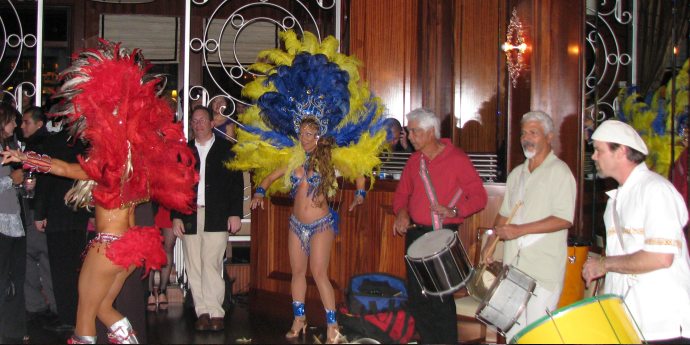 The Music and Feathers Fly at the Kick-off Party!
These films are a very small sample the nearly 200 films that will be showing at this year's San Diego Latino Film Festival. The festival's selections of films embraces the formidable diversity that can be found in the Latino world. Films run the entire gambit of film making and include from comedies, dramas, romances, coming of age films, films of redemption, documentaries, films about dance and music, and much much more. This year's films will take on cinematic journeys to Brazil, Argentina, Cuba, Chile, Spain, Mexico, Guatemala, Venezuela, Uruguay, Peru and Ireland, Puerto Rico, Chicago, LA, San Diego and just about everywhere else Latino people live, work, play and create. Fear not if your Spanish is not up to par as all the films are in English or have English subtitles. In addition to all the fabulous films to watch, the festival also offers question and answer sessions with film makers, special appearances by Nickelodian characters like Dora the Explorer and Diego, special film showcases, student screenings, introductory film workshops, live music, and festive galas.

Tickets for individual showings are $10. Students, military, seniors and media arts members get a $2 discount if they present their ID's. The Film Pass for $90 gets you preferred seating and admission to 11 different screenings. A Festival Pass gets you into all the films, preferred seating, entrance to all the galas, and lots more.
Keep informed about San Diego Events!
Sign-up for our weekly Eblast by clicking here:
Sign Me Up!