Photo: John Gibbons

The US/Mexico border is still closed for tourists, but we're thinking ahead to better times (whenever they will come). Usually the Worldview Project team travels to Tecate every year, but because of the pandemic, we have been unable to visit this enchanting town just across the border. We are itchin' to get back. In the meantime we'd like to give you the lowdown on Tecate, its history and its cultural and gastronomical, delights, so when the border re-opens, you too can hop on the 94 going south and spend a lovely relaxing day in this "Pueblo Magico"

by Ian Lutz
Photos by Megumi Choi unless otherwise noted 

Photo: S. Johnston-O'Neill

With San Diego providing a multitude of local activities to complement one of the most gorgeous regions in the world, it can be easy to forget about the cultural delights and natural beauty that can be enjoyed just across the border. One Mexican border town that is often overlooked by San Diegans is the delightful town of Tecate.

Tecate is just a short 40-mile trip on Highway 94 from downtown San Diego.

After taking the 94 through East County towns like Lemon Grove, Spring Valley and Jamul, the trip to Tecate continues southeast for another 20 miles or so. Along the way, the landscape opens up to a big desert sky, with beautiful rolling valleys beneath that are flanked by brush-covered hills spotted heavily with sandstone boulders. The roadway tightens and winds lethargically through the desert countryside as you draw closer to the border.

Once you've reached the U.S. side of Tecate, in the distance, you can see the high border fence snaking up and down the rising and falling hills that separate Mexico from California. But before you can cross the border, you don't get the feeling that you're on the edge of one of Mexico's finest border town secrets.

The U.S. side of the border is not very attractive, with its dilapidated houses and rusted-out vans and trailers that, collectively, look like a derelict shanty village. On the opposite side of the road is a gravel parking lot filled with abandoned freightliners and trucking containers. However, when you cross into Mexico, you will find a scenic, relaxed little town which prides itself on its history and culture.

Getting into Tecate from the U.S. is easy, especially compared to crossing the border into Tijuana, which can sometimes take as long as three hours.

Park on Thing Road (Photo: Google Map)
You can safely leave your car in the Thing Road parking lot on the U.S. side of Tecate for five dollars, and you will be just a 10-minute walk from the center of town. Entering and leaving Tecate by foot is much less time-consuming than crossing by car. If you do wish to drive across the border, weekends and holidays can be busy, but a normal wait time to cross is about 40 minutes at the most.

Regardless of how you choose to cross, entering Tecate is free of charge if you plan to remain in town for just a day.

When entering as well as returning from Mexico, it is required that you have a passport, passport card or a completed Tourist Card, which can be filled out here: https://www.inm.gob.mx/fmme/publico/en/solicitud.html. Also known as an FMM (Forma Migratoria Múltiple), this card is easy to obtain and is free unless you stay in Mexico for more than one week.

Exchanging American dollars for pesos is also recommended once inside Mexico. You can exchange money at one of the many Casas de Cambio throughout town.

One last thing to take into account when considering crossing into Tecate is the town's safety. Many San Diegans remain afraid of going to Mexico because of many of the dangers associated with Tijuana, such as the Federal Police and violence related to the drug trade. These problems, however, have not penetrated into the fabric of Tecate's community. Overall, it is a very safe town for Americans to visit.

Once you've arrived in Tecate, you will be able to immerse yourself in the town's historic surroundings while enjoying its plentiful cultural offerings.
A Bit of History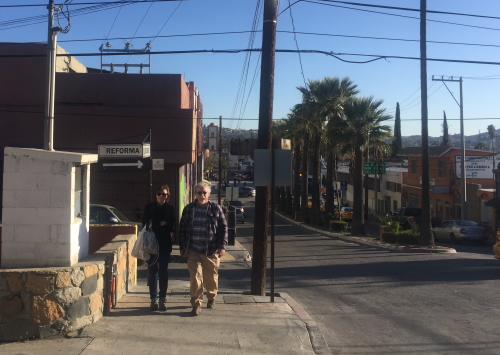 Quiet Streets of Tecate
While Tecate was officially founded on October 12, 1892, the history of the area goes back much further.

According to www.kumeyaay.com, which offers comprehensive historical archives and timelines of the Kumeyaay tribe's origins, the Kumeyaay Nation lived for hundreds of years in present-day Tecate and neighboring areas in Baja California. In fact, Tecate is home to Kuuchamaa Mountain a religious and environmental landmark for the Kumeyaay people.

Better known today as Tecate Peak, Kuuchamaa Mountain was viewed by the Kumeyaay as a site so hallowed that, according to a scholarly piece entitled "Kuuchamaa: The Kumeyaay Sacred Mountain, by anthropologist Florence C. Shipek, "only those who had been properly initiated as shamans were supposed to go onto the mountain." Located right on the border, Tecate Peak is now a popular hiking spot for Mexicans and Americans alike.

As European exploration and its residual effects threatened Mexican and American Indians throughout the 15th-19th centuries, the Kumeyaay's native Baja California, including Tecate, became desirable land for ranchers and farmers.

During the mid-19th century, a number of events and developments heavily impacted the Kumeyaay living in the area. For example, from the 1820s-1850s, the Mexican Government issued a number of land grants to ranchers who wished to profit from the land surrounding Tecate that the Kumeyaay lived on. This caused frequent skirmishes between the Kumeyaay and ranchers.

During this time, the Kumeyaay also endured isolated violent conflicts with Mexican soldiers, became involved the Mexican-American war and had their population decimated by smallpox and malaria epidemics in 1827 and 1832, respectively.

The ranchers who initially tried to settle in Tecate had been unable to establish their place upon the land due to Kumeyaay resistance. However, by the 1890s, many Mexican farmers were able to settle near Tecate around the time the city was officially established. Though the Kumeyaay's presence near Tecate was greatly diminished by this time, their history has remained vital to local culture. In fact, the Kumeyaay language is still spoken by some within the local indigenous population.

The farmers who settled in Tecate in the 1890s began to grow olives, grapes and various grains, such as barley. The town's industrialization was largely based around these products, with wine, coffee and beer becoming staple products of the region.

One other thing that helped the city's initial growth was a railroad line that connected Tecate to the larger metropolitan areas of San Diego and Tijuana. The railroad is still there, and freight trains still run between Tecate and Tijuana. The rail line that once connected Tecate to San Diego, however, is no longer in use due to a border tunnel's collapse in 2009. Before this incident, the San Diego-Tecate rail line was a tourist attraction for the Pacific Southwest Railway Museum.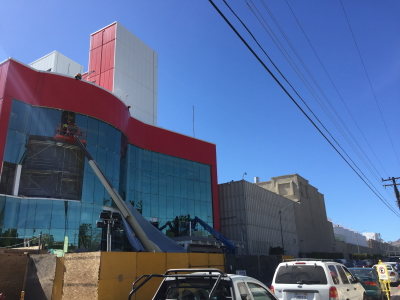 Tecate Brewery
Today, the town remains most famous for the Tecate beer brand, which was established in 1944.

The town's outskirts are home to the vineyards of the renowned Valle de Guadalupe. According to the website for Jose Pastor Selections, a winemaker that produces some of its wines in Valle de Guadalupe, "about 90% of Mexico's wine is produced in Valle de Guadalupe with many of the oldest vineyards centered around Tecate."

The city also has rich connections with artists whose work was influenced by the region, from the centuries-old visual art of the Kumeyaay, to the contemporary, magical-realist fiction writing of novelist Daniel Reveles.

With all of these historical and cultural factors at work, the city presently offers a number of activities and site-seeing opportunities for San Diegans.
Things to Do in Tecate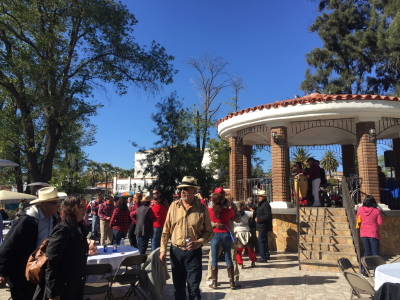 Dancin' in the Plaza
Throughout Tecate, there are official signs that read, "Tecate Pueblo Magico," meaning Magical Town of Tecate. These signs denote the town's designation by the Mexican government as a place of cultural significance, famous for its crafts, food, natural beauty and hospitality.

Tecate is the only town in the state of Baja California that has the "Pueblo Magico" designation. The magic of the place is channeled through the many things to do and see in this little city, from the ceramic architecture seen in the tiles, fountains and sculptures around the center of town, to the wondrous natural landscape at its edges.

The first thing that most San Diegans probably associate the town of Tecate with is Tecate beer. Luckily, for folks who might be interested in seeing how and where this beer is made, Tecate Brewery is located less than a mile from the city's border crossing. The brewery offers tours of the facility-which are given in both English and Spanish-as well as tastings. Tour reservations can be made over the phone by dialing +52 (665) 654-9490.

In addition to visiting the Tecate Brewery, another beverage-related activity is a visit to one of the various wineries in nearby Valle de Guadalupe, tours of which showcase the region's famous vineyards. However, to get there you will need either a car or tour bus.

But here is much more to present-day Tecate than just its eponymous beer brand and nearby wineries, and therefore much more to do!

Another famous attraction in Tecate is the spa at Rancho La Puerta. Rancho La Puerta offers a scenic getaway just outside the city and features a 4,000-acre property with access to hiking trails, landscaped gardens, an organic farm with a cooking school, a number of physical activity centers and three full-service holistic spas. A week-long stay at Rancho La Puerta costs anywhere from $4,500-$6,950.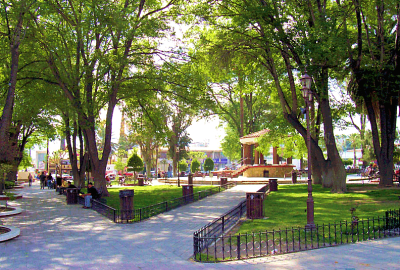 Miguel Hidalgo Park
The landscape surrounding Tecate provides a number of hikes accessible from anywhere in the city. Hiking locations such as Tecate Peak offer beautiful views of the rolling hills and valleys that extend across the desert countryside.

One particular environmental wonder of note that can be visited during a trip to Tecate is an archeological site called El Vallecito, located in the nearby town of La Rumorosa. According to a synopsis of El Vallecito on www.mexpro.com, "In a single day you can do [a] one-mile hike witnessing many cave paintings, caves and rock formations." The art and other cultural artifacts featured at the site have been attributed as trademarks of Kumeyaay artistry.

Another Kumeyaay attraction in town is the Tecate Community Museum. Just a 16-minute walk from the border, the museum is part of the Tecate Cultural Center complex and has a number of exhibitions and activities focused on the Kumeyaay. These exhibitions and activities are intended to foster "greater understanding of the cultural, historical and natural heritage of Tecate, Baja California, Mexico and the larger binational region to which it belongs." The Kumeyaay exhibits that are permanently displayed feature authentic artifacts, photographs, murals and sculptures.

The religious history of the town is also exhibited by the presence of several Roman Catholic churches, which can be easily visited. The oldest of these churches is Our Lady of Guadalupe, located just six blocks from the border.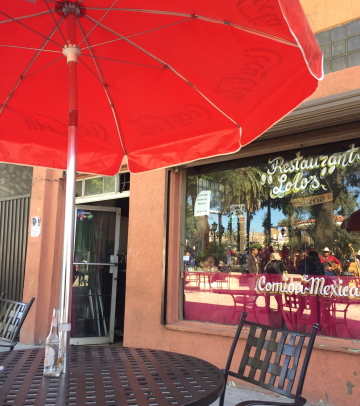 A Table Awaits You!
Tecate is also well-known for its traditional Mexican food joints. Some of the must-try Mexican food spots in Tecate include Taquería Los Amigos, Taquería La Guerita and El Lugar De Nos, all of which are close to the border crossing.

However, perhaps Tecate's most famous single-stop food attraction is a bakery, appropriately called El Mejor Pan de Tecate, or Tecate's Best Bread. Established in 1969, El Mejor Pan de Tecate bakes all of their products-bread, pastries, cookies, donuts, muffins and cakes-fresh each morning. Treats from El Mejor Pan de Tecate and other bakeries throughout the city tend to be quite inexpensive, so load up a boxful before you head home!

In addition to the traditional Mexican food stops around town, Tecate also boasts a number of well-regarded Chinese and Japanese restaurants.

Fish Tacos and Fresh Lime Daiquiris
At the center of the city is one of Tecate's most-frequented sites, Miguel Hidalgo Park. Employees, volunteers and interns with The Worldview Project and The San Diego Participant Observer have made a point of visiting Tecate for years, with Miguel Hidalgo Park being one of our team's favorite stopping points.

Named after the Mexican independence leader Miguel Hidalgo, tourists and locals alike gather in this scenic plaza to listen to live mariachi music, enjoy a beverage, get refreshed with one of 50 different kinds of fresh fruit popsicles and check out the numerous souvenir carts in the park. The shops along the park's edge sell a range of treats as well, including tacos, ice cream, coffee and other assorted beverages.

Besides the vendors that frequent Miguel Hidalgo Park on a daily basis, every Saturday there is a swap meet at the corner of Ave. Miguel Hildalgo 5 blocks west of the Tecate Brewery. Here, you can get treats such as tacos, churros and pizza, as well as check out fresh fruit and vegetable stands, meat and fish stalls and booths that sell everything from household items to alternative medicine to used clothing. There are also a number of small shops throughout the town that specialize in culturally authentic, handmade craftworks.

Lastly, Tecate is known internationally for the annual Baja Bike Race, which winds 73 miles through the mountains from Tecate to Ensenada, taking bikers through Valle de Guadalupe along the way. The race was held from 1969 until 1993 but was brought back in 2015. 431 cyclists participated in the race last year.

This year, the race is set to take place on October 10. It is a popular event for non-cyclists to attend as well, as fans send riders off as they embark from Tecate and then and cheer them on at the finish line in Ensenada.

COVID-19 has kept U.S. citizens from crossing the border into Mexico over the past few months. However, the Department of Homeland Security reported last week that travel restrictions for Americans could be lifted by the Mexican government as early as October 21, 2020.

As that date nears and you continue to feel the itch to get out and safely explore new places, remember that Tecate is only a short drive away!
Keep informed about San Diego Events!
Sign-up for our weekly Eblast by clicking here:
Sign Me Up!