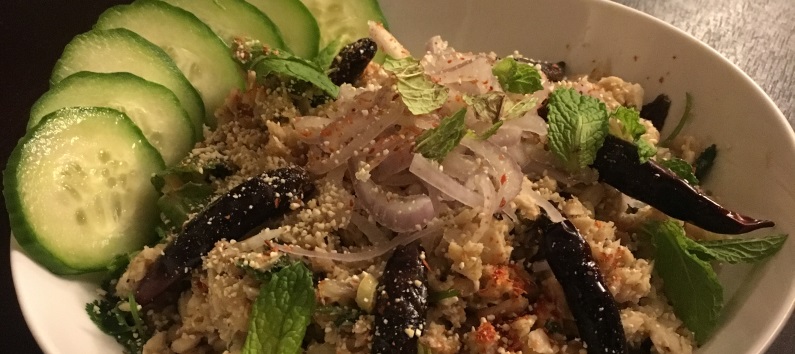 Laap
, or more popularly known as
larb
, is a versatile and delicious dish from Laos and Northern Thailand. The term laap is derived from the Kra-Dai language root for "to mince" or "to chop." Knowing this is key to understanding the dish. Laap, regardless of its particular iteration, depends on minced protein to function as its base. Beyond that, the seasonings, cooking method and final plating are dependent on the flavors of the region.

Laap typifies cuisine in the region of Isan, which is a former region of 20 provinces in Thailand and Laos that is united through language, culture and cuisine.

In the Laotian/Isan version, minced meat is cooked in a light amount of stock in order to prevent browning and sticking. It is then seasoned with dried chili powder and served with roasted rice (known as khao kua), fresh herbs like mint, lime juice, fish sauce, shallots, garlic and galangal (a root spice from one of four related aromatic rhizome species). The result is a dish layered with intense flavors, textures and aromas.

The fish sauce commonly used in Laos is known as padek and possesses more body and a milder flavor than Thai or Vietnamese fish sauces. The intensity of the seasoning pairs better with the staple of the Laotian diet: sticky rice. Sticky rice (khao niao) is also known as glutinous rice or sweet rice (which is what it is typically called in American Asian markets). This particular variety of rice is the traditional starch in Northern and Northeastern Thailand, as well as in Laos, and tempers the fiery intensity of the laap.

The Northern Thai version of laap comes from the Lanna Kingdom, which existed in the north of Thailand and eastern Myanmar between the thirteenth and eighteenth century. This version relies heavily on dried spices like cumin, cinnamon, long pepper and cardamom for its flavor and does not use fish sauce or a souring agent. Other differences include the frequent additions of bile, blood and offal. The Lanna style was highly influenced by the region's location along the old Silk Road; The Lanna Kingdom was a way-point for traders bringing spices from India to the markets of China.

Both laap versions can be served raw (known as laap dip in Thai and Laotian) and are still prepared this way today. Laap is also related to other minced meat dishes in Laos and Thailand like luu (raw minced meat seasoned with blood and lemongrass) and koi (a ceviche-style dish made with river mussels or snails). The easy preparation and affordability of the ingredients makes these dishes popular in the Isan region.

Included below is a version of laap known as laap plaa (fish laap). This dish is a Laotian-style laap and exhibits the classic flavors of lime, fish sauce and fresh herbs. Most, if not all, of the ingredients needed can be found at Southeast Asian Markets like World Foods in City Heights, Muang Lao Market (at 47th & Market) and Thuan Phat in Linda Vista.
Ingredients:
Garlic-Galangal paste:
4 cloves garlic
2-inch piece of galangal, peeled and chopped
Dressing:
1 tablespoon (or to taste) of Thai chili powder, or cayenne pepper
3 tablespoons fish sauce
2 tablespoons lime juice
1 teaspoon palm sugar or brown sugar
Laap:
1 pound of fillet of catfish or a white fish like mahi-mahi
1 cup chopped, mixed herbs like Thai Sweet Basil (bai horapa), Vietnamese coriander (rau ram*), green onion (scallions), cilantro/coriander leaves (pak chee*)
2 tablespoons toasted rice powder (see prep directions below)
¼ cup chopped mint leaves, lightly packed
2 medium sized shallots, sliced and soaked in cold water for 10 minutes
*Although rau ram and pak chee are translated as coriander leaves, they are different herbs.
Preparation:
For the paste:
Roast the garlic and galangal over the burner of a gas stove, or in a broiler on low until slightly charred. (This will enhance the aroma and taste.)
Grind or pound (with mortar and pestle) the galangal, garlic and a pinch of salt into a smooth paste. Set aside.
For the laap:
Stirring constantly, toast 1 cup of uncooked sticky rice in a dry skillet on medium-high until aromatic and golden brown (10-15 minutes).
Pound or grind the toasted rice into a course powder.*
Cook the fish fillet in a skillet over medium heat, flipping once, until just cooked through, about 5-7 minutes depending on thickness.
On a cutting board, chop the fish into uniform pieces, trying to maintain the integrity of the flesh.
In a small bowl, whisk the fish sauce, chili powder, lime juice and sugar together until the sugar is fully dissolved.
In a large bowl, thoroughly combine the fish, garlic-galangal paste, drained shallots, chopped herbs and fish sauce/lime dressing.
Transfer the dish to a serving platter and sprinkle with the roasted rice powder and chopped mint leaves.
Serve with sliced cucumber, raw green cabbage leaves and sticky rice.
*As the recipe only calls for 2 tablespoons of toasted rice powder, you can store the remaining powder in an airtight container for future use.

Recipe and photos by Liam Fox
Details

Hits: 1282

Pupusas have an ancient history. Both San Salvador and Honduras have laid claim to being the birthplace of pupusas, but San Salvador seems to be more likely. Salvadoran pupusas originated in western El Salvador among the pre-Colombian Pipil and Quiche tribes. Pupusa cooking instruments were also discovered at the site of Joya de Cerén, "El Salvador's Pompeii", which was covered in ash 2000 years ago.

The devastating Salvadoran Civil War from 1979 to 1992 brought many Salvadoran refugees to North America and they brought with them pupusas. In 2005, pupusas were declared by the Salvadoran Legislative Assembly the National Dish of San Salvador, and a National Pupusa Day is celebrated on the 2nd Sunday of November. Pupusarias can be found in many cities in the US and Canada, and in 2011 the Guardian selected pupusas as the "Best Street Food in New York City."

The exact origins of the word pupusa are not known, but common theories suggest the word is related to the meaning of "something stuffed or filled." The fillings found in Salvadoran restaurants in San Diego and beyond often reflect classic flavors and combinations. Cheese, chilies, loroco (an edible flower common in Salvadoran and Guatemalan cuisine), chicharon (fried pork) and refried beans are mainstays at any pupuseria.

According to research by David J. Guzman at the Museo Nacional de Antropologia, early pupusas were shaped into half moons and stuffed with a variety of vegetable fillings, such as squash and mushrooms. The evolution of the pupusa into its modern form was no doubt a long process, but today the stuffings consist of staples found throughout Salvadoran food.

The masa used for pupusas showcases the ingenious manipulation of corn in Mesoamerica. By a process known as nixtamalization, corn is cooked in an alkaline solution which makes it easier to grind and digest.

Corn contains niacytin, which is a form of niacin that is not digestible without nixtamalization. Niacin deficiency is one of the causes of the disease pellagra, which is found in populations that eat a lot of corn that is not prepared in this way.

Thanks to this process, Mesoamerican cultures were able to rely on corn products like masa and hominy for their baseline nutritional starch. The importance of nixtamalized corn can be seen via the ubiquitous presence of foods like tamales, tortillas, pupusas and arepas throughout North, Central and South America.

This recipe is a good base, as it can be easily personalized. You can substitute the cheese for a variety of fillings and you can use the masa to make tortillas if you so choose.
Ingredients:
For the masa*:
2 cups (477 grams) masa harina (ground nixtamalized corn)
1/2 cup (88 grams) bread flour (optional)
3 teaspoons kosher salt
1 teaspoon baking powder
1/4 cup lard, melted
2 1/2 cups warm water

*Note: I highly recommend using a scale to weigh out the flour for the masa. I like Maseca Masa Harina and King Arthur Bread flour for consistency. The masa can also be made without bread flour, in which case weigh out an additional 88 grams (1/2 cup) of masa harina for the mixture.

For the stuffing:
1 package Queso Oaxaca, grated (similar to Monterey Jack cheese but harder and with a string-like consistency)
For the curtido:
1/2 head green or white cabbage, cored and thinly sliced
1 carrot, peeled and shredded**
1/2 white onion, thinly sliced
2 teaspoons Mexican oregano
1 jalapeño or Serrano pepper, seeded and thinly sliced
1/4 cup apple cider vinegar
2 teaspoons white cane sugar
1 teaspoon salt

**Note: I use the Kiwi-brand Pro Slice Peeler that can be found on Amazon for about $5.00 or in South East Asian Grocery stores for a similar price.

For the salsa roja:
4 Roma tomatoes, chopped
2-4 Serrano peppers (to taste), chopped
1/4 white onion, chopped
2 garlic cloves
2 cups water
1 tablespoon neutral oil, like grapeseed
1 teaspoon vinegar
1/4 teaspoon Maggi seasoning
Preparation:
For the masa:
Combine the masa harina, flour, salt and baking powder in a bowl and whisk to combine.
Add the melted lard to the dry mixture and whisk again until small, pea-sized clumps form.
Add water gradually (1/2 cup at a time) and incorporate using a wooden spoon.
Once the dry ingredients start to form a dough, begin mixing and kneading by hand until a smooth ball forms.
Once formed, cover the dough and allow to rest for 15 minutes before forming the pupusas.
For the salsa roja:
Combine the first 5 ingredients in a blender and puree.
In a saucepan, heat the oil over medium heat and add the pureed mixture and the Maggi seasoning.
Stir the mixture carefully (it will have a tendency to spit and bubble) and cook until reduced by 1/2 (about 30-45 minutes).
Once reduced, remove from heat and stir in the vinegar before serving.
For the curtido:

Quick version:
Combine the cabbage, carrots, onions, jalapeño and Mexican oregano in a non-reactive bowl.
Bring the final three ingredients to a boil in a small saucepan and stir until sugar and salt are dissolved.
Pour the liquid into the bowl and mix by hand.
The curtido can be eaten immediately, but I prefer to let it sit for a few hours or overnight.
Fermented version:
Combine cabbage, carrots, onions, jalapeños, Mexican oregano and 3 tablespoons of salt in a bowl.
Allow the mixture to sit for 30 minutes, or until cabbage has wilted slightly.
Transfer the mixture to a clean airtight container (like a Mason jar or fermentation-grade swing top jar) and seal.
Allow the mixture to ferment at room temperature for at least 24 hours.
To serve, dress with 1/4 cup apple cider vinegar and 1 teaspoon of sugar or to taste. It should be tart, well salted, crunchy, slightly sweet and spicy.
For the pupusas:
Mix 1 cup of warm water with a scant cup of oil. The oil will prevent any masa from sticking to your hands while forming.
Separate the masa into 100 gram portions (about 3 1/2 ounces), rolling into a ball (approximately the size of a golf ball). Once separated, take a portion of dough in one hand and push the thumb of your opposite hand into the dough, making an indentation.
Pinch around the sides of the indentation until a well for the cheese is formed.
Stuff the well with the grated cheese and pinch the dough to seal the well (don't worry if a small amount of cheese is still visible).
Gently pat the filled dough in your hands until even, 4-inch disks are formed.
Repeat with the remaining dough and cheese until all the cheese is used.
Cook the pupusas in a cast iron skillet, on a griddle, or even in a large non-stick saute pan until the middle has puffed slightly and they are brown on both sides, about 3-5 minutes per side.
Serve with curtido and the salsa roja.
Recipe and photos by Liam Fox
Details

Hits: 1468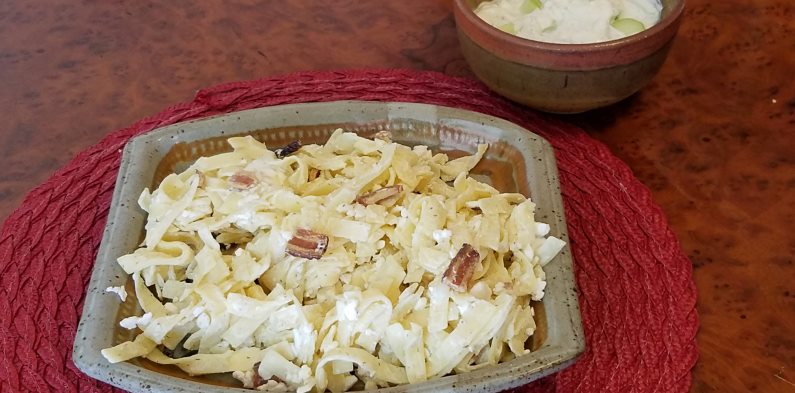 úrós Csusza is an egg noodle cottage cheese casserole. It is hugely popular in Hungary and is often served as a 2nd course after goulash or served alongside a fish stew like paprikash. Most authentically it is made with freshly made noodles torn off in small bits (finger nail size) but really can be made with most kinds of pasta. For this recipe we use Betchle brand German egg noodles (made from durum semolina flour) which are so buttery and tasty than can almost be eaten plain. Hungarian cottage cheese (Túrós) is very popular in Hungary and is used for both savory and sweet dishes. Regular cottage cheese can be substituted (indeed the vast majority of online recipes for this dish call for this) but if you can find the original, all the better! The other ingredient that is a bit unusual is smoked Hungarian bacon. I was able to find Hungarian smoked bacon at the Continent European Market on Regents Rd. near UCSD. The recipe also calls for sour cream, most authentically thick Hungarian sour cream (tejföl) but as we haven't yet found a source for this, we (like many other English language recipes) use regular sour cream. If you wish to make your own a link can be found here.Also we suggest baking this dish to melt the cheese a bit, but not all recipes call for this step.
Ingredients:
16 ounces flour-based noodles of your choice
16 ounces cottage cheese
8 ounces sour cream
1/2 pound Hungarian smoked bacon
1 tablespoon finely chopped dill
Preparation:
Boil and drain the noodles according to package directions
Cut the bacon into 1/4 inch cube and fry until crisp
Mix the cottage cheese, sour cream and dill into the warm noodles.
Pour everying into a baking dish.
Mix in bacon fat.
Sprinkle the bacon over the dish.
In a pre-heated oven bake at 350 degrees for 10 minutes.
Élvez!

Recipe and photo by T. Johnston-O'Neill
Details

Hits: 1145

Grilled Piri-Piri Chicken

Spicy piri-piri (or peri-peri) sauce is thought to have its origins in Portugal and was brought to Africa in the 15th century. Now, in addition to Portugal, it is most popular in Mozambique, Angola, Namibia and South Africa.

The Portuguese Empire was both one of the first to establish colonies throughout the world and also one of the last to quit their colonies. Portugal claimed ownership of the West African nation of Guinea in 1446 AD, and this is where their massive enslavement of Africans began. Mozambique (Southeastern Africa) and Timor Leste (in Southeast Asia) only gained independence in 1975 after the fall of the authoritarian "New State" government of Portugal in 1973.

The national language of Mozambique is Portuguese and the majority religion is Roman Catholicism. Many, if not most, of the staple foods of Mozambique were brought to the country by the Portuguese from the Americas, and include cassava, cashews, maize, potatoes, chili peppers. Many of the piri-piri chefs in South Africa came from Mozambique.

Piri-piri marinade is a combination of chilies, garlic, lemon juice and other spices. By adjusting the number and specific kinds of chilies used, it can range from mildly hot to inferno level. Although piri-piri sauce can be used with other meats, it most often used with chicken. Chicken wings, drumsticks, thighs or even a spatchcocked whole chicken can be grilled with piri-piri.

** To learn how to spatchcock a chicken, visit: www.abeautifulplate.com.

Piri-piri is actually a type of hot chili (Capsicum frutescens) similar to bird's eye chili (commonly known as Thai chilies, although again all chili peppers have their origin in the Americas). Piri-piri also goes by the names African Devil or African Red Devil. Piri-Piri chilies are a little hotter than Thai Chilies and a little less hot than a standard habanero. "Peri" is the Swahili name for pepper so saying "peri-peri pepper" is triply redundant!

Piri-piri chicken has gained a great deal of popularity thanks to the South African restaurant chain Nandos, which now has over 1000 sites in over 35 countries. Currently in the US, there are Nandos restaurants in Washington D.C., Illinois, Virginia and Maryland. You can buy Nando's Peri-Peri Sauce on Amazon or at Ralphs. Or you can make your own, as we will show you how!

You can buy Piri-Piri Seeds to plant or dried Piri-Piri Seed Pods to make your own sauce. If you find online piri-piri powder online, be sure to read the ingredients because at least some (like "Spice House" brand) don't contain any piri-piri peppers. If you are in rush for a super spicy version, you can use more commonly available habanero peppers, slightly less hot Thai red chilies or cayenne chilies.
For this recipe I used a combination of Thai red chilies and fresh red cayenne chilies. The result was only medium hot.

Important Note: The chicken should be marinaded in the sauce for a minimum of 4 hours, preferably overnight. If you purchase piri-piri sauce, it is a good idea to add all the other ingredients to the marinade as well.
Piri-Piri Marinade Ingredients and Preparation:
Ingredients:
4 ounces fresh red chilies (Piri-Piri, Habanero or Thai)
4 cloves garlic, chopped
1 teaspoon smoked paprika
1/2 cup chopped cilantro
1/4 cup chopped basil
1 tablespoon fresh oregano
1 teaspoon salt
1/2 cup olive oil or vegetable oil
Juice from 1 lemon
Preparation:
Either in a mortar and pestle or a food processor, create a paste from the all the listed ingredients.
Grilled Piri-Piri Chicken Preparation:
Ingredients:
4 - 5 Chicken leg quarters
Piri-Piri marinade
Preparation:
Wearing gloves, thoroughly coat the chicken in the piri-piri sauce and place in a container.
Refrigerate chicken for 4 or more hours.
Grill the chicken on a medium-hot grill for 10 to 15 minutes on each side.
The chicken is done when it reaches 165°F.
Serve with rice or fried potatoes and a vegetable of your choice.
Bom Proveito!

Recipe and photos by T. Johnston-O'Neill
Details

Hits: 1241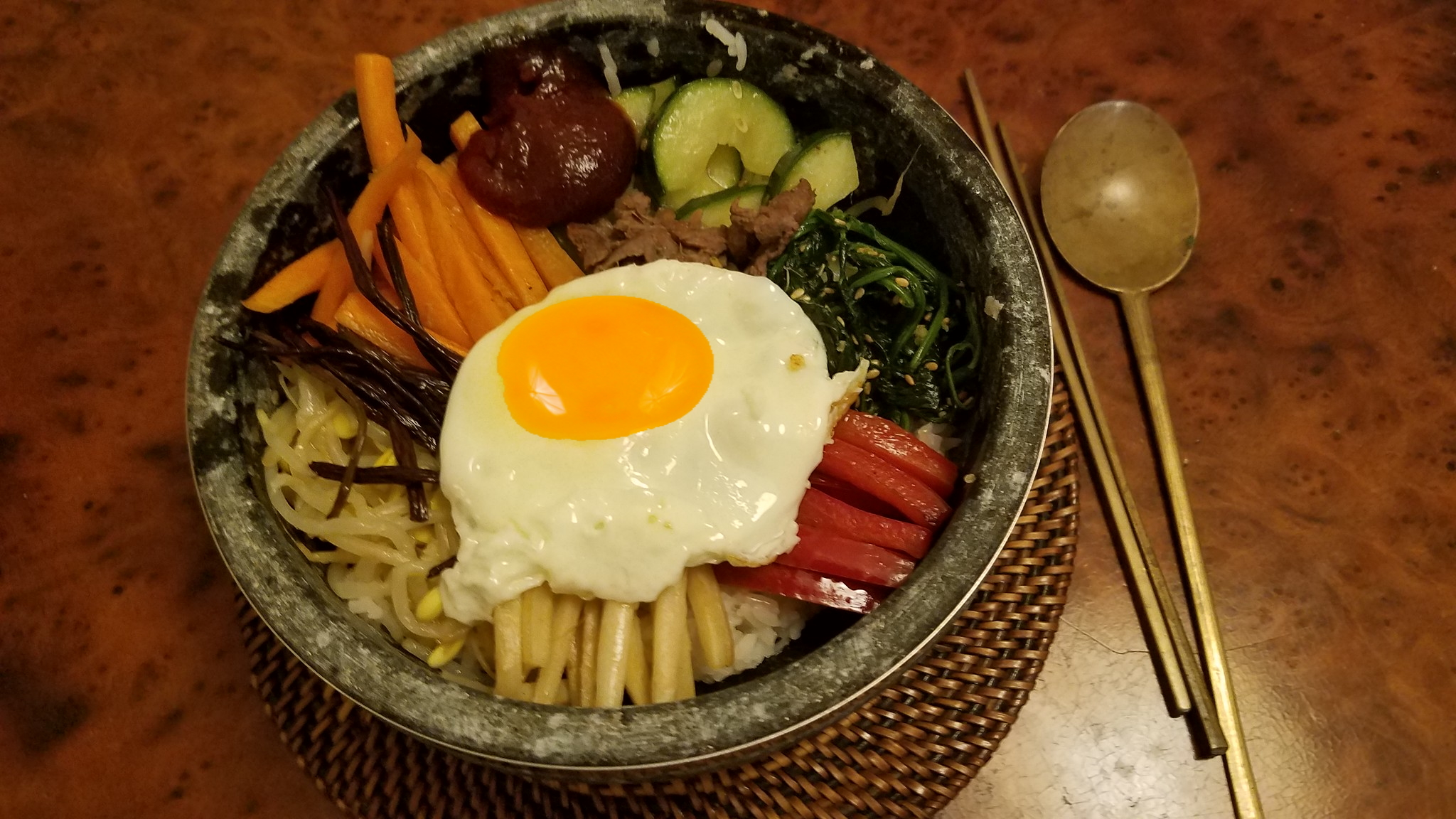 The dish's name "Bibimbap" is a portmanteau of "Bibim" which means "mixed" and "bap" meaning "rice". Bibimbap is a combination several basic ingredients: bap (warm rice), sautéed and seasoned vegetables (namul), kimchi (fermented spiced cabbage or other vegetable), chilie pepper paste (gochujang) or fermented soybean paste (doenjang), sliced meat (typically beef) and either a raw or fried egg. There are lots of variations. Unlike Japanese rice bowls, once in the individual dinner's bowl, the ingredients are mixed together before eating. As we discuss in our article The Culture of Food and Drink in South Korea, "side dishes" or banchan are an essential aspect of Korean dining. Bibimap is for all intents and purposes a typical Korean meal with all the ingredients from all the side dished mixed together in a single bowl of rice. Scholars have speculated that the dish originated with the practice of mixing food offerings at traditional jesa ancestral rites which are held on the anniversary of the death of an ancestor or close relative. Except for Protestant churches, jesa rites are practiced by Catholics, Buddhists and even those who are not religious adulterants. Bibimap is also eaten on the eve of Korean New Years in order to eat all the left-overs so that the new year could start afresh. Earliest literary references to Bibimbap date to the 16th century and the earliest known recipe dates to the late 19th century. Again, there are many different variations in Bibimap, each wiith a defining ingredient like crab, cucumber, salted shrimp, etc. Many of the variations are regionally based more than a reflection of the individual preferences. 

While taste is obviously important to the balance of a good Bibimap, the color balance of the ingredients in Bibimbap is equally relevant, infused with symbolic meanings associated with cardinal directions and human physiology. Dark colors are associated with the direction North and kidneys. Red symbolises the direction South and also the heart. Green colored ingredients are tied to the direction East and the liver. The color White evokes the West and the lungs. Finally yellow colors represent the center and the stomach.

The typical method of preparing rice in Korea is to brown the rice until the bottom is crispy. The rice is first steamed or cooked in a rice cooker. Then it is browned in a skillet. Some restaurants crisp and then serve the rice in a pre-heated stone bowl (or pot) called a Dolsot. "Doslot bibimbap" is a dish prepared this way. Often it is served with a raw egg because the bowl retains heat, coming to the table sizzling hot so the egg cooks quickly when stirred into the bowl. Please note that the cooked rice should be a bit on the dry side for it to crisp properly. It will be difficult to achieve the proper texture if the rice is mushy. It is also a good idea to avoid overcooking any of the vegetables to ensure that they retain the proper texture.

Korean rice, like Japanese rice, is typically a short-grain rice. Japanese rice as well as "Calrose" rice can be found in most San Diego supermarkets.

Unlike Chinese or Japanese cultures, Koreans do not raise their rice bowls off the table when they eat from them. One reason, is that the Dolsot bowl is very hot when placed on the table. If lifted it would burn you. It is also a near universal pattern that cultural practices often develop in contrast to neighboring cultural traditions. Not only is it unusual for Koreans to raise their bowls to their mouths when eating, they also typically use both chopsticks and spoons together. These utensils are made of metal, either iron, brass or nowadays stainless steel. Korean chopsticks are also flatter than what is found in other cultures. One theory suggests that metal chopsticks originated with royalty. They were made of silver, which changed color if there was poison in the food. More modern theories suggest they are easier to keep clean and last indefinitely. Because of their greater weight and slipperiness, Korean chopsticks take a bit of practice to master.
Ingredients:
Sesame Oil
Soy Sauce
1 teaspoon sugar
Bulgogi beef (see recipe or buy already marinaded beef)
Toasted Sesame seeds
1 head of garlic (crushed or finely minced)
1/2 pound bean sprouts
1/2 pound of spinach
1 large carrot
1 red bell pepper
1/2 cucumber
Small handful of Gosari (aka Fernbrake, Bracken Fiddleback Fern)
Small handful of Doragi (Bellflower root)
1 Joseon radish
Korean, Japanese or Calrose rice
Gochujang (Korean chili paste)
Preparation:
In separate containers soak Gosari and Doragi in salted water overnight
Make 2 cups rice according to package instructions
Wash spinach thoroughly
Cut carrots, red peppers and Joseon Radish into 3 inch by 1/4 x 1/4 inch "matchsticks" (aka "julienne")
Cut cucumber into half-rounds 1/4 inch thick.
In individual containers generously salt the carrots, red peppers, radish and cucumber with coarse salt and let sit for 15 - 20 minutes, then squeeze out excess water.
Drain and squeeze out the excess water from the Gosari and Doragi
Season radish with garlic, chili powder and seasame seeds.
Boil the Gosari in water for 10 minutes, cool in cold water and squeeze out excess water
Cut the Gosari and Doragi into 3 inch long pieces. You may have to split some of the Doragi pieces to make thinner.
Boil bean sprouts in salted water for 20 minutes, drain and season with sesame oil and garlic
Blanch Spinach in boiling water for 2 minutes. Rinse with cold water and squeeze out excess water.
Season spinach with seasame oil, toasted sesame seeds and garlic.
Separately saute carrots and red bell pepper matchsticks in seasame oil and garlic on medium high heat for 1 minute turning continuously
Saute the Gosari in seasami oil and then add soy sauce and sugar.
Squeeze out as much liquid as possible from the bulgogi beef and fry it until almost done. Note: If you have a Korean barbeque grill, this works best as the beef will not steam and will taste better and have a better texture.
Heat Dolsot bowls medium high on the stove spreading sesame oil all over the bottom. Heat until the oil just begins to smoke. (Note: I preheated the bowls for 20 minutes in a toaster oven at 350°).
Fill the Dolsot bowl half-way with the cooked rice. Press the rice down so it makes good contact with the bowl.
Continue heating the bowl (it should be crackling) for 8 minutes to crisp the rice.
Array all the vegetables and add (to taste) Gochinchang chili paste.
To serve: the Dolsot bowl will be very hot, use oven mitts to move to a wooden board or trivet to serve. BE CAREFUL! At the table mix all the ingredients together in the bowl with chopsticks. Enjoy!

Recipe by T. Johnston-O'Neill
Photo by Shari Johnston-O'Neill
Details

Hits: 1547