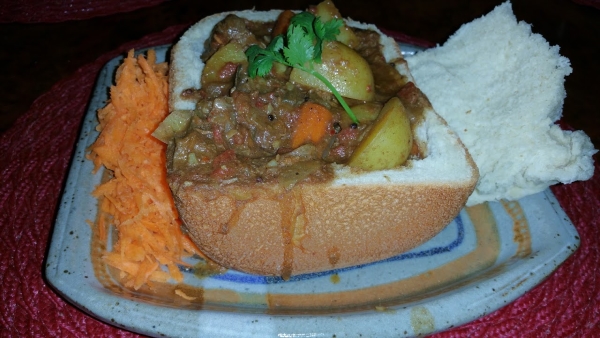 South African Bunny Chow is found as a street food, in fast food joints, or even upscale restaurants, Bunny Chow is a curry dish that is served in a hollowed-out loaf of white bread. Bunny Chow is properly eaten with the hands with gusto and good conversation. Rabbit is not an ingredient in Bunny Chow, and if you use less chili, this might be a great dish to serve your kids!
Bunny Chow hails from the South African city of Durban which sits on the country's east coast. Durban is South Africa's third largest city and it is home to one of the largest populations of Indian descendants outside of India. Durban was selected by the New7Wonders Foundation as one of the seven cities in the world that "best represent the achievements and aspirations of our global urban civilization." One of the city's charms is that it is very cultural diverse. The city also was selected for a "Traveler's Choice Award" from Trip Advisor, in part due to its wide sunny beaches and other natural beauties.
The origins of Bunny Chow are rather recent (1930's to 1940's, but the exact history is unclear). It is thought that the name "Bunny" is derived from the Indian caste-name of bania a merchant caste that is most associated with the Bengal region of India. A popular account claims that during South African Apartheid, people of color were often excluded from many eating establishments and Bunny Chow was created to feed Indian laborers who could only buy "take away" food. Some say it was first prepared and sold from the G.C. Kapitan Vegetarian Restaurant on Grey Street.
In everyday parlance, people refer to the dish simply as "a bunny." The original Bunny Chow was probably strictly a vegetarian dish and still today a very popular version is a "Bean Bunny." Butter beans are often used. The most popular version today is, however, based on a lamb curry. Beef or chicken curries are also widely used. The bread used is simple white bread which is carefully hollowed out (the goal is to have a single chunk of bread removed). The bread hollowed out from the center is called the "virgin" and is served either on top of the bunny or on the side. Small pieces of the virgin are torn off and used to scoop out the curry. After the virgin is gone, the bread containing the curry is torn off for the same purpose. It is also normal to eat the bunny curry directly with your fingers and making somewhat of a mess is par for the course. The improper way, and perhaps cause for social disapproval, is to eat the bunny with a fork or spoon, as it is by nature a causal eating experience. Loaves of bread can be whole, cut in half, or the most popular kota quartered. It is not uncommon to share a single bunny with friends seated around it. Finding a loaf of white bread that is unsliced might be difficult here in San Diego, so we baked our own 2-pound loaf in a bread machine and it worked just fine. Using sourdough rounds such as those that are used in chili or clam chowder "bowls" is certainly a possibility. Below is just one version of a curry. How you spice the curry is up to you. Bunnies should have a bite (but perhaps not as vicious as the rabbit in Monty Python's "Search for the Holy Grail"! In Durban, Bunny Chow typically doesn't scrimp on the ground or fresh hot pepper. Various forms of Garam Masala and curry powder are used; experiment and find out what works best for you. If you are making a lamb or beef bunny, it will take up to 2 hours of cooking before the meat is tender. If using beef, opt for chuck (often the cheapest cut) of beef. Paradoxically more expensive fat-laden cuts of beef will end up being tough and overly chewy. Pieces of beef or lamb should be on the large size, not small chunks. Two or more bites to a piece are better than one.
The curry can be prepared in any large pan that has a lid. We used a Dutch oven, which worked brilliantly for this dish as the heat is well distributed. The curry should be very saucy, so when the bread becomes soaked with the sauce it becomes unbelievably delicious. Add water (or beef stock) to ensure that you have a sufficient amount of liquid. Spices can be cooked in oil at the begriming of the preparation or you can roast them whole beforehand. Just don't burn the spices because then you will have to start over. As mentioned above, spices used vary from cook to cook, if you can't locate a particular spice or ingredient , just soldier on! Bunny Chow is often served with a carrot salad, basically shredded carrot with a bit of vinegar and optionally onion, finely chopped chilies and/or cilantro.
Ingredients:
2 pounds of beef (chuck ) cut irregularly into 2-inch chunks
1 large onion, diced small
3 tablespoons of oil (we prefer ghee), if you use olive oil, use light (not extra virgin)
2 bay leaves
4-5 curry leaves
3-4 pieces of whole star anise
1 piece of whole cinnamon
1 teaspoon of cumin seeds
1 teaspoon of black mustard seeds
3-4 green cardamom pods or two teaspoons of cardamom powder
1 tablespoon of Garam Masala
1 tablespoon of curry powder
2-3 teaspoons of chili powder (like cayenne), adjusted for hotness of chili and diner's tolerance
1 14-once can of diced tomatoes
1 2-inch piece of fresh ginger, peeled and minced fine
3-4 cloves of garlic minced fine
1-2 pounds of potatoes (we quartered small whites). Note: if using Russets, cut down on the cooking time.
2-3 large carrots, peeled and cut into 1 1/2 inch chunks
Preparation:
If you are making you own bread, do so first (or start if using a machine).
Mince the garlic and ginger and set aside.
Heat the oil in a large pan or pot to medium high.
Add the bay leaves, curry leaves, anise, cinnamon stick, cardamom pods (if using whole), cumin seeds and mustard seeds to the pot.
Cook the spices until the mustard seeds begin to pop.
Add onions and cook until they nearly turn brown (stir frequently).
Add minced ginger and garlic, Garam Masala, curry powder, chili powder, and cardamom powder (if not using whole).
Add beef and cook until lightly browned (don't obsess over this!).
Add diced tomatoes and stir.
Bring to a boil, and then cover and set heat to low.
Cook for 1 hour, stirring occasionally, and then stir in the potatoes and carrots.
Cook for another hour, stirring occasionally, making sure it doesn't burn and adding water or stock to ensure there is a goodly amount of liquid.
When the meat is tender, remove from heat.
Cut the loaf of bread so that you have pieces that are 3-5 inches tall.
Cut around the inside of the bread 3/4 of an inch from the outer crust to a depth that leaves about 3/4 inch of bread on the bottom. In other words, don't cut all the way to the bottom!
Reach into one of the cuts and gently scoop out the interior with the goal of removing it in one peace. Steady as you go; you might need to use a knife to cut away the bread from the bottom of the cut.
Fill the bunny with the curry. Don't be too Martha Stewart here, flamboyance is ok with curry sauce spilling over the sides or even pooling at the bottom of the plate!
Serve with the "virgin" (the center of the bread) and vinegar-laced shredded carrots as described in the text.
Enjoy Your Bunny!
Recipe by T. Johnston-O'Neill
Photo by Shari Johnston-O'Neill
Keep informed about San Diego Events!
Sign-up for our weekly Eblast by clicking here:
Sign Me Up!