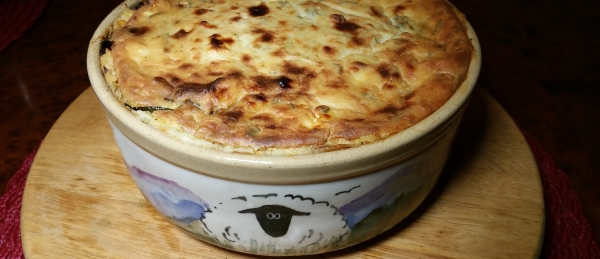 Chaniotiko Boureki from Crete is casserole made from yogurt, potatoes and zucchini and a batter made from soft cheese and yogurt. A great vegetarian dish for a potluck or a family dinner! It is delicious either warm or cold.
Crete is the largest and most populous of the Greek Islands. Crete was the center of Minoan civilization (c. 2700-1420 BC). Ancient Minoans wrote in a script referred to today at "Linear A," and it has not yet been deciphered. Throughout later times, Crete was under Roman, Byzantine, Venetian, and Ottoman rule. The north central city of Heraklio is its present day capital. Although similar to Greek culture, Crete also maintains distinct forms of poetry, music and even everyday styles of clothing. Many well regarded authors are from Crete, including Nikos Kazantzakis, author of Zorba the Greek, and the poet Odysseas Elytis, who won the Nobel Prize for Literature in 1979.
The small picturesque city of Chania (or Haniá), where this dish hails from, is located on the northwest coast. Much of the town was built around the Venetian harbor that was built in the 14th century. The most attractive section of town is the Old Town area, which although bombed heavily during WWII, much of what was destroyed has been rebuilt. Old Town has several distinct neighborhoods including the Jewish Quarter, known as Evraiki. Cultural activities, including plays concerts, cinema, festivals and sports events are very popular particularly in the summer months. Traditional music, chamber music, emergent alternative music and jazz are all popular. However, most people live and work in Nea Hora (lit. New Town). The newer part of town is less architecturally interesting and modern, but some neo-classical building can be found there as well. Two of the most impressive sites are the Public Market and the Public Gardens, which sit right next to each other. The Archaeological Museum of Chania houses a great number of ancient artifacts.
One source suggests that the average family in Chania might partake in this dish a couple of times a month during the summer, but it is rarely found outside of the region. There appear to be three different methods for preparing Chaniotiko Boureki. Some recipes call for simply layering ingredients, finishing up with a healthy amount of cheese that will coat and meld with the other ingredients during cooking. Other methods include enclosing the entire dish in filo dough, making a sort of filo encrusted pie. One can make a batter infused with cheese that will melt and then solidify. Some recipes call for coating the zucchini and potatoes with either olive oil or flour before baking. Lastly, some recipes call for frying the potatoes and zucchini before assembling the casserole, although more commonly they are added raw to the assemblage. It is an extra step to fry things first, but we think it should add some extra flavor, and it cuts down on the cooking time. The ingredients are all similar, so choose the method that fits your tastes.
Ingredients:
1/2 cup olive oil
2 pounds of potatoes, very thinly sliced (1/8th inch)
3 zucchini, thinly sliced (1/4 inch)
1 onion, chopped fine
3-5 cloves of garlic, pressed or crushed
2 ounces sun dried tomatoes.
1 cup Greek plain whole milk yogurt
1/2 cup milk
1/c cup flour
1 teaspoon baking powder
3 tablespoons fresh mint, stems removed and chopped fine, or 1 tablespoon dried mint
2 tablespoons grated Myzithra cheese
1/2 pound feta cheese
15 ounces whole milk Ricotta cheese
Salt and pepper to taste
Preparation:
Peel and slice the potatoes and zucchini very thin and then set aside.
Chop or slice the onion fine.
Heat the olive oil in a frying pan.
Fry the potatoes until lightly browned (in batches).
Fry the zucchini until lightly browned (again, in batches).
Saute the onion for 3 minutes.
Add garlic to onions and and sauté for additional 2 minutes.
In a large bowl, mix together ricotta, Myzithra and feta cheese with flour, baking powder, yogurt, chopped mint, salt and pepper. Add milk to make a thick, but flowing batter.
Preheat oven to 350°F.
Make alternating layers of:
potatoes
zuchinni
sun dried tomatoes
onions
batter
Repeat until ingredients are used up. Note: the top layer should be all batter.
Bake in oven until the top turns golden brown (about 45 minutes)
Recipe by T. Johnston-O'Neill
Photo by Shari Johnston-O'Neill
Keep informed about San Diego Events!
Sign-up for our weekly Eblast by clicking here:
Sign Me Up!