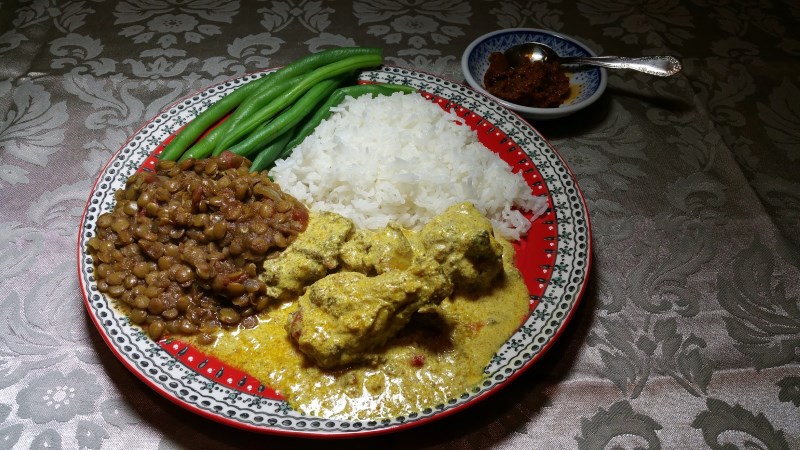 Of all the international food we cook and eat in our home, Sri Lankan Chicken Curry is hands-down our favorite. It makes my mouth water just thinking about it!
Sri Lanka is an island nation that is located south of India. During the British colonial era it was known as Ceylon, but the name was changed to Sri Lanka (the pre-colonial name) in 1972. The two largest ethnic groups are the Sinhalese and the Tamils. Most Sinhalese are Buddhists and most Tamils are Hindu. Prior to European rule relationships between these groups cycled from relative equanimity to hostility over the centuries, depending on the particular ruler's whims and designs. However, British colonial rule led to greater and more intense hostility which led in post-colonial times to open violence and armed conflict. After more than a decade of negotiations relative peace was finally achieved in 2010, and Sri Lanka has since become one of the fasted growing in economies in the world. Sri Lanka has a high literacy rate (their youth literacy rate is 98%), long average life-expectancy and a low birth rate. The country also has a long and rich commitment to visual, literary and performing arts. The Sri Lankan flag has colors and symbols that represent Buddhism, Hinduism and Islam.
Sri Lankan food is somewhat similar to Indian food; but even more than most Indian food, Sri Lankan food is highly spiced. "Rice and Curry" is not only the national passion, but it also refers to a meal itself. Fish and seafood curries are quite popular, but chicken, pork, goat, beef, buffalo and lamb are enjoyed throughout the island (unless prohibited by religious strictures). Coconut milk is a widespread ingredient. The curry described below is, however, yogurt based. We modified this recipe by adding considerably more yogurt than is normal, making this curry a bit more like korma rather than regular curry which tends not to have a great deal of sauce. Nevertheless, unlike usual korma, this dish is richly spiced. We always enjoy this recipe served with lime pickle. Our favorite lime pickle brand is Patak and we use the extra-hot version. Sometimes I wonder if I eat this curry just to have an excuse to eat lime pickle! Other South Asian chutneys and "pickle" also go well with this dish.
Rice and Curry is often served on banana leaves, and Sri Lankan food is normally eaten with one's right hand without utensils. Sri Lankans are known to eat rice and curry for breakfast, lunch and dinner. Another popular way of eating curries and other Sri Lankan specialties is by serving them on "hoppers." Made of rice flour and coconut milk, hoppers are a type of crepe that is cooked in a very small pan. The batter is distributed along the bottom of the pan and along the sides. The result is a bowl that is crispy on the upper edges and more doughy on the bottom of the bowl. A similar cooking technique is used to create string hoppers out of noodles. Hoppers are a popular street food that can be filled with whatever you like. You can even cook a whole egg in a hopper for breakfast. Hoppers are very similar to Indian idli, but thinner on the bottom and with raised sides.
An important feature of curries in India and Sri Lanka is that some of the spices are fried or roasted before they are added the dish to bring out more flavor or a different flavor. When spices are fried in oil, it is called tempering, but this recipe calls for dry roasting. We strongly roast whole coriander and cumin seeds for this curry. We used to do this in a caste-iron pan, but now we use a toaster oven. Ever the culinary experimenter, once I even tried using a popcorn popper,which worked but created a terrible mess! Roasting these spices really creates a wonderful taste, and your house will be filled with a heavenly scent. Roasting takes a little time but is absolutely required for this dish. I have tried roasting ground spices but without much success as it burns easily, so I recommend using whole seeds.
This dish is also best if the chicken is cut up "curry style". If taste is more important to you than boneless chicken despite the convenience. I haven't been to Sri Lanka but my guess is that chickens there are much like chickens in Indonesia, that is considerably smaller (and I think more flavorful) than chickens here in America. This requires a little bit of adjustment in your preparation. The goal is to have large pieces, but not too large. The thighs should be cut in half with a cleaver as should the ends of the drumsticks. Usually I cut off some of the mean from the thigh and drumstick pieces leaving a goodly amount on the bone. The breasts should be cut into pieces no longer in any dimension than one inch to an inch and a half. The difference in taste and texture of while meat as opposed to dark meat is much greater in American chickens and for this recipe the dark meat steals the show. We typically eat Sri Lankan curry with Thai Jasmine rice which is good at soaking up the curry sauce. Prior to the development of the "New Rice" varieties that produce an abundance of grain very quickly, there were hundreds of different rice varieties found in Sri Lanka. Now rice production is dominated by hybrid rice that requires substantial application of fertilizer, herbicides and insecticides. Happily with the growing demand for organic food, heritage rices are beginning to be planted again. Sri Lankan Curries are served with a variety of side dishes, like dal, but we often just eat them with whole green beans boiled for no more than 4 minutes. We are also quite fond of paratha, a kind of soft wheat flat bread that is pan fried on both sides. Frozen paratha are found in many Indian and Asian grocery stores.
Cook's note: For this curry it is best to use whole-milk Greek style yogurt which creates a creamy sauce when prepared according to our directions.
Ingredients:
1 Whole chicken cut up
1 Quart Greek (or strained) yogurt
1 Tablespoons whole cumin seeds
2 Tablespoon whole coriander seeds
1 Tablespoon ground cinnamon
2 Teaspoons ground turmeric
1 Teaspoons green cardamom powder
Chili flakes or powder (to taste)
1/4 Yellow onion
3 Garlic cloves
Inch piece of ginger
2 Tablespoons tomato paste
cooking oil (we use ghee, but canola is ok)
Preparation:
In a frying pan or in a toaster oven roast the spices. If using a fry pan you will have to regular turn the seeds over with a spatula. You want the seeds to become dark brown but not burnt (black).
Grind the roasted spices in a spice mill or small food processor. You can also use a mortar and pestle. We like the spices to be a bit coarsely ground, not finely powdered.
Cut up the chicken and place the pieces in a large pot or mixing bowl
Add all the spices to the chicken, mix everything until all the chicken pieces are uniformly covered and then place in the refrigerator.
Roughly chop the onions, garlic and ginger, mix them together and puree them in a food processor
Start rice in rice cooker
Add oil to a large frying pan (we use a cast iron one) or wok and then lightly brown the onion ginger paste over medium heat
Add the chicken to the pan and brown on all sides until the meat is mostly cooked
Mix in the tomato paste and one tablespoon of yogurt
Cover the pan, lower the heat and cook for an addition 15 minutes
Turn off the heat and thoroughly blend in the remaining yogurt and lemon juice. Note if the pan is too hot the yogurt will separate and the texture will be runny not thick.
Serve with rice, a side dish and, of course, lime pickle!
Vinoden Kanna! (Bon Appetite in Sinhala)
Recipe: T. Johnston-O'Neill
Photo: Shari Kay Johnston-O'Neill
Keep informed about San Diego Events!
Sign-up for our weekly Eblast by clicking here:
Sign Me Up!