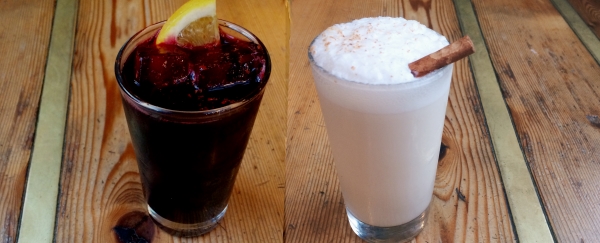 While eggnog and various kinds of hot mulled wines are popular Christmas drinks here and in Europe, this month you can learn how to make Jamaican Sorrel Punch and Puerto Rican Coquito Fizz! Although they hail from southern latitudes, both of these drinks will warm you on the chilly nights here in San Diego.  

The Christmas celebration, in all its forms, unites families and Christians around the world. In San Diego, the Christmas brings decorations, sales, holiday spiced beers, tamales and the images of Santa Claus. Around the world there are similar and seasonal events that take place, be they caroling, decorations, holiday foods or, as is this month's focus, special drinks.

The history of celebratory holiday drinking is long, with Christian examples dating back into the Middle Ages in Europe, and may well have something to do with the feasting that accompanies these holidays. The punches, mulled wines, and nogs that pop up in grocery stores each winter showcase the variety of adult and virgin beverages that signal the season today.

The versatile beverage known as punch was introduced back in the 17th century. The word itself is a loan word from Sanskrit meaning five, a reference to the classic number of ingredients. Originally tea, lemon, sugar, alcohol and spices made up a classic punch and it is still a good base to jump from. Modern examples of punch are typically a little more involved, and reflect the diverse palates that build them.

Sorrel punch (a Jamaican holiday staple) is an excellent example of this. The base is a tea made of hibiscus flowers (known in Jamaica as sorrel, not to be confused with the bitter herb) and spices like clove and allspice, both of which are absolute necessities in Jamaican cuisine. Fortified with sugar, fiery Jamaican white rum and citrus, sorrel punch is for many of Jamaican origin an absolute necessity during the holidays. Though the bright and citrusy beverage may not read as "holiday" given the idea of a snowy cold holiday season, its flavor and nature compliment the Caribbean climate. A tropical climate with steady average temperatures, it's not uncommon to experience temperatures in the 80's around Christmas, so it stands to reason that the Jamaican palate would stray away from heavy or warm beverages, favoring the cooling relief that hibiscus tea provides.

Similar examples are found in Mexico and Guatemala where ponche heralds the Christmas season. Ponche de Navidad and Ponche de Frutas are for many Central Americans and Mexicans necessities during Las Posadas, the nine days leading up to Christmas Eve. The mixture of fruit, sugar, water, spices and alcohol varies based on preference and location. Mexican ponche typically utilizes fruits like tejocotes (a member of the hawthorn family that resembles a crab apple), guava, tamarind and pear, while the Guatemalan version often leaves out the tejocote and adds papaya, pineapple and apricots. Dried fruit, cloves and cinnamon all add depth to the mixture. Though typically served warm, some choose to serve this beverage lightly chilled during warmer winters.

In contrast to the light and fruity punches of the tropics, creamy beverages like eggnog prevail in colder climates, notably the United States. The beverage has its origins in Britain via the hot milk beverage posset. A nod to the predecessor of today's eggnog are warmed versions like the Tom and Jerry, an American egg-based and brandy spiced hot beverage. Modern eggnog typically provides a rich, cooling and savory experience that typifies holiday drinking in the US. Other beverages, both egg based and egg-less, hold the same esteem around the world. In Puerto Rico a beverage called coquito is a Christmas time indulgence. The mixture of rum, coconut milk, condensed milk and spices provides sweet, cooling relief from the tropical climate, while those warm winter spices pair perfectly with rum. Though referred to as "Puerto Rican Eggnog," this term is a bit of a misnomer. In conquito eggs are an option, not a necessity.

Unlike eggnogs and other creamy rich drinks, mulled beverages' richness rely on the combination of wine and spices. Warm drinks like glögg, glühwein and wassail are staples of many European Christmas celebrations. The practice of mulling wine spread throughout Europe by the Romans during their expansion into empire around two millennia ago. In the ensuing centuries the various peoples of Europe have added their own particular flairs to the practice. In German speaking countries, glühwein is an a popular winter warmer. Spiced with clove, cinnamon, cardamom, citrus and anise, the beverage is a low alcohol guard against the typically cold Northern European climate. Glögg functions in much the same way in Sweden. Known as gløgg in Norway and Denmark and glögi in Estonia and Finland, the mulled wine is popular all across Scandinavia. The various recipes for the mulled wine share the penchant for baking spices, raisins, almonds and citrus peel to round out the warmed mixture of wine, vermouth, akavitt and sometimes port. In most cases the various forms of glögg are accompanied by sweet treats like gingerbread, rice pudding and Danish pancakes, indicating the relationship between sweet and savory at Scandinavian tables. A similar beverage is wassail, a mulled cider that many English consume around Christmas and the celebration known as Twelfth Night. The drink began as a mulled wine, though the base spirit became hard cider, favoring a domestic product over an imported one. The accompanying ceremony, known as "wassailing," lives on in the Southwest of England and is inextricably linked to cider production. The drink has taken hold throughout the rest of England as the beverage of choice for the holiday season.
Sorrel Punch (Jamaica)- Ingredients
6 ounces hibiscus flowers
5 ounces ginger, chopped
4 Cloves
1 Cinnamon stick
6 Allspice berries
1 cup of Jamaican white rum (Wray and Nephew suggested)
1 cup simple syrup
8 cups water
5 ounces orange juice
1 ounce lime juice
Sorrel Punch Preparation
Bring the water to a boil in a large pot.
Once boiling add the hibiscus, ginger, cloves, allspice and cinnamon and remove from the heat.
Allow to cool and refrigerate overnight.
The next day, strain the contents of the pot through a fine mesh strainer lined with cheesecloth.
Add the rum, simple syrup, orange juice and lime juice to the strained liquid.
Stir well and serve over ice.
Coquito Fizz (PR) - Ingredients
12 ounce can evaporated milk
15 ounces coconut cream
14 ounces can Sweetened Condensed Milk
¼ teaspoon ground cinnamon
¼ teaspoon ground clove
1/8 teaspoon ground nutmeg
1 teaspoon vanilla extract
Puerto Rican white rum
1 egg white
Coquito Fizz
In a blender, combine all the ingredients except the rum and the egg white.
Blend until all the ingredients are combined.
If making a large batch, add six ounces of rum to the mixture, transfer to a pitcher and chill for at least an hour before serving.
If making a fizz, add two ounces of the coquito mix to a Boston shaker.
Add one and a half ounces of rum to the shaker.
Add the egg white to the shaker and shake to emulsify.
Add ice to the shaker and shake once more, for about 20 seconds.
Strain the mixture into an 8oz highball glass without ice.
Top with carbonated water (I prefer Topo Chico brand mineral water) and garnish with grated cinnamon.
Recipes and photos: Liam Fox
Keep informed about San Diego Events!
Sign-up for our weekly Eblast by clicking here:
Sign Me Up!